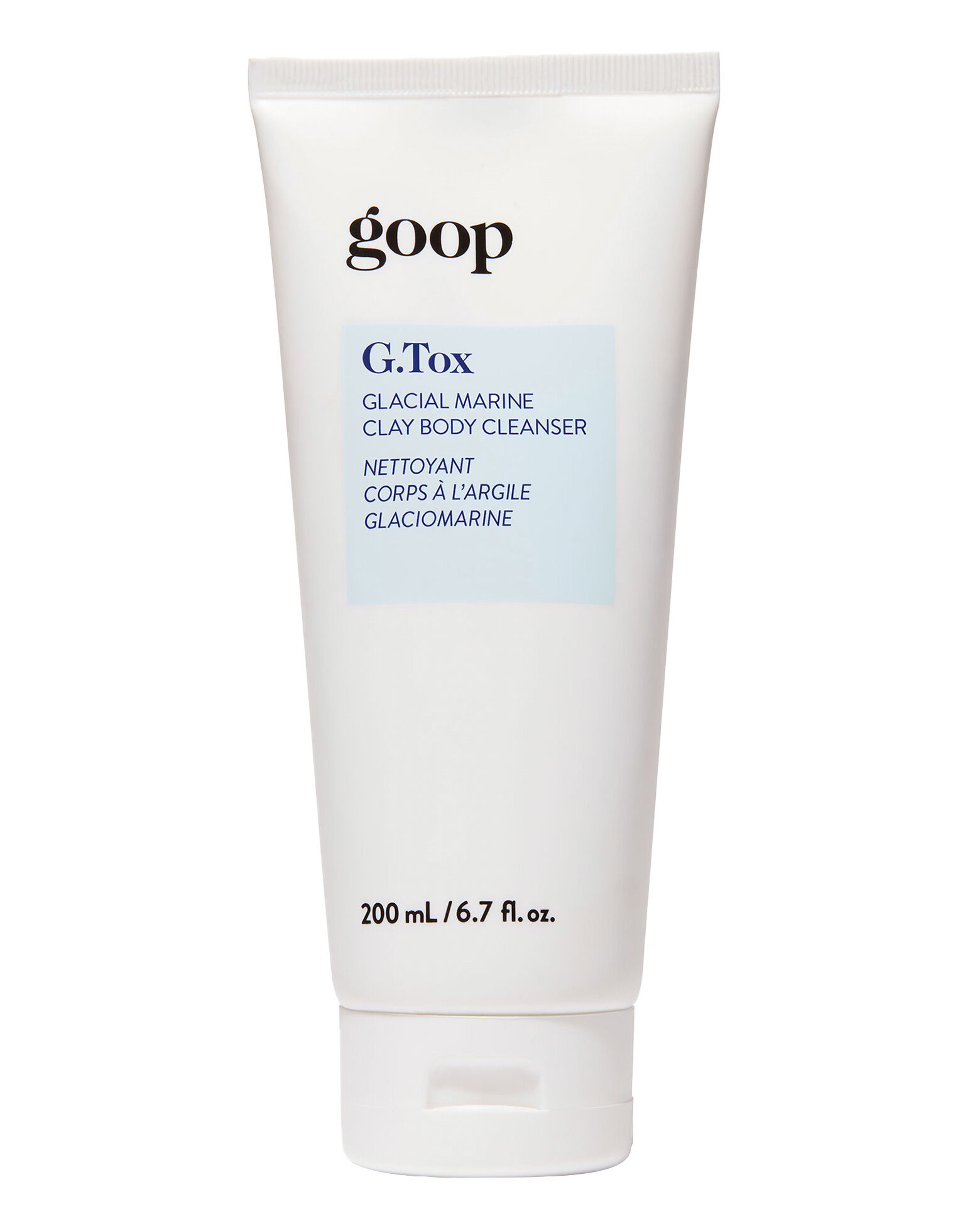 goop
G.Tox Glacial Marine Clay Body Cleanser
KEY INGREDIENTS
biosaccharide gum-1

carthamus tinctorius seed oil

glycerin

moringa oleifera seed extract

simmondsia chinensis seed oil

titanium dioxide

+3 more

Where to buy?
Formula review
See a mistake?
Promise
What does the product description say?
"G. Tox Glacial Marine Clay Body Cleanser"
WIMJ
summary
This product works by removing dirt and oil from the surface of the skin. It uses a combination of mild cleansing agents (cocamide mipa, sodium lauroamphoacetate, sodium lauroyl methyl isethionate, xanthan gum) and should be able to cleanse the skin gently. Still keep in mind that any cleansing can disrupt the skin barrier, and most people do not need to cleanse their skin more than once per day.
| Ingredient | Effectiveness | Concentration | Irritancy |
| --- | --- | --- | --- |
| | | | |
| | | | |
| | | | |
Potential irritants

Ingredients by volume
Ingredient
Estimated concentration

Plain old water

45% - 55%

Works as a cleansing agent

9.7% - 11.9%

5.9% - 7.2%

An emollient that helps soften the skin and might help calm down inflammation

3.2% - 3.9%

2.3% - 2.8%

One of the best moisturizing ingredients. Naturally present in skin. It attracts water to the upper layer of the skin working as a humectant

2% - 2.4%

Used to thicken the product formulation and might help to add minerals to the surface of the skin. It is used in scrubs as a physical exfoliant. Can increase sensitivity to other ingredients if left on the skin or used in high concentration

1.6% - 2%

Can work as an exfoliant but is typically used to adjust the product pH

1.4% - 1.7%

Helps soften the upper layer of the skin and might have some antioxidant effect

1.2% - 1.4%

0.9% - 1.15%

A plant oil that helps soften the upper layer of the skin. Is unlikely to be helpful in restoring skin barrier function due to the low content of linoleic acid

0.75% - 1.1%

0.6% - 0.9%

Softens the upper layer of skin and helps restore the healthy skin barrier. Has shown to help calm down inflammation in skin. It is a stable oil, meaning that it retains its properties even when exposed to air.

0.6% - 0.95%

0.55% - 0.8%

Used as a fragrance and can be irritating

0.45% - 0.7%

A plant oil with high content of volatile compounds that can irritate the skin. Can be used as a fragrance. Has anti-bacterial properties and might help neutralize free radicals on the surface of the skin

0.5% - 0.7%

A plant oil that is used as a fragrance. Can be irritating

0.45% - 0.65%

Used as a fragrance. Can be irritating

0.4% - 0.6%

0.35% - 0.65%

Helps attract water to the upper layer of the skin and is claimed to provide a longer-lasting hydration because of its ability to create a water-binding film on the surface of the skin

0.3% - 0.6%

Works as a UV filter when used in high concentrations. It is photostable and is effective mostly against the UVB light, with some protection in the UVA range. In small concentrations, used for its ability to improve the color of cosmetic products. Is usually well tolerated by the skin

0.45% - 0.65%

Used to create a thicker product consistency

0.25% - 0.5%

Used to thicken product formulations and create gel-like textures

0.25% - 0.45%

Helps water and oil mix together and create a nice product texture

0.2% - 0.4%

A preservative

0.15% - 0.25%

A preservative

0.1% - 0.2%

Helps adjust the product pH and stabilize the formulation

0.15% - 0.25%

A preservative

0.1% - 0.2%

A preservative. It helps prevent bacterial growth in cosmetic products

0.1% - 0.2%

A fragrance. Can be irritating

0.05% - 0.1%

A common frangrance that can easily irritate skin, especially if exposed to air, light or heat

0.05% - 0.1%

Show more