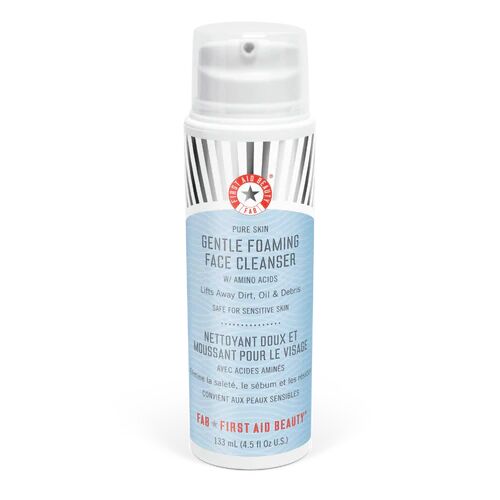 KEY INGREDIENTS
colloidal oatmeal

bisabolol

camellia sinensis leaf extract

caprylic/capric triglyceride

dimethicone

glycerin

pyrus malus fruit extract

+4 more
Where to buy?
Formula review
See a mistake?
Promise
What does the product description say?
"Pure Skin Gentle Foaming Face Cleanser with Amino Acids"
WIMJ
summary
This product works by removing dirt and oil from the surface of the skin. It uses a combination of mild cleansing agents (carbomer, coconut acid, hexylene glycol, sodium cocamidopropyl pg-dimonium chloride phosphate, sodium cocoyl apple amino acids, sodium cocoyl glycinate) and should be able to cleanse the skin gently. Still keep in mind that any cleansing can disrupt the skin barrier, and most people do not need to cleanse their skin more than once per day.
| Ingredient | Effectiveness | Concentration | Irritancy |
| --- | --- | --- | --- |
| | | | |
| | | | |
| | | | |
Potential irritants
Ingredients by volume
Ingredient
Estimated concentration

Plain old water

45% - 55%

Helps oil and water mix together

9.7% - 11.9%

Used to stabilize product formulation, help create an even product layer over skin (for example, in sunscreen) and create a thicker product consistency

4.9% - 5.9%

Used to thicken the product formulation and might help to add minerals to the surface of the skin. It is used in scrubs as a physical exfoliant. Can increase sensitivity to other ingredients if left on the skin or used in high concentration

3.1% - 3.8%

2.3% - 2.9%

1.9% - 2.4%

Might be helpful in restoring skin barrier function and, when combined with zinc carbonate and malonic acid, reducing fine lines and wrinkles by stimulating elastin production. Also helps stabilize the product formulation

1.6% - 2%

Traditionally used to treat sunburns, dermatitis and inflammation, but evidence for its effectiveness is lacking. The extract can contain humectants that help attract water into the skin

1.4% - 1.7%

An active component of chamomile plant that historically has been used to calm down irritated skin. A recent study shows that bisabolol indeed can have some anti-inflammatory effect on skin, even though conclusive data is lacking. Bisabolol has a sweet floral scent and can be added to products for its aromatic properties

1.1% - 1.4%

Can contain potent anti-oxidant compounds (abbreviated ECG, GCG, EGC, and EGCG) that might help protect the skin from free radicals. Can help calm down inflammation and has some anti-bacterial properties. Unfortunately, these antioxidants are unstable and lose their effectiveness very quickly in products. The concentration of the antioxidant compounds in the extract also tends to be low to be effective in topical formulation

1% - 1.2%

A good mix of fatty acids that forms a protective layer on the skin. Improves the shelf life of products. Derived from coconut and glycerin

0.75% - 1.15%

Helps create a gel-like product texture. Can be used in gentle cleansing formulations

0.6% - 0.9%

Could have anti-inflammatory effect on skin, but can be irritating as well. Can be added to products for its smell

0.5% - 0.8%

Can work as an exfoliant but is typically used to adjust the product pH

0.5% - 0.75%

0.65% - 0.95%

Helps to restore skin barrier function, soften the upper layer of the skin and calm down inflammation

0.65% - 0.95%

A fruit extract that might have some anti-oxidant properties

0.45% - 0.7%

Might be somewhat helpful in reducing hyperpigmentation and neutralizing free radicals but its typical concentration in a product is too low for having an effect

0.45% - 0.65%

A silicone that helps to reduce water loss from the surface of the skin. Can temporarily "fill in" lines and wrinkles, absorb oil, and create a nice product finish

0.45% - 0.7%

Help to stabilize the product formulation

0.35% - 0.65%

Helps soften the upper layer of the skin and improve the product consistency

0.4% - 0.65%

One of the best moisturizing ingredients. Naturally present in skin. It attracts water to the upper layer of the skin working as a humectant

0.4% - 0.6%

A plant extract that can help lighten the skin and calm down inflammation. Might be helpful in neutralizing free radicals

0.3% - 0.55%

Helps create a more spreadable product texture

0.3% - 0.55%

Forms a protective film on the surface of the skin to prevent moisture loss. Gives a velvety feel to products while reducing tackiness

0.35% - 0.6%

A preservative that comes from radishes fermented by a bacteria. New research suggests that the preservation properties in the ingredient come from an ammonium salt that is not present naturally in radish root but used in its cultivation. Is problematic because the exact amount of the preservative agents is difficult to determine

0.3% - 0.55%

A preservative. It helps prevent bacterial growth in cosmetic products

0.3% - 0.55%

A preservative

0.3% - 0.55%

A fruit extract that might have some antioxidant properties and might help attract water to the skin, but evidence of effectiveness is lacking

0.25% - 0.5%

Can have some moisturizing properties due to its sugar content

0.25% - 0.45%

Used as a fragrance. Can be irritating

0.25% - 0.45%

A fruit extract that might have some anti-oxidant properties but evidence of effectiveness in skin is lacking

0.2% - 0.4%

Used as a fragrance. Can be irritating

0.15% - 0.3%

A preservative

0.1% - 0.2%

0.3% - 0.55%

0.1% - 0.2%

Used to adjust the product's pH

0.1% - 0.15%

Helps to stabilize the product formulation

0.05% - 0.1%

Show more