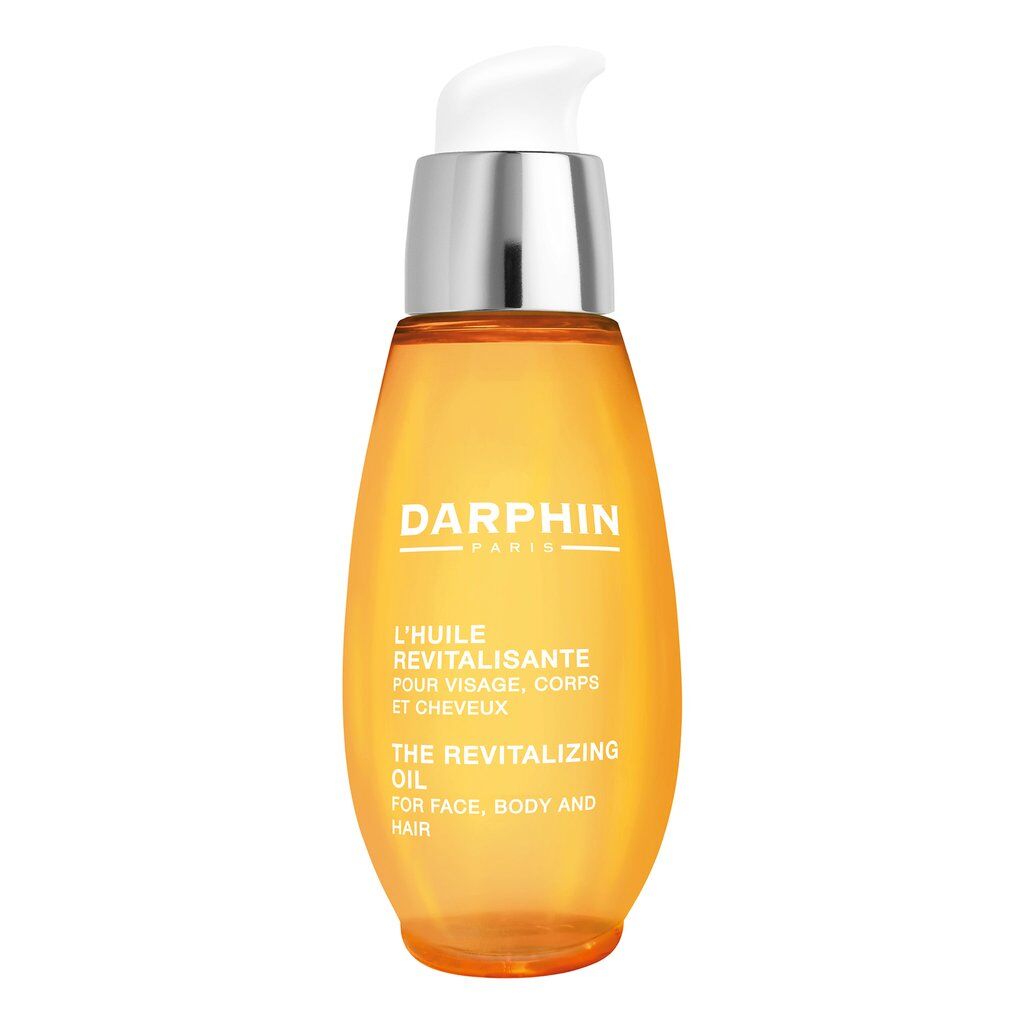 WORKS FOR
Moisturizing
Anti-oxidation
KEY INGREDIENTS
tetrahexyldecyl ascorbate

linoleic acid

argania spinosa kernel oil

cholesterol

helianthus annuus seed oil

oenothera biennis oil

prunus amygdalus dulcis oil

rubus idaeus seed oil

simmondsia chinensis seed oil

squalane

triticum vulgare germ oil

+8 more

Where to buy?
Formula review
See a mistake?
Promise
What does the product description say?
"Darphin's Revitalizing Oil helps reinforce the skin's delicate barrier while maintaining and preserving optimal levels of hydration ."
WIMJ
summary
This product can help soften the skin and reduce its moisture loss with emollients and occlusives: helianthus annuus seed oil, simmondsia chinensis seed oil.
Keep in mind that this product does not contain effective ingredients to attract water to the upper layer of the skin. This is why an additional product with humectants like glycerin or hyaluronic acid can be helpful (apply it before this product for the best results).
The following ingredients in this product are especially good for supporting the skin barrier and helping with the hydration level: linoleic acid
| Ingredient | Effectiveness | Concentration | Irritancy |
| --- | --- | --- | --- |
| | | | |
| | | | |
| | | | |
See a mistake?
WIMJ
summary
This product contains antioxidants (rubus idaeus seed oil) that might be able to help neutralize free radicals in skin to lessen the damage it gets from the UV light (sun). There is not enough evidence to confirm their effectiveness in skin though.
| Ingredient | Effectiveness | Concentration | Irritancy |
| --- | --- | --- | --- |
| | | | |
| | | | |
| | | | |
Potential irritants

Ingredients by volume
Ingredient
Estimated concentration

An emollient that softens the skin

25% - 37%

The ingredient is not recognized

TBC

Softens the upper layer of skin and helps restore the healthy skin barrier. Has shown to help calm down inflammation in skin. It is a stable oil, meaning that it retains its properties even when exposed to air.

6% - 9%

A great emollient due to its high linoleic acid content. One of the most effective plant oils in helping skin hydration and repairing skin barrier function

5.7% - 8.6%

Helps oil and water mix together

3.7% - 5.5%

Helps soften the upper layer of the skin and can support skin barrier function

3.2% - 4.8%

An emollient that helps soften the upper layer of the skin. Might have some weak anti-oxidant properties

2.6% - 3.9%

An essential oil. Can be irritating

2% - 3%

The ingredient is not recognized

TBC

An oil naturally present in skin. Works as an emollient to soften the skin and form a protective layer on its surface without a greasy feeling.

2% - 2.9%

An excellent emollient. Helps soften the skin, restore its barrier function, and can help to calm down inflammation. It can be helpful to prevent blemishes and clogged pores

1.4% - 2.1%

The ingredient is not recognized

TBC

A plant oil that might be able to help neutralize free radicals in skin

1.1% - 1.7%

0.85% - 1.25%

An emollient that is naturally found in skin

0.8% - 1.2%

An essential oil. Potential allergen and can be irritating. It has some anti-bacterial properties

0.5% - 1.15%

A plant extract used as a fragrance. Can be irritating

0.5% - 1.1%

A tree bark extract that has antibacterial properties and might have an anti-oxidant effect. Its effectiveness in skin has not been studied

0.45% - 1.05%

The ingredient is not recognized

TBC

A good emoillient. Contains vitamin E which can help neutralise free radicals, however the oil is unstable. Avoid if you have gluten or wheat sensitivity (including food allergies).

0.5% - 1.2%

A plant extract that might have some anti-oxidant properties. Avoid if you are sensitive to gluten

0.5% - 1.15%

The ingredient is not recognized

TBC

A more stable but less bio-available form of vitamin E compared to Tocopherol. Might help moisturize and protect the skin from free radicals, but mostly used in low concentrations to stabilize other ingredients.

0.45% - 1%

Being a lipid soluble form of vitamin C. It is more stable than ascorbic acid, but still degrades quickly and needs to be stabilized in a formulation with another ingredient. It is claimed to penetrate skin better than pure vitamin C and have the the similar benefits, but solid studies of its effectiveness are lacking. Is likely to require a higher concentration in a product than pure vitamin C to be effective.

0.4% - 0.95%

Plain old water

0.35% - 0.85%

A fragrance. Can be irritating

0.3% - 0.7%

A fragrance. Can be irritating

0.2% - 0.8%

A fragrance. Is a likely irritant

0.2% - 0.7%

Added to create a nice product smell. Can be irritating

0.15% - 0.65%

A fragrance. Can be irritating

0.15% - 0.6%

A common frangrance that can easily irritate skin, especially if exposed to air, light or heat

0.15% - 0.55%

Show more