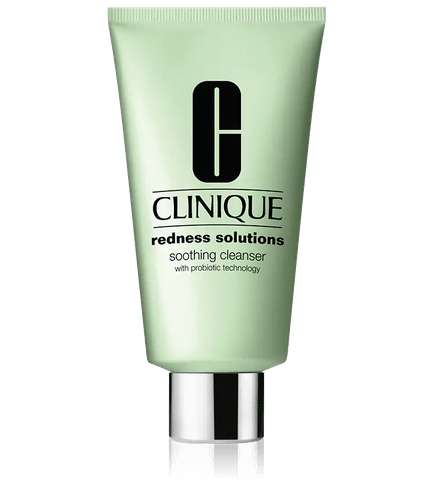 Clinique
Redness Solutions Soothing Cleanser With Probiotic Technology
KEY INGREDIENTS
acetyl glucosamine

caffeine

cholesterol

glycerin

lactobacillus ferment

phenyl trimethicone

sea whip extract

squalane

+5 more

Where to buy?
Formula review
See a mistake?
Promise
What does the product description say?
"Redness Solutions Soothing Cleanser With Probiotic Technology"
WIMJ
summary
This product works by removing dirt and oil from the surface of the skin. It uses a combination of mild cleansing agents (cholesterol, sucrose stearate) and should be able to cleanse the skin gently. Still keep in mind that any cleansing can disrupt the skin barrier, and most people do not need to cleanse their skin more than once per day.
| Ingredient | Effectiveness | Concentration | Irritancy |
| --- | --- | --- | --- |
| | | | |
| | | | |
Potential irritants

Ingredients by volume
Ingredient
Estimated concentration

Plain old water

40% - 60%

An oil naturally present in skin. Works as an emollient to soften the skin and form a protective layer on its surface without a greasy feeling.

5.3% - 8%

One of the best moisturizing ingredients. Naturally present in skin. It attracts water to the upper layer of the skin working as a humectant

4% - 6%

Used to create a nice product texture and help delivery of other ingredients. Might be somewhat helpful in attracting water to the upper layer of the skin

2.7% - 4%

A type of silicone that can decrease loss of moisture from the skin surface. It helps create a nice product texture

2% - 3.1%

Increases thickness of a product. Texture enhancer for oil-in-water emulsions

1.6% - 2.4%

Might be somewhat helpful in reducing hyperpigmentation and neutralizing free radicals but its typical concentration in a product is too low for having an effect

1.4% - 2.1%

A plant extract that might have some anti-oxidant properties. Avoid if you are sensitive to gluten

1.3% - 1.9%

Helps water and oil mix together

1.1% - 1.6%

Might help neutrlize free radicals, calm down inflammation, and attract water to the upper layer of the skin

0.85% - 1.25%

An emollient that is naturally found in skin

0.55% - 1.25%

Used to thicken the product consistency

0.5% - 1.2%

An effective moisturizing ingredient that also has been shown to be effective in evening out the skin tone and reducing hyperpigmentation. It can help somewhat reduce wrinkles in skin

0.35% - 0.85%

A fermentation product created by bacteria Lactobacillus. The fermented product has anti-bacterial properties and might be helpful in calming down inflammation, but studies are lacking. Helps attract water to the upper layer of the skin. Can be used as a preservative

0.3% - 0.75%

Helps improve the product texture

0.15% - 0.55%

Might be helpful in neutralizing free radicals. Can have a dehydration effect that might somewhat decrease the look of puffy eyes

0.2% - 0.8%

An emollient that helps soften the upper layer of the skin

0.2% - 0.7%

Helps preserve products and creates a nice product texture

0.15% - 0.6%

Stabilizes the product formulation

0.1% - 0.45%

A preservative

0.1% - 0.45%

A preservative. It helps prevent bacterial growth in cosmetic products

0.05% - 0.25%

A yellow dye

0.05% - 0.25%

The ingredient is not recognized

TBC

0.05% - 0.2%

A colorant (dye)

0.05% - 0.15%

Show more