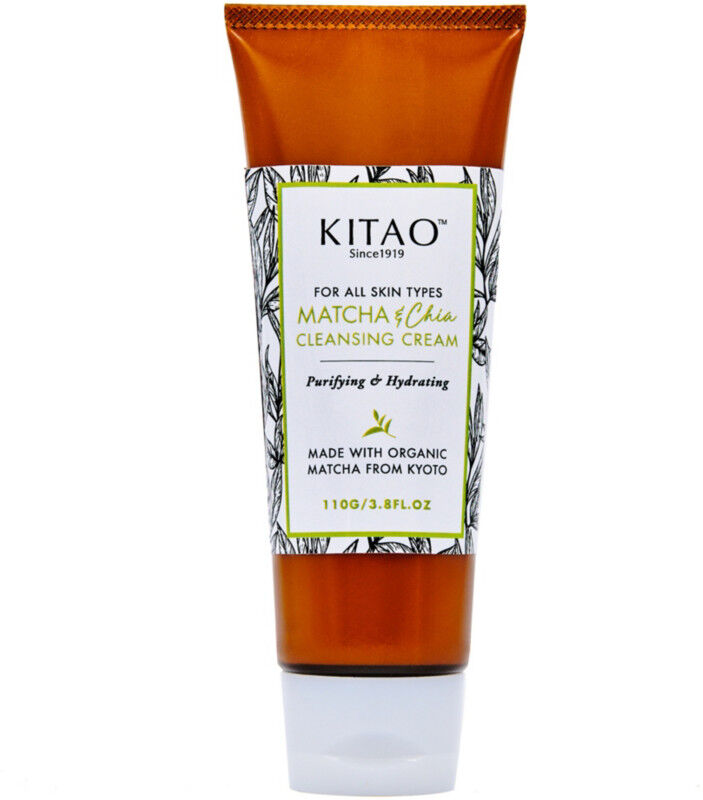 Kitao
Matcha + Chia Cleansing Cream
KEY INGREDIENTS
magnesium ascorbyl phosphate

retinyl palmitate

ceramide ap

ceramide np

petrolatum

phytosphingosine

camellia sinensis leaf

camellia sinensis leaf extract

cetearyl alcohol

chenopodium quinoa seed extract

cholesterol

dimethicone

glycerin

glyceryl stearate se

hydrolyzed collagen

rice ferment filtrate

salvia hispanica seed oil

sodium hyaluronate

squalane

theobroma cacao seed butter

tocopherol

+18 more

Where to buy?
Formula review
See a mistake?
Promise
What does the product description say?
"Matcha + Chia Cleansing Cream"
WIMJ
summary
This product works by removing dirt and oil from the surface of the skin. It uses a combination of mild cleansing agents (carbomer, cetearyl alcohol, glyceryl stearate se, hydroxypropyl methylcellulose, laureth-1 phosphate, polysorbate 60, sodium lauroyl lactylate, xanthan gum) and should be able to cleanse the skin gently. Still keep in mind that any cleansing can disrupt the skin barrier, and most people do not need to cleanse their skin more than once per day.
| Ingredient | Effectiveness | Concentration | Irritancy |
| --- | --- | --- | --- |
| | | | |
| | | | |
| | | | |
Potential irritants

Ingredients by volume
Ingredient
Estimated concentration

Plain old water

TBC

An oil naturally present in skin. Works as an emollient to soften the skin and form a protective layer on its surface without a greasy feeling.

TBC

Used to create a nice product texture and help delivery of other ingredients. Might be somewhat helpful in attracting water to the upper layer of the skin

TBC

One of the best moisturizing ingredients. Naturally present in skin. It attracts water to the upper layer of the skin working as a humectant

TBC

A non-drying alcohol. Works as an emollient. Helps water and oil mix together and creates a nice product texture

TBC

Used to stabilize the product formulations and works as an emollient

TBC

Used as a fragrance

TBC

The ingredient is not recognized

TBC

TBC

A silicone that helps to reduce water loss from the surface of the skin. Can temporarily "fill in" lines and wrinkles, absorb oil, and create a nice product finish

TBC

Non-drying alcohol that helps water and oil mix together. Also serves as an emollient

TBC

One of the most effective and the most studied occlusive ingredients that creates a protective layer on top of the skin preventing moisture loss

TBC

A plant extract that can have some anti-oxidant effect in skin

TBC

The ingredient is not recognized

TBC

TBC

Chia seed oil. Helps to soften the upper layer of the skin and might be helpful in repairing skin barrier

TBC

Helps soften the upper layer of the skin

TBC

Green tea leaf powder that might contain antioxidants to help neutralize free radicals in skin

TBC

Can contain potent anti-oxidant compounds (abbreviated ECG, GCG, EGC, and EGCG) that might help protect the skin from free radicals. Can help calm down inflammation and has some anti-bacterial properties. Unfortunately, these antioxidants are unstable and lose their effectiveness very quickly in products. The concentration of the antioxidant compounds in the extract also tends to be low to be effective in topical formulation

TBC

A plant extract that might help neutralize free radicals in skin, but research on its effectiveness is lacking

TBC

A derivative of vitamin C that is more stable, but less bioavailable than the pure form of vitamin C. It does not penetrate the skin well, but has been shown to convert to pure vitamin C once in skin. It can be helpful in stimulating collagen production and lightening the skin tone, but the required concentration is likely to be very high

TBC

Helps soften the upper layer of the skin and can be helpful in restoring the skin barrier function. Might have some anti-oxidant effect

TBC

A fruit extract that might help neutralize free radicals in skin, but evidence of effectiveness is missing

TBC

TBC

One of the best moisturizing ingredients. Attracts water into the upper layer of the skin

TBC

A typically plant-derived compound that is supposed mimic human collagen. Cannot penetrate the skin barrier so is not particularly useful in skincare products beyond attracting water to the upper layer of the skin

TBC

Helps water and oil mix together

TBC

A type of lipid similar to ceramides naturally present in skin. Helps to soften the upper layer of the skin and supports the skin barrier function to keep it hydrated. Can help to prevent inflammation in skin

TBC

A type of lipid similar to ceramides naturally present in skin. Helps to soften the upper layer of the skin and supports the skin barrier function to keep it hydrated. Can help to prevent inflammation in skin

TBC

The ingredient is not recognized

TBC

Helps attract water to the upper layer of the skin. Might have some anti-oxidant properties

TBC

TBC

A preservative

TBC

Helps preserve products and creates a nice product texture

TBC

Helps oil and water mix together

TBC

Helps create a gel-like product texture. Can be used in gentle cleansing formulations

TBC

Used to adjust the pH level of products

TBC

Used to create a thicker product consistency and stabilize the formulation

TBC

Used to thicken product formulation. Can help attract water to the upper layer of the skin

TBC

Pure form of vitamin E. Can help moisturise and protect the skin from free radicals. Often used to help stabilise other ingredients or the formula itself

TBC

A typically plant-derived compound that is supposed mimic human collagen. Cannot penetrate the skin barrier so is not particularly useful in skincare products beyond attracting water to the upper layer of the skin

TBC

Helps to control the skin's pH level. Maintains the skin's natural film of amino-lactic acids and oils. Helps to preserve products

TBC

Can work as an exfoliant but is typically used to adjust the product pH

TBC

Can be drying and contribute to skin irritation. Used in formulars to dissolve other ingredients, create a thinner product consistency or for its antibacterial properties

TBC

Acts as a solvent for other ingredients. Speeds up the absorption of other ingredients into the skin

TBC

A preservative. It can be irritating

TBC

Three steps removed from the active form of vitamin A - retinoic acid. To have an effect in the skin, it first needs to be converted twice to become the retinoic acid. This means it is less potent than retinol, but could also be less irritating. Once converted to the retinoic acid in the skin, it helps against all signs of aging, improves skin cell turnover and helps fight blemishes and clogged pores. However, in many cosmetic formulations, it is used in a concentration that is too low to have the full effect

TBC

A type of lipid that is naturally present in skin. It might help in repairing skin barrier function and has anti-bacterial effect

TBC

An emollient that is naturally found in skin

TBC

Used to create a thicker product consistency

TBC

A preservative. It helps prevent bacterial growth in cosmetic products

TBC

An aromatic blend of unspecified and possibly irritating ingredients

TBC

Show more