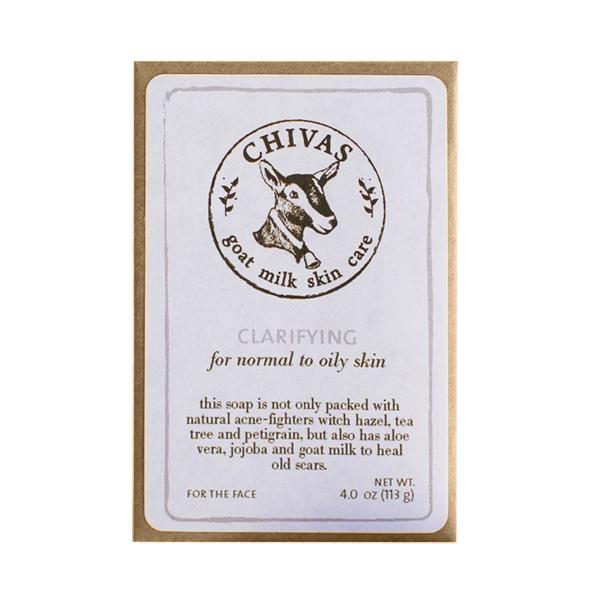 KEY INGREDIENTS
avena sativa kernel extract

cocos nucifera oil

glycine soja oil

hamamelis virginiana extract

oenothera biennis oil

prunus domestica seed oil

ricinus communis seed oil

simmondsia chinensis seed oil

+5 more

Where to buy?
Formula review
See a mistake?
Promise
What does the product description say?
"Goat Milk Facial Soap ."
WIMJ
summary
This product works by removing dirt and oil from the surface of the skin.
Keep in mind that cleansing can disrupt the skin barrier, and most people do not need to cleanse their skin more than once per day.
Potential irritants

Ingredients by volume
Ingredient
Estimated concentration

Helps soften the upper layer of the skin

25% - 37%

An emollient. Found to be as effective as a moisturizer for dry skin as mineral oil. Could be comedogenic

5.4% - 8.1%

4.7% - 7.1%

A good emollient that helps soften the skin and helps repair its barrier function

3.6% - 5.3%

Used to adjust the product's pH

2.5% - 3.8%

Helps soften the upper layer of the skin and can support skin barrier function

2.1% - 3.2%

Softens the upper layer of skin and helps restore the healthy skin barrier. Has shown to help calm down inflammation in skin. It is a stable oil, meaning that it retains its properties even when exposed to air.

1.8% - 2.7%

The ingredient is not recognized

TBC

Traditionally used to treat sunburns, dermatitis and inflammation, but evidence for its effectiveness is lacking. The extract can contain humectants that help attract water into the skin

1.3% - 1.9%

The ingredient is not recognized

TBC

Can be drying and contribute to skin irritation. Used in formulars to dissolve other ingredients, create a thinner product consistency or for its antibacterial properties

1.1% - 1.6%

A plant extract that can help calm down inflammation in skin. Can, however, itself be irritating

0.85% - 1.3%

A plant oil that can help soften the skin. It might be helpful in calming down inflammation, but solid research is lacking. Is often used in lip products to create the needed product consistency

0.6% - 1.4%

An effective moisturizing and skin barrier repair ingredient. Helps calm down inflammation and has some anti-oxidant properties

0.45% - 1.1%

An essential oil. Potential allergen and can be irritating. It has some anti-bacterial properties

0.45% - 1.05%

An essential oil that can be irritating. Has some anti-bacterial properties

0.4% - 0.9%

The ingredient is not recognized

TBC

Used as a fragrance and can be irritating

0.4% - 0.9%

A highly irritating fragrance

0.35% - 0.85%

Can be helpful in reducing inflammation in skin. Is a likely irritant

0.35% - 0.8%

The ingredient is not recognized

TBC

Can absorb oil. There is no research confirming other benefits for the skin

0.3% - 0.75%

0.3% - 0.7%

The ingredient is not recognized

TBC

Show more