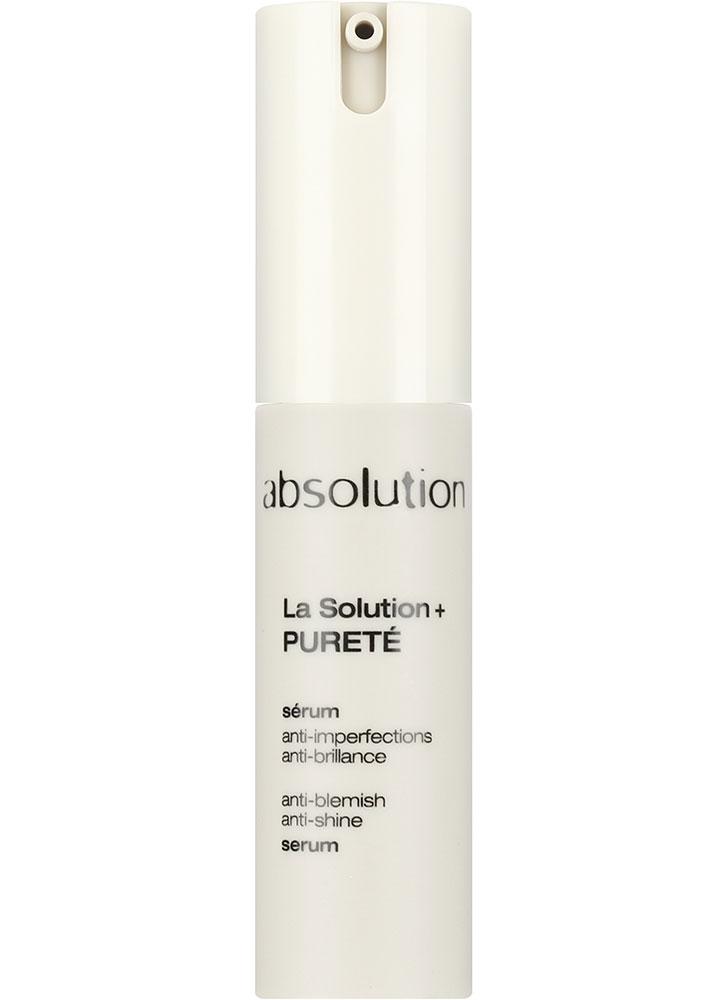 WORKS FOR
Moisturizing
Anti-blemish
KEY INGREDIENTS
calcium pca

capryloyl glycine

copper pca

glycerin

macadamia ternifolia seed oil

propolis extract

zinc pca

+4 more

Where to buy?
Formula review
See a mistake?
Promise
What does the product description say?
"Read product description What it is Absolution La Solution + Purete Purifying Serum is an exclusive cocktail serum which purifies, repairs and efficiently fights skin blemishes such as pimples, irritations, sebum excess and blackheads without leaving any marks."
WIMJ
summary
This product contains ingredients (zinc pca) that could help reduce blemishes and clogged pores in theory, but there is not enough evidence that they actually work.
| Ingredient | Effectiveness | Concentration | Irritancy |
| --- | --- | --- | --- |
| | | | |
| | | | |
See a mistake?
WIMJ
summary
This product contains good ingredients to attract water to the upper layer of the skin. These ingredients are called "humectants": calcium pca, copper pca.
When humectants are on the surface of the skin, they "pull in" the moisture from the outside environment, or from within deeper layers of the skin. If the air is dry, humectants can speed up the moisture loss from the skin. This is why it is a good idea to use another product on top of this one to help "seal in" the moisture (look for ingredients like dimethicone, squalane, oils and butters).
| Ingredient | Effectiveness | Concentration | Irritancy |
| --- | --- | --- | --- |
| | | | |
| | | | |
| | | | |
Potential irritants

Ingredients by volume
Ingredient
Estimated concentration

Plain old water

45% - 55%

Traditionally used to treat sunburns, dermatitis and inflammation, but evidence for its effectiveness is lacking. The extract can contain humectants that help attract water into the skin

7% - 8.6%

4.3% - 5.2%

3% - 3.7%

One of the best moisturizing ingredients. Naturally present in skin. It attracts water to the upper layer of the skin working as a humectant

2.4% - 2.9%

Plant oil from nuts that helps soften the upper layer of the skin. Contains a high concentration of oleic acid that can weaken skin's barrier function and increase water-loss while enhancing penetration of other ingredients

1.9% - 2.3%

A plant extract that can help lighten the skin and calm down inflammation. Might be helpful in neutralizing free radicals

1.3% - 1.6%

Can be drying and contribute to skin irritation. Used in formulars to dissolve other ingredients, create a thinner product consistency or for its antibacterial properties

1.4% - 1.7%

Helps soften the upper layer of the skin while creating a non-greasy feel on the skin. Helps to dissolve other ingredients

1.1% - 1.4%

Helps oil and water mix together

1% - 1.2%

Helps attract water to the upper layer of the skin

0.65% - 0.95%

Used to create gel-like formulas and stabilize emulsions

0.55% - 0.8%

A compound that combines zinc with a hydrating ingredient PCA. Might to be helpful against acne and clogged pores. Can help calm down inflammation in skin. Could be helpful in reducing the formation of free radicals in skin. Might help to reduce fine lines in wrinkles, but solid evidence is missing

0.5% - 0.75%

0.4% - 0.6%

Helps to soften the upper layer of the skin and create a nice product texture

0.45% - 0.65%

A preservative. Can be used to mask unpleasant smell. Can be irritating

0.35% - 0.65%

Used to create a thicker product consistency

0.4% - 0.6%

0.3% - 0.55%

The ingredient is not recognized

TBC

Helps oil and water mix together, preserve cosmetic products, and attract water to the upper layer of the skin

0.45% - 0.65%

An essential oil with a lemon-like smell that is extracted from a fruit grown in Asia. Used as a fragrance

0.25% - 0.45%

Helps attract water to the upper layer of the skin

0.3% - 0.5%

A complex substance produced by honey bees. Can have anti-bacterial and some anti-oxidant effect. Is an allergen and can be irritating

0.3% - 0.55%

Used as a fragrance

0.25% - 0.45%

Helps stabilize a product formulation

0.2% - 0.4%

Used to adjust the product's pH

0.25% - 0.45%

A preservative

0.25% - 0.45%

A preservative

0.2% - 0.35%

0.2% - 0.35%

Can work as an exfoliant but is typically used to adjust the product pH

0.15% - 0.3%

A fragrance with a lemon scent. A likely irritant

0.15% - 0.25%

A fragrance. Can be irritating

0.1% - 0.2%

A common frangrance that can easily irritate skin, especially if exposed to air, light or heat

0.1% - 0.2%

A fragrance. Can be irritating

0.05% - 0.1%

Show more