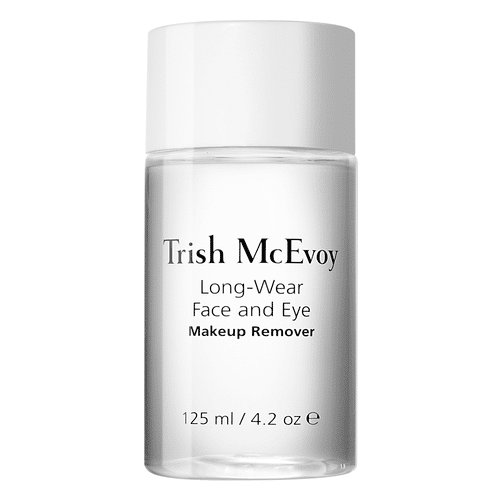 Trish McEvoy
Long Wear Face And Eye Makeup Remover Cleansing Water
KEY INGREDIENTS
panthenol

glycerin

hydrolyzed soy protein

sodium hyaluronate

trehalose

+2 more

Where to buy?
Formula review
See a mistake?
Promise
What does the product description say?
"Long Wear Face And Eye Makeup Remover Cleansing Water"
WIMJ
summary
This product works by removing dirt and oil from the surface of the skin. It uses a combination of mild cleansing agents (peg-6 caprylic/capric glycerides, poloxamer 184) and should be able to cleanse the skin gently. Still keep in mind that any cleansing can disrupt the skin barrier, and most people do not need to cleanse their skin more than once per day.
| Ingredient | Effectiveness | Concentration | Irritancy |
| --- | --- | --- | --- |
| | | | |
| | | | |
Potential irritants

Ingredients by volume
Ingredient
Estimated concentration

Plain old water

40% - 60%

Helps dissolve other ingredients

4.2% - 6.3%

Acts as a solvent for other ingredients. Speeds up the absorption of other ingredients into the skin

3.5% - 5.3%

Used to preserve products, dissolve other ingredients and create a nice product texture

2.8% - 4.1%

Used to thicken the product formulation and might help to add minerals to the surface of the skin. It is used in scrubs as a physical exfoliant. Can increase sensitivity to other ingredients if left on the skin or used in high concentration

2% - 3%

A preservative. It helps prevent bacterial growth in cosmetic products

0.5% - 1%

1.4% - 2.1%

Helps to stabilize the product formulation

1.2% - 1.8%

Helps attract water to the upper layer of the skin. Might have some anti-aging, anti-oxidant, and skin lightening properties, but solid evidence is missing

1% - 1.5%

Can work as an exfoliant but is typically used to adjust the product pH

0.85% - 1.25%

Helps attract water to the upper layer of the skin and can help improve skin barrier function

0.5% - 1.2%

An aromatic blend of unspecified and possibly irritating ingredients

0.45% - 1%

Used to stabilize the product formulation and can help absorb oil

0.4% - 0.95%

Used as a fragrance and can be irritating

0.4% - 0.9%

Helps oil and water mix together and can enhance the penetration of other ingredients into the skin

0.35% - 0.8%

A sugar that attracts water to the upper layer of the skin

0.35% - 0.8%

A fragrance. Is a likely irritant

0.3% - 0.7%

A fragrance with jasmine smell. A likely irritant

0.2% - 0.75%

One of the best moisturizing ingredients. Naturally present in skin. It attracts water to the upper layer of the skin working as a humectant

0.15% - 0.7%

0.15% - 0.5%

Helps attract water to the upper layer of the skin and repair the skin barrier function

0.1% - 0.5%

One of the best moisturizing ingredients. Attracts water into the upper layer of the skin

0.1% - 0.4%

A fragrance. Can be irritating

0.05% - 0.3%

A fruit extact. Might have some anti-oxidant properties

0.15% - 0.55%

A preservative. Can be used to mask unpleasant smell. Can be irritating

0.05% - 0.2%

A plant extract that might have antibacterial effect and help neutralize free radicals

0.05% - 0.2%

A preservative

0.05% - 0.2%

A preservative

0.05% - 0.15%

Show more