PRODUCT REVIEW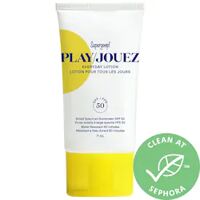 Supergoop!
Play Everyday Lotion SPF 50
Works for:
based on ingredients and %
Can it cause trouble?
Cheaper alternatives
Nivea - SUN Kids Suncream Lotion Extra Water Resistant SPF 50+, Swim & Play
Price: $9.68
Find out more
Equate - Baby Broad Spectrum Sunscreen Spray, SPF 50
Price: $3.98
Find out more
What can the product work for?
Ingredients & concentrations