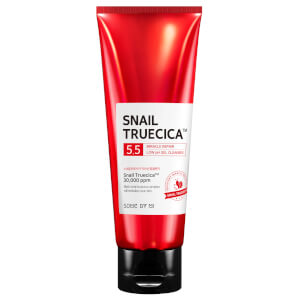 Some By Mi
Snail Truecica Miracle Repair Low PH Gel Cleanser
KEY INGREDIENTS
madecassic acid

madecassoside

ceramide np

panthenol

alanine

arginine

asiatic acid

asiaticoside

aspartic acid

bifida ferment lysate

camellia sinensis leaf extract

caprylic/capric triglyceride

centella asiatica extract

cornus officinalis fruit extract

cysteine

glutamic acid

glycine

histidine

isoleucine

lactobacillus ferment lysate

lactococcus ferment lysate

lysine

proline

serine

snail secretion filtrate

threonine

tyrosine

+24 more

Where to buy?
Formula review
See a mistake?
Promise
What does the product description say?
"Snail Truecica Miracle Repair Low PH Gel Cleanser"
WIMJ
summary
This product works by removing dirt and oil from the surface of the skin. It uses a combination of mild cleansing agents (disodium cocoamphodiacetate, hexylene glycol, lauryl hydroxysultaine, phosphatidylcholine, potassium cocoate, potassium cocoyl glycinate, sodium methyl cocoyl taurate) and should be able to cleanse the skin gently. Still keep in mind that any cleansing can disrupt the skin barrier, and most people do not need to cleanse their skin more than once per day.
Even though this formulation is mild, the following cleansing agents could trigger an irritation or allergy for some people: sodium methyl cocoyl taurate
| Ingredient | Effectiveness | Concentration | Irritancy |
| --- | --- | --- | --- |
| | | | |
| | | | |
| | | | |
Potential irritants

Ingredients by volume
Ingredient
Estimated concentration

Plain old water

45% - 55%

6.8% - 8.4%

Helps oil and water mix together and works as a cleansing agent

4.9% - 5.9%

Used to thicken the product formulation and might help to add minerals to the surface of the skin. It is used in scrubs as a physical exfoliant. Can increase sensitivity to other ingredients if left on the skin or used in high concentration

3.1% - 3.7%

2.3% - 2.8%

Used to stabilize product formulation, help create an even product layer over skin (for example, in sunscreen) and create a thicker product consistency

1.9% - 2.3%

Helps oil and water mix together. Can be used as cleansing agent

1.9% - 2.3%

Helps oil and water mix together and works as a cleansing agent

1.4% - 1.7%

Used to create a nice product texture and help delivery of other ingredients. Might be somewhat helpful in attracting water to the upper layer of the skin

1.1% - 1.4%

Typically contains hyaluronic acid that helps attract water to the upper layer of the skin. Might contain allantoin that is helpful in calming down inflammation. There is no evidence that it can have any further benefits for the skin, especially when used in skincare products

0.8% - 1.2%

Helps dissolve other ingredients and preserve products

0.65% - 0.95%

Can work as an exfoliant but is typically used to adjust the product pH

0.55% - 0.8%

A plant oil with a high content of volatile compounds that can irritate the skin and lead to allergic reactions. Can lead to photosensitivity

0.45% - 0.7%

A preservative

0.45% - 0.65%

Helps create a more spreadable product texture

0.35% - 0.65%

Stabilizes the product formulation

0.4% - 0.6%

0.35% - 0.65%

0.3% - 0.55%

Can contain potent anti-oxidant compounds (abbreviated ECG, GCG, EGC, and EGCG) that might help protect the skin from free radicals. Can help calm down inflammation and has some anti-bacterial properties. Unfortunately, these antioxidants are unstable and lose their effectiveness very quickly in products. The concentration of the antioxidant compounds in the extract also tends to be low to be effective in topical formulation

0.3% - 0.55%

A plant extract that can help lighten the skin and calm down inflammation. Might be helpful in neutralizing free radicals

0.25% - 0.45%

0.25% - 0.5%

Helps attract water to the upper layer of the skin and can help improve skin barrier function

0.25% - 0.5%

A preservative

0.25% - 0.45%

A plant extract that has been shown to be able to reduce inflammation in skin, support restoration of skin barrier function, as well as support collagen production. Contains active compounds called centelloids: asiaticoside, madecasosside, asiatic acid and madecassic acid. Might be helpful in preventing stretch marks. It can be itself be irritating though.

0.3% - 0.55%

Used as a fragrance for its mint-like smell

0.25% - 0.45%

An essential oil that can be irritating. Has some anti-bacterial properties

0.2% - 0.4%

A preservative. It helps prevent bacterial growth in cosmetic products

0.25% - 0.45%

Helps to attract water to the upper layer of the skin and can help restore the skin barrier function

0.25% - 0.45%

Helps to dissolve other ingredients in a formulation. Slows down the rate of product drying

0.2% - 0.4%

0.25% - 0.45%

An amino-acid that helps to attract water to the upper layer of the skin. In combination with other amino-acids, might help to reduce fine lines and wrinkles

0.25% - 0.45%

An amino-acid that helps attract water to the upper layer of the skin

0.25% - 0.45%

0.25% - 0.45%

An amino-acid that helps increase skin hydration and might help to slightly improve skin firmness, potentially reducing lines and wrinkles

0.25% - 0.45%

A good mix of fatty acids that forms a protective layer on the skin. Improves the shelf life of products. Derived from coconut and glycerin

0.3% - 0.55%

0.25% - 0.45%

An amino-acid that helps to attract water to the upper layer of the skin and might help to lighten the skin, but solid evidence is lacking

0.25% - 0.45%

An amino-acid that helps to attract water to the upper layer of the skin. In combination with other amino-acids, might help to reduce fine lines and wrinkles

0.25% - 0.45%

An amino acid that is naturally present in skin and helps keep it hydrated. When used together with AHAs, it can reduce their irritating effect on the skin

0.25% - 0.4%

An active compound of Centella Asiatica plant extract. In combination with other active compounds of Centella Asiatica extract (madecasosside, asiatic acid and madecassic acid), asiaticoside has been shown to be helpful in wound-healing, restoring skin barrier function and supporting collagen production in skin. It can, however, itself be irritating

0.2% - 0.4%

0.25% - 0.45%

0.25% - 0.45%

An active compound of Centella Asiatica plant extract. In combination with other active compounds of Centella Asiatica extract (asiaticoside, madecasosside and madecassic acid) asiatic acid has been shown to be helpful in wound-healing, restoring skin barrier function and supporting collagen production in skin. It can, however, itself be irritating

0.25% - 0.45%

An active compound of Centella Asiatica plant extract. In combination with other active compounds of Centella Asiatica extract (asiaticoside, madecasosside and asiatic acid), madecassic acid has been shown to be helpful in wound-healing, restoring skin barrier function and supporting collagen production in skin. It can, however, itself be irritating

0.25% - 0.45%

An amino-acid that helps to attract water to the upper layer of the skin. In combination with other amino-acids, might help to reduce fine lines and wrinkles

0.25% - 0.45%

0.25% - 0.45%

0.25% - 0.45%

An amino acid that can help attract water to the upper layer of the skin and support skin's barrier function

0.25% - 0.45%

Used to preserve products, dissolve other ingredients and create a nice product texture

0.3% - 0.55%

Used to enhance the delivery of other ingredients

0.25% - 0.5%

A plant extract that can help lighten the skin and calm down inflammation. Might be helpful in neutralizing free radicals

0.2% - 0.4%

0.25% - 0.5%

0.25% - 0.45%

0.25% - 0.45%

0.25% - 0.45%

0.25% - 0.45%

An antioxidant that is typically derived from plant Centella Asiatica. It can help neutralize free radicals in skin and support skin barrier function. It could, however, itself be irritating. It is often unstable in formulations

0.25% - 0.45%

Might help neutralize free radicals in skin and might be helpful against hyperpigmentation

0.2% - 0.4%

0.25% - 0.4%

0.25% - 0.4%

A plant extract that might contain a compound baicalin that could be helpful in neutralizing free radicals and reducing inflammation in skin. The baicalin concentration in skincare products is often too low for an effective action. Can be used for its fragrant properties

0.2% - 0.35%

0.25% - 0.45%

0.2% - 0.35%

A plant extract that contains anti-oxidants. It might help to neutralize free radicals in skin. Can be used to help preserve the product formulation

0.2% - 0.35%

A plant extract that might have some anti-inflammatory and anti-oxidant properties. It can be irritating

0.15% - 0.3%

0.15% - 0.25%

A type of lipid similar to ceramides naturally present in skin. Helps to soften the upper layer of the skin and supports the skin barrier function to keep it hydrated. Can help to prevent inflammation in skin

0.15% - 0.3%

Consists of remains of dead yeast bacteria cells. Helps to hydrate the skin and reduce irritation. Might has some anti-oxidant effect

0.1% - 0.25%

A "broth" with parts of dead cells of lactobacteria. Might be helpful supporting diverse microbiome in skin, but evidence is lacking

0.05% - 0.15%

Consists of remains of dead bacteria cells. Is likely helpful in attracting water to the upper layer of the skin. Might be helpful in reducing inflammation and neutralizing free radicals in skin

0.05% - 0.15%

Show more