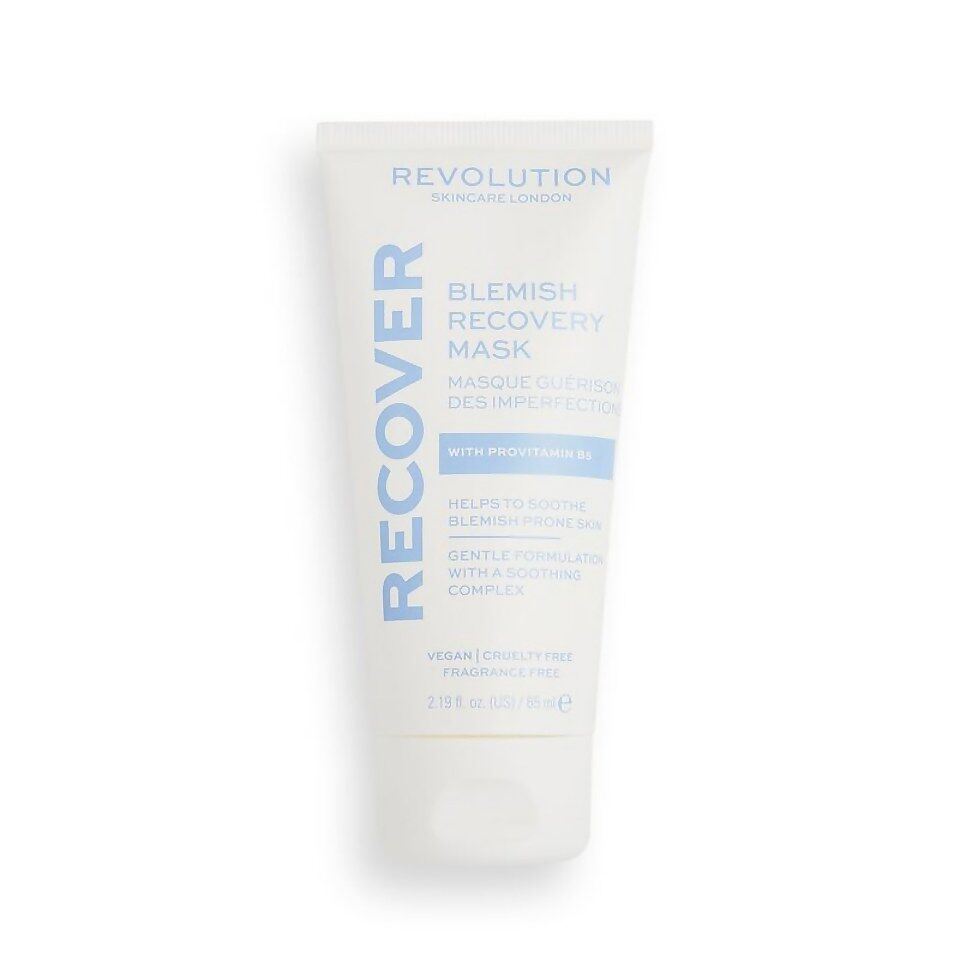 KEY INGREDIENTS
lactic acid

panthenol

urea

allantoin

bisabolol

dimethicone

glycerin

serine

sodium lactate

+6 more

Where to buy?
Formula review
See a mistake?
WIMJ
summary
This product contains serine. This ingredient might be able to help reduce and prevent fine lines and wrinkles, improve skin elasticity and firmness, but there is not enough evidence that it actually works.
| Ingredient | Effectiveness | Concentration | Irritancy |
| --- | --- | --- | --- |
| | | | |
| | | | |
See a mistake?
Promise
What does the product description say?
"Revolution Skincare Blemish Recovery Mask The perfect post-breakout TLC, this mask is loaded with Panthenol (Provitamin B5) which helps to soothe and soften skin to ensure it's well moisturised and conditioned, preventing tightness and dryness."
WIMJ
summary
This product can help improve hydration of the skin with the two types of ingredients.
The first type is called "humectants":
these ingredients help attract water. When humectants are on the surface of the skin, they "pull in" the moisture from the outside environment, or from within deeper layers of the skin. The following ingredients in this product do the job: allantoin, glycerin.
This product also contains ingredients called "occlusives". They help reduce the speed with which our skin loses moisture to the outside environment. These ingredients also help soften the upper layer of the skin, so it feels less tight and nicer to the touch. The following ingredients in this product do the job: dimethicone, caprylyl glycol.
The following ingredients in this product are especially good for supporting the skin barrier and helping with the hydration level: panthenol, urea
| Ingredient | Effectiveness | Concentration | Irritancy |
| --- | --- | --- | --- |
| | | | |
| | | | |
| | | | |
Potential irritants

Ingredients by volume
Ingredient
Estimated concentration

Plain old water

40% - 60%

One of the best moisturizing ingredients. Naturally present in skin. It attracts water to the upper layer of the skin working as a humectant

3.9% - 5.8%

Helps oil and water mix together and can enhance the penetration of other ingredients into the skin

3.4% - 5.1%

A silicone that helps to reduce water loss from the surface of the skin. Can temporarily "fill in" lines and wrinkles, absorb oil, and create a nice product finish

2.7% - 4.1%

Helps oil and water mix together

1.9% - 2.9%

Helps create a gel-like product texture. Can be used in gentle cleansing formulations

1.5% - 2.3%

Helps to dissolve other ingredients in a formulation. Slows down the rate of product drying

1.2% - 1.8%

A preservative. It helps prevent bacterial growth in cosmetic products

0.5% - 1%

Helps preserve products and creates a nice product texture

1% - 1.5%

Helps calm down inflammation in skin and can help reduce itching. Helps to repair the skin barrier and keep skin hydrated

0.5% - 1.15%

An active component of chamomile plant that historically has been used to calm down irritated skin. A recent study shows that bisabolol indeed can have some anti-inflammatory effect on skin, even though conclusive data is lacking. Bisabolol has a sweet floral scent and can be added to products for its aromatic properties

0.45% - 1.05%

Used to adjust the product's pH

0.4% - 0.95%

Used to preserve products, dissolve other ingredients and create a nice product texture

0.4% - 0.95%

Helps stabilize the product formulation

0.3% - 0.7%

Helps attract water to the upper layer of the skin and can help improve skin barrier function

0.15% - 0.7%

0.15% - 0.65%

An exfoliating and moisturizing alpha-hydroxy acid (AHA). Typically causes less irritation than other AHAs, for example, glycolic acid. At high concentrations (about 15%), lactic acid can help reduce lines and wrinkles. Recent studies show that lactic acid can support the "good" bacteria living on skin's surface (healthy skin microbiom)

0.15% - 0.5%

An amino-acid that helps to attract water to the upper layer of the skin. In combination with other amino-acids, might help to reduce fine lines and wrinkles

0.1% - 0.4%

Helps attract water to the upper layer of the skin. Is often used to adjust the pH level of the product

0.1% - 0.3%

Helps attract water to the upper layer of the skin and improves the product texture

0.05% - 0.25%

Naturally present in skin (urea makes up about 7% of natural moisturizing factors in skin). Attracts water to the upper layer of the skin. Also has a positive effect on the skin barrier beyond the humectant action. Can enhance penetration of other ingredients. Is an exfoliating ingredient when used in high concentrations

0.05% - 0.2%

Traditionally used to treat sunburns, dermatitis and inflammation, but evidence for its effectiveness is lacking. The extract can contain humectants that help attract water into the skin

0.05% - 0.15%

Used to thicken the product formulation and might help to add minerals to the surface of the skin. It is used in scrubs as a physical exfoliant. Can increase sensitivity to other ingredients if left on the skin or used in high concentration

0.05% - 0.1%

Show more