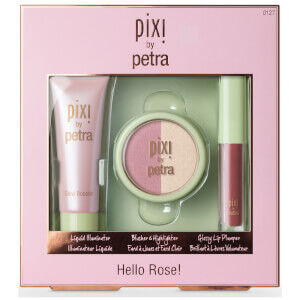 KEY INGREDIENTS
retinyl palmitate

palmitoyl tripeptide-1

panthenol

beeswax

caprylic/capric triglyceride

ethylhexyl methoxycinnamate

ethylhexyl palmitate

homosalate

ricinus communis seed oil

sodium hyaluronate

titanium dioxide

tocopherol

+9 more

Where to buy?
Formula review
See a mistake?
WIMJ
summary
This product contains palmitoyl tripeptide-1. This ingredient might be able to help reduce and prevent fine lines and wrinkles, improve skin elasticity and firmness, but there is not enough evidence that it actually works.
| Ingredient | Effectiveness | Concentration | Irritancy |
| --- | --- | --- | --- |
| | | | |
| | | | |
| | | | |
See a mistake?
Promise
What does the product description say?
"LipLift Max in Sheer Rose The LipLift Max has a unique formula infused with peptides to add a burst of volume to make lips look fuller, and Jojoba Oil to enhance moisture and intensively hydrate."
WIMJ
summary
This product can help improve hydration of the skin with the two types of ingredients.
The first type is called "humectants":
these ingredients help attract water. When humectants are on the surface of the skin, they "pull in" the moisture from the outside environment, or from within deeper layers of the skin. The following ingredients in this product do the job: sodium hyaluronate, butylene glycol.
This product also contains ingredients called "occlusives". They help reduce the speed with which our skin loses moisture to the outside environment. These ingredients also help soften the upper layer of the skin, so it feels less tight and nicer to the touch. The following ingredients in this product do the job: beeswax, ricinus communis seed oil.
The following ingredients in this product are especially good for supporting the skin barrier and helping with the hydration level: palmitoyl tripeptide-1, panthenol
| Ingredient | Effectiveness | Concentration | Irritancy |
| --- | --- | --- | --- |
| | | | |
| | | | |
| | | | |
Potential irritants

Ingredients by volume
Ingredient
Estimated concentration

Plain old water

45% - 55%

Acts as a solvent for other ingredients. Speeds up the absorption of other ingredients into the skin

7% - 8.6%

An emollient that helps to soften the skin and create a pleasant product texture and stabilize the formulation

4.6% - 5.7%

Help improve the product's texture

3% - 3.6%

Used to create a nice product texture and help delivery of other ingredients. Might be somewhat helpful in attracting water to the upper layer of the skin

2.1% - 2.6%

An emollient that softens the skin and forms a protective layer on its surface. Helps water and oil mix together

1.8% - 2.2%

Octinoxate. When used in higher concentrations, works as a sunscreen protecting the skin from UVB rays. When used in lower concentration, helps to preserve the product formulation. Is shown to be harmful to coral reefs - consider avoiding bathing in coral reef areas when wearing a product with this ingredient. It can be irritating

2% - 2.5%

Helps oil and water mix togehter and creates a nice product texture

1.5% - 1.8%

A weak sunscreen that offers some protection against the sun rays that cause sunburn (UVB), but does not offer meaningful protection against protect against the most aging sun rays (UVA). It loses its effectiveness quickly when exposed to sunlight. It is an organic, or so called "chemical" sunscreen. When used in low concentrations, helps to stabilize the product formulation

1.7% - 2.1%

Used to increase effectiveness of preservatives

1% - 1.2%

A preservative. It helps prevent bacterial growth in cosmetic products

0.5% - 1%

Helps attract water to the upper layer of the skin and can help improve skin barrier function

0.6% - 0.9%

Used to improve product texture and help oil and water mix together

0.6% - 0.9%

Helps soften the upper layer of the skin, dissolve other ingredients and create a thicker product consistency

0.55% - 0.85%

Used to adjust pH of the product and can help improve the product's smell

0.5% - 0.75%

A more stable but less bio-available form of vitamin E compared to Tocopherol. Might help moisturize and protect the skin from free radicals, but mostly used in low concentrations to stabilize other ingredients.

0.5% - 0.75%

Maintains the texture of skincare products. Allows the product to spread evenly. Helps oil and water mix together

0.5% - 0.75%

Being a lipid soluble form of vitamin C, it is more stable and can penetrate the skin better than L-Ascorbic acid. It is effective in protecting the skin from free radicals, as well as evening the skin tone, but is less effective in stimulating collagen production compared to L-Ascorbic acid.

0.5% - 0.7%

Three steps removed from the active form of vitamin A - retinoic acid. To have an effect in the skin, it first needs to be converted twice to become the retinoic acid. This means it is less potent than retinol, but could also be less irritating. Once converted to the retinoic acid in the skin, it helps against all signs of aging, improves skin cell turnover and helps fight blemishes and clogged pores. However, in many cosmetic formulations, it is used in a concentration that is too low to have the full effect

0.35% - 0.65%

Helps oil and water mix together

0.45% - 0.65%

0.35% - 0.6%

One of the best moisturizing ingredients. Attracts water into the upper layer of the skin

0.35% - 0.6%

Stabilizes the product formulation

0.3% - 0.6%

A preservative

0.35% - 0.6%

Pure form of vitamin E. Can help moisturise and protect the skin from free radicals. Often used to help stabilise other ingredients or the formula itself

0.3% - 0.6%

An umbrella term for the following three colorants: CI 77491, CI 77492, CI 77499

0.3% - 0.55%

A red colorant made of iron oxide. Typically is not irritating

0.3% - 0.6%

Creates an illusion of smoother and more radiant skin tone. Adds shimmer to the skin by reflecting light

0.4% - 0.6%

Works as a UV filter when used in high concentrations. It is photostable and is effective mostly against the UVB light, with some protection in the UVA range. In small concentrations, used for its ability to improve the color of cosmetic products. Is usually well tolerated by the skin

0.45% - 0.65%

Absorbs oil and moisture helping to create a dryer product finish

0.45% - 0.7%

Creates an illusion of smoother and more radiant skin tone. Adds shimmer to the skin by reflecting light

0.4% - 0.6%

A good mix of fatty acids that forms a protective layer on the skin. Improves the shelf life of products. Derived from coconut and glycerin

0.4% - 0.65%

Used to create a thicker product consistency

0.35% - 0.6%

0.4% - 0.6%

A preservative. It helps prevent bacterial growth in cosmetic products

0.35% - 0.6%

A preservative

0.3% - 0.6%

A more stable but less bio-available form of vitamin E compared to Tocopherol. Might help moisturize and protect the skin from free radicals, but mostly used in low concentrations to stabilize other ingredients.

0.35% - 0.6%

An umbrella term for the following three colorants: CI 77491, CI 77492, CI 77499

0.3% - 0.55%

A violet pigment

0.3% - 0.6%

A red dye

0.3% - 0.6%

Works as a UV filter when used in high concentrations. It is photostable and is effective mostly against the UVB light, with some protection in the UVA range. In small concentrations, used for its ability to improve the color of cosmetic products. Is usually well tolerated by the skin

0.45% - 0.65%

Used to improve the product consistency

0.35% - 0.65%

An emollient that helps to soften the skin and create a pleasant product texture and stabilize the formulation

0.3% - 0.6%

Forms a protective barrier that holds water and keeps dry skin hydrated. Keeps an emulsion from separating into its oil and liquid components, and increases the thickness of a product. Can be an allergen

0.4% - 0.65%

Used to thicken the product consistency

0.35% - 0.6%

Used to create a thicker product consistency

0.35% - 0.65%

A plant oil that can help soften the skin. It might be helpful in calming down inflammation, but solid research is lacking. Is often used in lip products to create the needed product consistency

0.35% - 0.65%

0.35% - 0.65%

The ingredient is not recognized

TBC

0.3% - 0.55%

Helps to create a thicker product consistency

0.3% - 0.6%

Used to thicken the product's texture

0.45% - 0.7%

Used to help oil and water mix together. Can be irritating

0.3% - 0.55%

An emollient that helps soften the skin and create a nice product texture

0.3% - 0.6%

Used to create a thicker product consistency and soften the upper layer of the skin

0.3% - 0.55%

Helps oil and water mix together

0.3% - 0.55%

A type of peptide. Peptides are excellent moisturizers and might be able support collagen production reducing fine lines and wrinkles

0.3% - 0.55%

An aromatic blend of unspecified and possibly irritating ingredients

0.25% - 0.45%

A preservative. It helps prevent bacterial growth in cosmetic products

0.25% - 0.5%

A colorant that can add a pearl-like appearance to the formulation

0.35% - 0.65%

Creates an illusion of smoother and more radiant skin tone. Adds shimmer to the skin by reflecting light

0.25% - 0.5%

0.2% - 0.4%

Works as a UV filter when used in high concentrations. It is photostable and is effective mostly against the UVB light, with some protection in the UVA range. In small concentrations, used for its ability to improve the color of cosmetic products. Is usually well tolerated by the skin

0.3% - 0.5%

An umbrella term for the following three colorants: CI 77491, CI 77492, CI 77499

0.1% - 0.25%

A red colorant

0.1% - 0.2%

Show more