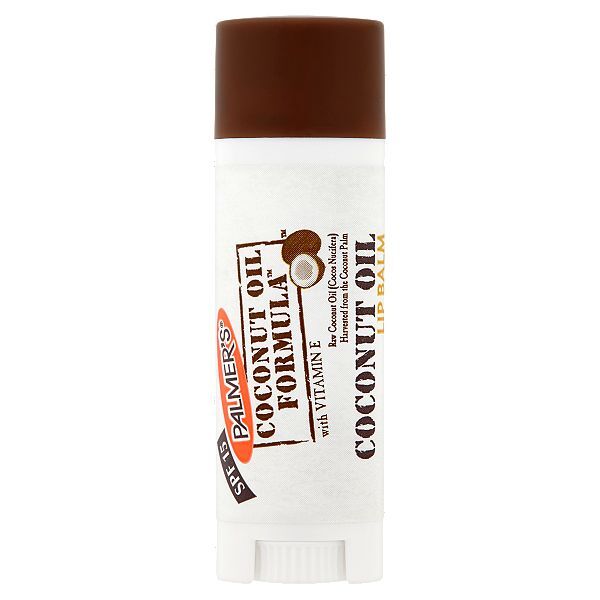 Palmers
s Coconut Oil Formula Lip Balm
KEY INGREDIENTS
benzophenone-3

butyrospermum parkii butter

cetyl alcohol

cocos nucifera oil

ethylhexyl methoxycinnamate

ethylhexyl palmitate

glycine soja oil

helianthus annuus seed oil

macadamia ternifolia seed oil

myristyl myristate

prunus amygdalus dulcis oil

theobroma cacao seed butter

tocopherol

+10 more

Where to buy?
Formula review
See a mistake?
Promise
What does the product description say?
"Palmers Palmer's Coconut Oil Formula Lip Balm Palmer's® Coconut Oil Formula™ Lip Balm is a creamy lip balm that helps keep lips hydrated all day long and protect against chapping, cracking and environmental damage from the cold, sun or wind."
WIMJ
summary
This product can help soften the skin and reduce its moisture loss with emollients and occlusives: butyrospermum parkii butter, cocos nucifera oil.
Keep in mind that this product does not contain effective ingredients to attract water to the upper layer of the skin. This is why an additional product with humectants like glycerin or hyaluronic acid can be helpful (apply it before this product for the best results).
| Ingredient | Effectiveness | Concentration | Irritancy |
| --- | --- | --- | --- |
| | | | |
| | | | |
| | | | |
Potential irritants

Ingredients by volume
Ingredient
Estimated concentration

Used to thicken the product consistency

23% - 34%

A good emollient that helps soften the skin and helps repair its barrier function

5.4% - 8.1%

An emollient. Found to be as effective as a moisturizer for dry skin as mineral oil. Could be comedogenic

4.8% - 7.1%

A great moisturising ingredient that softens the skin and reduces water loss from its upper layer. It also can be helpful in protecting skin from free radicals

4% - 6%

An emollient that helps soften the skin and create a nice product texture

2.9% - 4.3%

An emollient that helps to soften the skin and create a pleasant product texture and stabilize the formulation

2% - 3.1%

Octinoxate. When used in higher concentrations, works as a sunscreen protecting the skin from UVB rays. When used in lower concentration, helps to preserve the product formulation. Is shown to be harmful to coral reefs - consider avoiding bathing in coral reef areas when wearing a product with this ingredient. It can be irritating

2% - 3%

Same as oxybenzone. Protects in the UVB and short UVA range. In small concentrations, used to stabilize product formulation. Can be irritating. Is shown to be harmful to coral reefs - consider avoiding bathing in coral reef areas when wearing a product with this ingredient. It can penetrate the skin and get absorbed into bloodstream faster than other popular filters available in the US. The study that produced this finding did not address any potential health effects of the absorption

1.8% - 2.8%

A non-drying alcohol that works to soften the skin and stabilize product formulations helping oil and water mix together

1.2% - 1.9%

An unspecified blend of fragrant irritating ingredients

0.9% - 1.35%

An emollient. Is not recommended for acne-prone skin as it can be comedogenic

0.85% - 1.3%

An emollient that softens the skin

0.5% - 1.2%

Helps soften the upper layer of the skin and can be helpful in restoring the skin barrier function. Might have some anti-oxidant effect

0.45% - 1.1%

Plant oil from nuts that helps soften the upper layer of the skin. Contains a high concentration of oleic acid that can weaken skin's barrier function and increase water-loss while enhancing penetration of other ingredients

0.45% - 1%

Pure form of vitamin E. Can help moisturise and protect the skin from free radicals. Often used to help stabilise other ingredients or the formula itself

0.35% - 0.85%

A great emollient due to its high linoleic acid content. One of the most effective plant oils in helping skin hydration and repairing skin barrier function

0.4% - 0.9%

Used as a fragrance

0.2% - 0.8%

0.35% - 0.75%

0.15% - 0.6%

An emollient that helps soften the skin

0.3% - 0.75%

Helps to stabilize the product formulation while softening the upper layer of the skin. Can be irritating

0.2% - 0.75%

0.1% - 0.5%

0.1% - 0.45%

A preservative. Can be used to mask unpleasant smell. Can be irritating

0.1% - 0.3%

Fragrance with sweet balsamic smell. Help to preserve products and dissolve other ingredients. Could trigger allergic reactions and be irritating

0.05% - 0.25%

A common frangrance that can easily irritate skin, especially if exposed to air, light or heat

0.05% - 0.25%

Show more