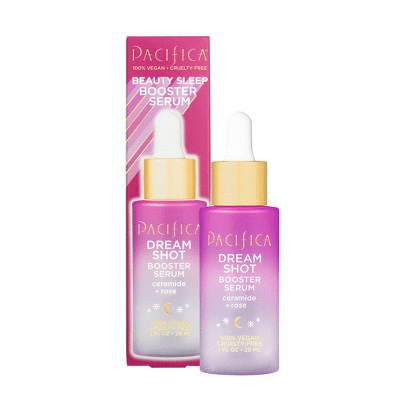 WORKS FOR
Moisturizing
Anti-blemish
KEY INGREDIENTS
ceramide np

butyrospermum parkii butter unsaponifiables

coco-caprylate/caprate

coconut alkanes

ethyl linoleate

prunus armeniaca kernel oil

sphingolipids

+4 more
Where to buy?
Formula review
See a mistake?
WIMJ
summary
This product might be able to help reduce blemishes and clogged pores because it contains ethyl linoleate.
| Ingredient | Effectiveness | Concentration | Irritancy |
| --- | --- | --- | --- |
| | | | |
See a mistake?
Promise
What does the product description say?
"a moisture restoration aid that can act as a natural barrier for your skin, rose ."
WIMJ
summary
This product can help soften the skin and reduce its moisture loss with emollients and occlusives: ethyl linoleate, prunus armeniaca kernel oil.
Keep in mind that this product does not contain effective ingredients to attract water to the upper layer of the skin. This is why an additional product with humectants like glycerin or hyaluronic acid can be helpful (apply it before this product for the best results).
The following ingredients in this product are especially good for supporting the skin barrier and helping with the hydration level: ceramide np
| Ingredient | Effectiveness | Concentration | Irritancy |
| --- | --- | --- | --- |
| | | | |
| | | | |
| | | | |
Potential irritants
Ingredients by volume
Ingredient
Estimated concentration

Plain old water

40% - 60%

An emollient that helps soften the skin

6.5% - 9.8%

Helps to soften the upper layer of the skin without creating a greasy texture

3.9% - 5.8%

Sphingolipids are a group of lipids with a common chemical structure. Some of them are naturally present in skin and can be converted to ceramides

2.8% - 4.2%

An emollient that helps soften the skin

2.1% - 3.1%

Used mostly for creating emulsions - helping oil and water mix together. Helps soften the upper layer of the skin

1.7% - 2.5%

Helps oil and water mix together

1.2% - 1.8%

1% - 1.6%

0.55% - 1.35%

Helps reduce acne and blemishes. Helps to soften the upper layer of the skin and reduce inflammation. Might be helpful in reducing hyperpigmentation and evening out the skin tone, but evidence of effectiveness in skin are lacking

0.45% - 1.05%

0.4% - 0.95%

A great moisturizing ingredient that softens the skin and reduces water loss from its upper layer. It also can be helpful in protecting skin from free radicals

0.15% - 0.6%

Used to add a nice rose smell to the product. Can be irritating

0.1% - 0.4%

A type of lipid similar to ceramides naturally present in skin. Helps to soften the upper layer of the skin and supports the skin barrier function to keep it hydrated. Can help to prevent inflammation in skin

0.1% - 0.45%

A preservative. It helps prevent bacterial growth in cosmetic products

0.05% - 0.2%

An aromatic blend of unspecified and possibly irritating ingredients

0.01% - 0.05%

Show more