Oh K!
Bamboo Water Sheet Mask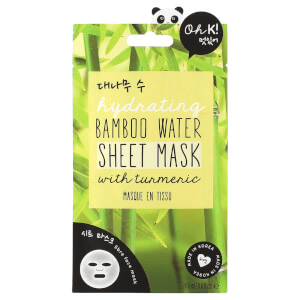 Shop now
Formula review
Promises, but can't deliver:
All promises can be fulfilled by this formula at least in theory
See a mistake?
Promise
What does the product description say?
"The hydrating formula features an amino acid and flavonoid complex to help strengthen the skin's natural defences against environmental aggressors."
WIMJ
summary
This product can help improve hydration of the skin with the two types of ingredients.
The first type is called "humectants":
these ingredients help attract water. When humectants are on the surface of the skin, they "pull in" the moisture from the outside environment, or from within deeper layers of the skin. The following ingredients in this product do the job: allantoin, arginine.
This product also contains ingredients called "occlusives". They help reduce the speed with which our skin loses moisture to the outside environment. These ingredients also help soften the upper layer of the skin, so it feels less tight and nicer to the touch. The following ingredients in this product do the job: arginine.
Potential irritants

Ingredients by volume
Plain old water
Used to create a nice product texture and help delivery of other ingredients. Might be somewhat helpful in attracting water to the upper layer of the skin
Questions