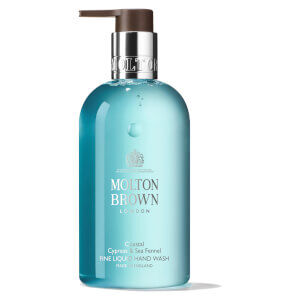 Molton Brown
Coastal Cypress & Sea Fennel Fine Liquid Hand Wash
KEY INGREDIENTS
butyl methoxydibenzoylmethane

caprylic/capric triglyceride

ethylhexyl methoxycinnamate

glycerin

tocopherol

+2 more

Where to buy?
Formula review
See a mistake?
Promise
What does the product description say?
"Coastal Cypress & Sea Fennel Fine Liquid Hand Wash"
WIMJ
summary
This product works by removing dirt and oil from the surface of the skin. It uses a combination of mild cleansing agents (cocamidopropyl betaine, coco-glucoside, laureth-7 citrate, lauryl alcohol, peg-150 pentaerythrityl tetrastearate, peg-40 hydrogenated castor oil, ppg-2 hydroxyethyl cocamide, sodium laureth sulfate) and should be able to cleanse the skin gently. Still keep in mind that any cleansing can disrupt the skin barrier, and most people do not need to cleanse their skin more than once per day.
Even though this formulation is mild, the following cleansing agents could trigger an irritation or allergy for some people: cocamidopropyl betaine, coco-glucoside, sodium laureth sulfate
| Ingredient | Effectiveness | Concentration | Irritancy |
| --- | --- | --- | --- |
| | | | |
| | | | |
| | | | |
Potential irritants

Ingredients by volume
Ingredient
Estimated concentration

Plain old water

45% - 55%

Works as a foaming cleansing agent

10% - 12%

Helps water and oil mix together. Used as a cleansing ingredient. Could be an allergen

6.1% - 7.5%

An aromatic blend of unspecified and possibly irritating ingredients

3% - 3.6%

2.4% - 3%

One of the best moisturizing ingredients. Naturally present in skin. It attracts water to the upper layer of the skin working as a humectant

2% - 2.4%

Used to thicken the product formulation and might help to add minerals to the surface of the skin. It is used in scrubs as a physical exfoliant. Can increase sensitivity to other ingredients if left on the skin or used in high concentration

1.6% - 1.9%

Used as a cleansing agent (surfactant) in cleansers. Helps water and oil mix together in lotions. Can be irritating

1.5% - 1.9%

1.1% - 1.3%

0.8% - 1.15%

Helps soften the upper layer of the skin and create a nice product finish

0.75% - 1.1%

A plant extract that might help neutralize free radicals in skin. Can contain volalite oils and be irritating

0.55% - 0.8%

A plant extract that might help neutralize free radicals in skin. Can contain volalite oils and be irritating

0.5% - 0.75%

Helps oil and water mix together and can enhance the penetration of other ingredients into the skin

0.45% - 0.7%

Used to create a nice product texture and help delivery of other ingredients. Might be somewhat helpful in attracting water to the upper layer of the skin

0.45% - 0.7%

A good mix of fatty acids that forms a protective layer on the skin. Improves the shelf life of products. Derived from coconut and glycerin

0.5% - 0.75%

0.5% - 0.75%

Helps to stabilize the product formulation while softening the upper layer of the skin. Can be irritating

0.45% - 0.65%

Helps soften the upper layer of the skin

0.4% - 0.6%

Helps oil and water mix together

0.3% - 0.6%

Octinoxate. When used in higher concentrations, works as a sunscreen protecting the skin from UVB rays. When used in lower concentration, helps to preserve the product formulation. Is shown to be harmful to coral reefs - consider avoiding bathing in coral reef areas when wearing a product with this ingredient. It can be irritating

0.5% - 0.75%

Avobenzone. An organic, or so-called "chemical" UV filter. Protects against both UVA and UVB rays. Needs to be combined with other filters in a formulation to be stable.

0.5% - 0.75%

Octisalate. A UV filter. It offers some protection against the sun rays that cause sunburn (UVB), but does not protect against the most aging sun rays (UVA). It loses its effectiveness quickly when exposed to sunlight. It is an organic, or so called "chemical" sunscreen

0.5% - 0.75%

Helps oil and water mix together

0.3% - 0.55%

A common frangrance that can easily irritate skin, especially if exposed to air, light or heat

0.25% - 0.45%

A fragrance. Potential allergen and can be irritating

0.25% - 0.45%

A fragrance. Can be irritating

0.25% - 0.45%

Helps stabilize the product formulation

0.25% - 0.5%

Pure form of vitamin E. Can help moisturise and protect the skin from free radicals. Often used to help stabilise other ingredients or the formula itself

0.25% - 0.5%

Used to stabilize product formulations

0.25% - 0.45%

Produces temporary toning effect. Can help dissolve other ingredients or preserve products

0.25% - 0.45%

A preservative. Can be used to mask unpleasant smell. Can be irritating

0.25% - 0.4%

A preservative. It helps prevent bacterial growth in cosmetic products

0.25% - 0.45%

A preservative

0.2% - 0.4%

A preservative

0.2% - 0.35%

Can work as an exfoliant but is typically used to adjust the product pH

0.15% - 0.3%

Used to adjust the product's pH

0.15% - 0.3%

0.15% - 0.3%

0.15% - 0.25%

A colorant (dye)

0.1% - 0.2%

A red colorant

0.1% - 0.15%

A yellow dye

0.1% - 0.15%

Show more