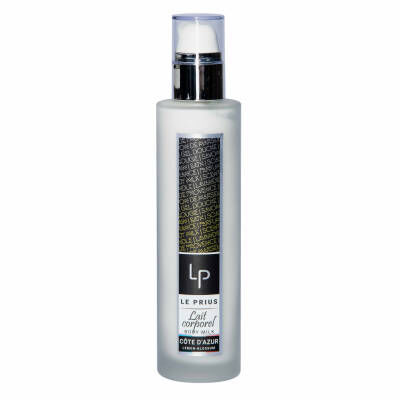 Le Prius
Côte d'Azur Body Lotion Lemon Blossom
KEY INGREDIENTS
Mineral oil

butyrospermum parkii butter

glycerin

polyglyceryl-2 dipolyhydroxystearate

Appears in 0 user routines
Product summary
"Le Prius - Côte d'Azur Body Lotion Lemon Blossom" is a well-rounded moisturizing product. This moisturizer uses a good combo of humectants and emollients. These both types of ingredients are essentials for improving the skin hydration and keeping the skin barrier healthy. Humectants in this product (glycerin) help to increase the water content in the upper layer of the skin. (These ingredients do so by "capturing" water molecules from the outside air or from within the deeper layers of the skin). Emollients in this formulation (paraffinum liquidum, butyrospermum parkii butter and ethylhexyl stearate) help to reduce the moisture loss from the skin. They also soften the skin surface and relieve the feeling of dryness and tightness.
Irritation risk
We assess the overall irritancy of this moisturizer to be high. For a detailed overview of all potential irritants: click here
You can see the detailed formula review with the breakdown of all actives in the product and the full ingredient list with estimated concentrations in the tables below.
Price
The product retails for 45.00£ in the United Kingdom.
For a detailed price comparison: click here.
Can the product deliver on its promises?
See a mistake?
Promise
What does the product description say?
"Moiturising, it's penetrating quickly the skin leaving no greasy residues on the skin."
WIMJ summary for moisturizing
This product can help improve hydration of the skin with the two types of ingredients.
The first type is called "humectants":
these ingredients help attract water. When humectants are on the surface of the skin, they "pull in" the moisture from the outside environment, or from within deeper layers of the skin. The following ingredients in this product do the job: glycerin.
This product also contains ingredients called "occlusives". They help reduce the speed with which our skin loses moisture to the outside environment. These ingredients also help soften the upper layer of the skin, so it feels less tight and nicer to the touch. The following ingredients in this product do the job: butyrospermum parkii butter, ethylhexyl stearate.
The following ingredients in this product are especially good for supporting the skin barrier and helping with the hydration level: paraffinum liquidum
| Ingredient | Effectiveness | Concentration | Irritancy |
| --- | --- | --- | --- |
| | | | |
| | | | |
| | | | |
How honest is this product?
| Promise | Can it deliver? |
| --- | --- |
| Moisturizing | |
Total Promises Fulfilled score:
100
/100.
Potential irritants

Ingredients by volume
Ingredient
Estimated concentration

Plain old water

40% - 60%

Mineral oil. One of the most effective and well studied occlusive and emollient moisturizing ingredients. Helps reduce moisture loss in skin and repair skin barrier function

6.7% - 10%

Helps soften the upper layer of the skin

3.8% - 5.7%

Show more