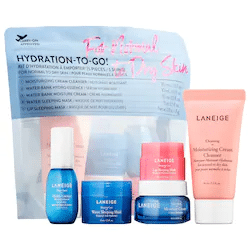 LANEIGE
Hydration-To-Go! Normal to Dry Skin
KEY INGREDIENTS
ascorbyl glucoside

ascorbyl glucoside

ascorbyl glucoside

ascorbyl glucoside

ceramide np

astrocaryum murumuru seed butter

beta-glucan

butyrospermum parkii butter

cera microcristallina

cetearyl alcohol

chenopodium quinoa seed extract

copernicia cerifera cera

copernicia cerifera wax

cyclopentasiloxane

diisostearyl malate

dimethicone

dimethiconol

euphorbia cerifera cera

glycerin

glycine soja oil

helianthus annuus seed oil

hyaluronic acid

hydrogenated poly(c6-14 olefin)

hydroxypropyl bispalmitamide mea

limnanthes alba seed oil

methicone

phenyl trimethicone

saccharide isomerate

silica

sodium hyaluronate

stearyl behenate

titanium dioxide

tocopherol

trehalose

+31 more

Where to buy?
Formula review
See a mistake?
Promise
What does the product description say?
"1 oz/ 30 mL Moisturizing Cream Cleanser ."
WIMJ
summary
This product works by removing dirt and oil from the surface of the skin. It uses a combination of mild cleansing agents (carbomer, cetearyl alcohol, diisostearyl malate, glyceryl caprylate, glyceryl stearate, hydrogenated lecithin, inulin lauryl carbamate, lauric acid, lauryl hydroxysultaine, myristic acid, polyglyceryl-2 diisostearate, polyglyceryl-2 triisostearate, polyglyceryl-3 methylglucose distearate, polyhydroxystearic acid, polysorbate 20, sorbitan isostearate, sucrose tetrastearate triacetate) and should be able to cleanse the skin gently. Still keep in mind that any cleansing can disrupt the skin barrier, and most people do not need to cleanse their skin more than once per day.
| Ingredient | Effectiveness | Concentration | Irritancy |
| --- | --- | --- | --- |
| | | | |
| | | | |
| | | | |
Potential irritants

Ingredients by volume
Ingredient
Estimated concentration

Plain old water

TBC

This oil's cmposition is closest to rapeseed oil. It is a very stable oil and serves as an emoillient

TBC

Helps oil and water mix together. Could be comedogenic

TBC

TBC

Helps water and oil mix together. Has anti-bacterial properties that might be helpful in preventing blemishes

TBC

Used to adjust the pH level of products

TBC

One of the best moisturizing ingredients. Naturally present in skin. It attracts water to the upper layer of the skin working as a humectant

TBC

Used to thicken the product formulation and might help to add minerals to the surface of the skin. It is used in scrubs as a physical exfoliant. Can increase sensitivity to other ingredients if left on the skin or used in high concentration

TBC

Helps oil and water mix together and works as an emollient

TBC

Maintains the texture of skincare products. Allows the product to spread evenly. Helps oil and water mix together

TBC

An aromatic blend of unspecified and possibly irritating ingredients

TBC

A fragrance. Can be irritating

TBC

Helps soften the upper layer of the skin and create a nice product finish

TBC

A fragrance. Can be irritating

TBC

TBC

Stabilizes the product formulation

TBC

A fragrance with jasmine smell. A likely irritant

TBC

A fragrance. Can be irritating

TBC

A great emollient due to its high linoleic acid content. One of the most effective plant oils in helping skin hydration and repairing skin barrier function

TBC

A preservative

TBC

Pure form of vitamin E. Can help moisturise and protect the skin from free radicals. Often used to help stabilise other ingredients or the formula itself

TBC

Used to absorb oil and can temporarily mattify skin

TBC

A preservative

TBC

Plain old water

TBC

Acts as a solvent for other ingredients. Speeds up the absorption of other ingredients into the skin

TBC

TBC

Used to create a nice product texture and helps soften the upper layer of the skin. Could be comedogenic

TBC

One of the best moisturizing ingredients. Naturally present in skin. It attracts water to the upper layer of the skin working as a humectant

TBC

A type of silicone that helps create a silky product finish and dissolve other ingredients

TBC

Dissolves other ingredients. It does not have additional skin benefits compared to plain water

TBC

Sea water. Helps dissolve other ingredients in a product

TBC

Dissolves other ingredients. It does not have additional skin benefits compared to plain water

TBC

Helps attract water to the upper layer of the skin

TBC

A silicone that helps to reduce water loss from the surface of the skin. Can temporarily "fill in" lines and wrinkles, absorb oil, and create a nice product finish

TBC

TBC

Helps adjust pH in products

TBC

Used to stabilize product formulations and create a nice product texture

TBC

Used to create a nice product texture and help delivery of other ingredients. Might be somewhat helpful in attracting water to the upper layer of the skin

TBC

Maintains the texture of skincare products. Allows the product to spread evenly. Helps oil and water mix together

TBC

Helps create a gel-like product texture. Can be used in gentle cleansing formulations

TBC

An emollient that can also help water and oil mix together, as well as prevent bacteria growth in products

TBC

Stabilizes the product formulation

TBC

A preservative

TBC

A preservative

TBC

An aromatic blend of unspecified and possibly irritating ingredients

TBC

Helps soften the upper layer of the skin

TBC

Used to create a thicker product consistency

TBC

Helps create a thicker product consistency. Might be irritating

TBC

A preservative. It helps prevent bacterial growth in cosmetic products

TBC

Helps to control the skin's pH level. Maintains the skin's natural film of amino-lactic acids and oils. Helps to preserve products

TBC

Can work as an exfoliant but is typically used to adjust the product pH

TBC

Used to dissolve other ingredients and to improve smell of products. It could be irritating

TBC

A plant extract that might have some antioxidant properties, but mostly used in cosmetics for its color

TBC

TBC

TBC

A preservative. It can be irritating

TBC

Used mostly for creating emulsions - helping oil and water mix together. Helps soften the upper layer of the skin

TBC

Might be helpful in neutralizing free radicals in skin but solid research is lacking. Helps attract water to the upper layer of the skin

TBC

Used as a fragrance. Might have anti-oxidant properties

TBC

Pure form of vitamin E. Can help moisturise and protect the skin from free radicals. Often used to help stabilise other ingredients or the formula itself

TBC

TBC

A vitamin C derivative that is more stable but less potent than pure form of vitamin C. Has a potential to boost collagen production, nutralise free radicals and reduce hyperpigmentation, but the required concentration is likely to be much higher than for the pure form of vitamin C, limiting the ingredient's effectiveness in products

TBC

Plain old water

TBC

Acts as a solvent for other ingredients. Speeds up the absorption of other ingredients into the skin

TBC

One of the best moisturizing ingredients. Naturally present in skin. It attracts water to the upper layer of the skin working as a humectant

TBC

A type of silicone that helps create a silky product finish and dissolve other ingredients

TBC

A type of silicone that can decrease loss of moisture from the skin surface. It helps create a nice product texture

TBC

A type of silicone that helps to soften the upper layer of the skin and create a nice product finish on the skin

TBC

A preservative

TBC

Helps products spread more easily and works as an emollient to soften skin

TBC

Dissolves other ingredients. It does not have additional skin benefits compared to plain water

TBC

Sea water. Helps dissolve other ingredients in a product

TBC

Dissolves other ingredients. It does not have additional skin benefits compared to plain water

TBC

Helps attract water to the upper layer of the skin

TBC

Helps to retain moisture by creating a protective barrier on the skin. Rich in fatty acids. Improves product texture and helps with the penetration of other ingredients.

TBC

Increases thickness of a product. Texture enhancer for oil-in-water emulsions

TBC

Used to improve the product consistency and soften the upper layer of the skin

TBC

A gelling agent that thickens the product consistency and leaves the skin with a velvety finish

TBC

A non-drying alcohol. Works as an emollient. Helps water and oil mix together and creates a nice product texture

TBC

Used to create a nice product texture and help delivery of other ingredients. Might be somewhat helpful in attracting water to the upper layer of the skin

TBC

An aromatic blend of unspecified and possibly irritating ingredients

TBC

An emollient that can also help water and oil mix together, as well as prevent bacteria growth in products

TBC

An emollient that softens the skin and forms a protective layer on its surface. Helps water and oil mix together

TBC

Helps oil and water mix together and works as an emollient

TBC

A preservative

TBC

Stabilizes the product formulation

TBC

Maintains the texture of skincare products. Allows the product to spread evenly. Helps oil and water mix together

TBC

Helps adjust pH in products

TBC

Helps oil and water mix together

TBC

Helps water and oil mix together

TBC

One of the best moisturizing ingredients. Attracts water into the upper layer of the skin. Naturally present in skin. Typically has large molecule size unless advertised otherwise on the product label. Helps support skin's barrier function and may help to reduce inflammation

TBC

Used to create a thicker product consistency

TBC

Helps create a thicker product consistency. Might be irritating

TBC

A fragrance. Can be irritating

TBC

Helps to control the skin's pH level. Maintains the skin's natural film of amino-lactic acids and oils. Helps to preserve products

TBC

Can work as an exfoliant but is typically used to adjust the product pH

TBC

A fragrance with jasmine smell. A likely irritant

TBC

A fragrance. Is a likely irritant

TBC

A fragrance. Can trigger allergic reactions and be irritating

TBC

A common frangrance that can easily irritate skin, especially if exposed to air, light or heat

TBC

A plant extract that might have some antioxidant properties, but mostly used in cosmetics for its color

TBC

TBC

A fragrance. Can be irritating

TBC

A fragrance. Can be irritating

TBC

A fragrance. Potential allergen and can be irritating

TBC

TBC

Helps soften the upper layer of the skin

TBC

Pure form of vitamin E. Can help moisturise and protect the skin from free radicals. Often used to help stabilise other ingredients or the formula itself

TBC

A preservative. It can be irritating

TBC

Used mostly for creating emulsions - helping oil and water mix together. Helps soften the upper layer of the skin

TBC

Might be helpful in neutralizing free radicals in skin but solid research is lacking. Helps attract water to the upper layer of the skin

TBC

Used as a fragrance. Might have anti-oxidant properties

TBC

A good emollient that helps soften the skin and helps repair its barrier function

TBC

TBC

A vitamin C derivative that is more stable but less potent than pure form of vitamin C. Has a potential to boost collagen production, nutralise free radicals and reduce hyperpigmentation, but the required concentration is likely to be much higher than for the pure form of vitamin C, limiting the ingredient's effectiveness in products

TBC

Plain old water

TBC

Used to create a nice product texture and help delivery of other ingredients. Might be somewhat helpful in attracting water to the upper layer of the skin

TBC

A silicone that helps improve the product texture and spreadability. Can absord oil creating a short-term mattifying effect on the skin

TBC

One of the best moisturizing ingredients. Naturally present in skin. It attracts water to the upper layer of the skin working as a humectant

TBC

A silicone that serves as an emollient. Helps create a nice non-greasy feels

TBC

A sugar that attracts water to the upper layer of the skin

TBC

One of the best moisturizing ingredients. Attracts water into the upper layer of the skin

TBC

TBC

A fruit extract that might have some antioxidant properties and might help attract water to the skin, but evidence of effectiveness is lacking

TBC

Helps attract water to the upper layer of the skin, calm down inflammation and irritation, restore the barrier function and support wound healing. It can be helpful in reducing fine lines and wrinkles

TBC

Helps soften the upper layer of the skin

TBC

A vitamin C derivative that is more stable but less potent than pure form of vitamin C. Has a potential to boost collagen production, nutralise free radicals and reduce hyperpigmentation, but the required concentration is likely to be much higher than for the pure form of vitamin C, limiting the ingredient's effectiveness in products

TBC

Used to create a thicker product consistency

TBC

A preservative. It can be irritating

TBC

TBC

Helps create a thicker product consistency. Might be irritating

TBC

TBC

Increases thickness of a product. Texture enhancer for oil-in-water emulsions

TBC

Helps oil and water mix together

TBC

A silicone that helps to reduce water loss from the surface of the skin. Can temporarily "fill in" lines and wrinkles, absorb oil, and create a nice product finish

TBC

A silicone that makes products more spreadable and keeps skin smooth. Helps to add gloss to skin and may visually fill in fine lines/wrinkles for short time

TBC

Used to stabilize product formulations and create a nice product texture

TBC

Acts as a solvent for other ingredients. Speeds up the absorption of other ingredients into the skin

TBC

A preservative

TBC

Helps soften the upper layer of the skin

TBC

Helps water and oil mix together

TBC

TBC

TBC

Can be drying and contribute to skin irritation. Used in formulars to dissolve other ingredients, create a thinner product consistency or for its antibacterial properties

TBC

A preservative

TBC

Helps preserve products and creates a nice product texture

TBC

Helps create a gel-like product texture. Can be used in gentle cleansing formulations

TBC

Helps adjust pH in products

TBC

Stabilizes the product formulation

TBC

A preservative. It helps prevent bacterial growth in cosmetic products

TBC

An aromatic blend of unspecified and possibly irritating ingredients

TBC

A colorant (dye)

TBC

Helps to soften the upper layer of the skin

TBC

Used to improve the product consistency and soften the upper layer of the skin

TBC

Helps soften the upper layer of the skin and create a nice product consistency

TBC

Helps soften the upper layer of the skin and create a nice product texture

TBC

Used to create a thicker product consistency

TBC

Used to create a thicker product consistency

TBC

Helps to soften the upper layer of the skin, reduce water loss from its surface and create a thicker product consistency

TBC

A great moisturising ingredient that softens the skin and reduces water loss from its upper layer. It also can be helpful in protecting skin from free radicals

TBC

Used to stabilize product formulations and thicken product consistency

TBC

Helps soften the upper layer of the skin and thickens the product's texture

TBC

TBC

TBC

Used to create a gel-like product texture

TBC

Used to create a thicker product consistency

TBC

Creates an illusion of smoother and more radiant skin tone. Adds shimmer to the skin by reflecting light

TBC

TBC

Helps soften the upper layer of the skin. Could be comedogenic due to the myrisic acid content

TBC

Works as a UV filter when used in high concentrations. It is photostable and is effective mostly against the UVB light, with some protection in the UVA range. In small concentrations, used for its ability to improve the color of cosmetic products. Is usually well tolerated by the skin

TBC

A silicone that helps to reduce water loss from the surface of the skin. Can temporarily "fill in" lines and wrinkles, absorb oil, and create a nice product finish

TBC

An aromatic blend of unspecified and possibly irritating ingredients

TBC

TBC

A preservative

TBC

A type of silicone that helps soften the upper layer of the skin and reduces the water loss from the skin surface

TBC

Brazilian palm wax. Helps soften the upper layer of the skin

TBC

A type of lipid similar to ceramides naturally present in skin. Helps to soften the upper layer of the skin and supports the skin barrier function to keep it hydrated. Can help to prevent inflammation in skin

TBC

Helps to soften the upper layer of the skin and create a nice product consistency

TBC

Helps to soften the upper layer of the skin and create a nice product texture

TBC

A yellow dye

TBC

A colorant

TBC

A red colorant

TBC

Used to create a thicker product consistency and stabilize the formulation

TBC

Plain old water

TBC

TBC

Acts as a solvent for other ingredients. Speeds up the absorption of other ingredients into the skin

TBC

One of the best moisturizing ingredients. Naturally present in skin. It attracts water to the upper layer of the skin working as a humectant

TBC

Can be drying and contribute to skin irritation. Used in formulars to dissolve other ingredients, create a thinner product consistency or for its antibacterial properties

TBC

TBC

A berry extract. Might have some anti-oxidant properties

TBC

TBC

A fruit extract that might have some anti-oxidant properties but evidence of effectiveness in skin is lacking

TBC

TBC

A plant extract tha can have anti-oxidant properties, but evidence of effectiveness in skin is lacking

TBC

TBC

Might be helpful in neutralizing free radicals in skin

TBC

Helps soften the upper layer of the skin

TBC

Used to create a thicker product consistency

TBC

Helps create a thicker product consistency. Might be irritating

TBC

One of the best moisturizing ingredients. Attracts water into the upper layer of the skin

TBC

Helps attract water to the upper layer of the skin, calm down inflammation and irritation, restore the barrier function and support wound healing. It can be helpful in reducing fine lines and wrinkles

TBC

TBC

A preservative. It can be irritating

TBC

A vitamin C derivative that is more stable but less potent than pure form of vitamin C. Has a potential to boost collagen production, nutralise free radicals and reduce hyperpigmentation, but the required concentration is likely to be much higher than for the pure form of vitamin C, limiting the ingredient's effectiveness in products

TBC

Show more