PRODUCT REVIEW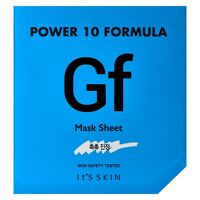 It'S SKIN
Power 10 GF Face Mask - Moisturising
Works for:
based on ingredients and %
Can it cause trouble?
Cheaper alternatives
Oh K! - Niacinamide Mask
Price: $5
Find out more
Dr. Ceuracle - Buy Hyal Reyouth Lifting Mask Australia - Korean Skin Care Beauty and Cosmetics
Price: $3.57
Find out more
What can the product work for?
Ingredients & concentrations