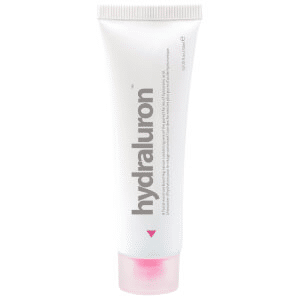 KEY INGREDIENTS
ahnfeltia concinna extract

sodium hyaluronate

Appears in 0 user routines
Can the product deliver on its promises?
See a mistake?
Promise
What does the product description say?
"Fortified with the purest form of Hyaluronic Acid, the powerful serum helps to defend against premature ageing, whilst infusing wanting skin with intense moisture to combat flakiness."
WIMJ summary for anti-aging
Effective ingredients missing or their concentration is too low.
See a mistake?
Promise
What does the product description say?
"Hydraluron Moisture Boosting Facial Serum"
WIMJ summary for moisturizing
This product contains good ingredients to attract water to the upper layer of the skin. These ingredients are called "humectants": ahnfeltia concinna extract, sodium hyaluronate.
When humectants are on the surface of the skin, they "pull in" the moisture from the outside environment, or from within deeper layers of the skin. If the air is dry, humectants can speed up the moisture loss from the skin. This is why it is a good idea to use another product on top of this one to help "seal in" the moisture (look for ingredients like dimethicone, squalane, oils and butters).
| Ingredient | Effectiveness | Concentration | Irritancy |
| --- | --- | --- | --- |
| | | | |
| | | | |
| | | | |
How honest is this product?
| Promise | Can it deliver? |
| --- | --- |
| Moisturizing | |
| Anti-aging | |
Total Promises Fulfilled score:
37
/100.
Potential irritants

Ingredients by volume
Ingredient
Estimated concentration

Plain old water

40% - 60%

Acts as a solvent for other ingredients. Speeds up the absorption of other ingredients into the skin

4.8% - 7.2%

One of the best moisturizing ingredients. Attracts water into the upper layer of the skin

3.4% - 5%

Show more