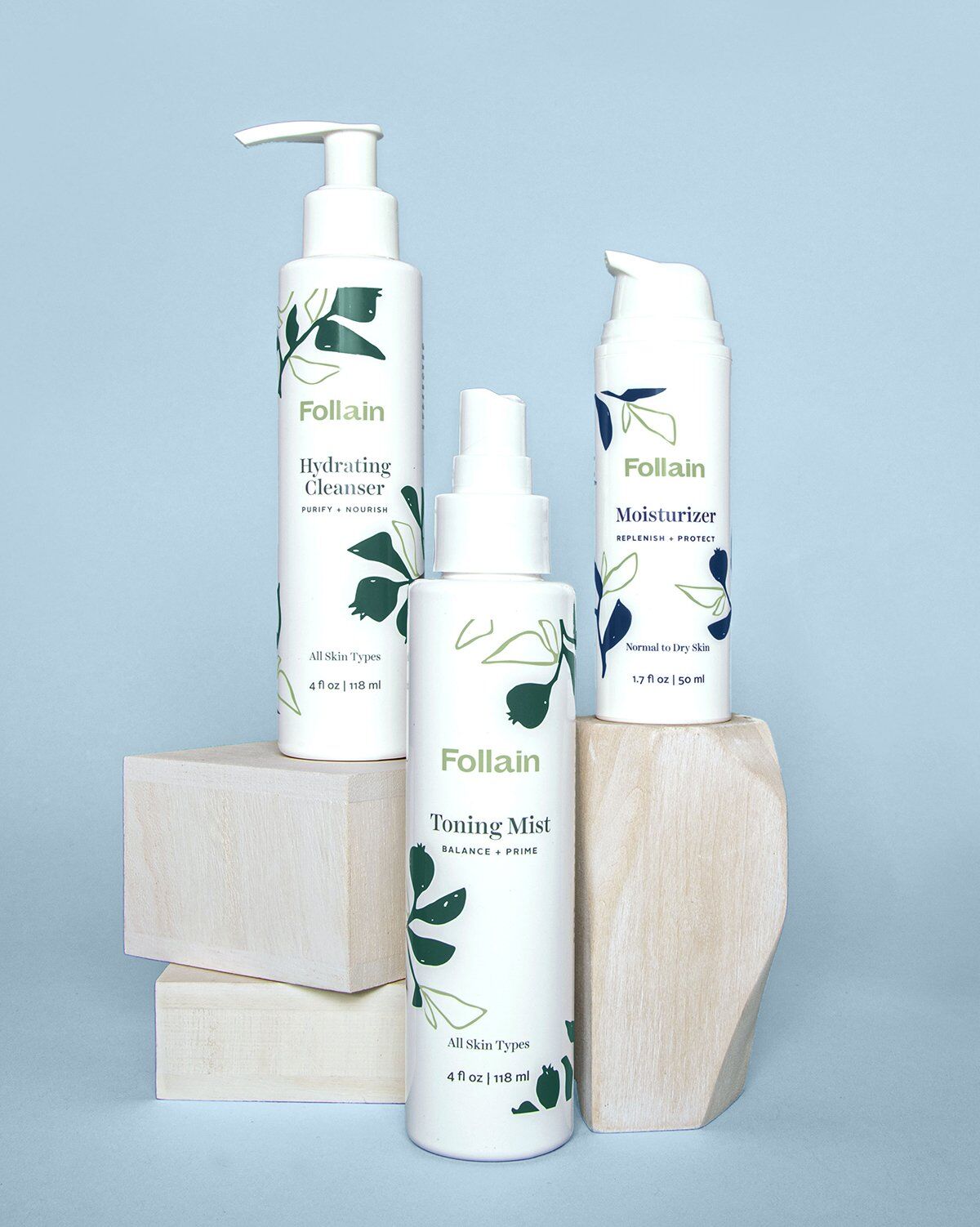 KEY INGREDIENTS
bakuchiol

palmitoyl tripeptide-38

butyrospermum parkii butter

camellia sinensis leaf extract

caprylic/capric triglyceride

cocos nucifera oil

euphorbia cerifera cera

galactoarabinan

glycerin

hydrogenated vegetable glycerides

rosa canina fruit oil

simmondsia chinensis seed oil

sodium hyaluronate

sodium pca

squalane

theobroma cacao seed butter

tocopherol

ubiquinone

+15 more

Where to buy?
Formula review
See a mistake?
Promise
What does the product description say?
"100% clean, EWG VERIFIEDTM, cruelty-free, gluten-free, non-GMO, dermatologist-tested, synthetic fragrance-free & made in USA Set Includes Follain Hydrating Cleanser."
WIMJ
summary
This product works by removing dirt and oil from the surface of the skin. It uses a combination of mild cleansing agents (cetearyl olivate, cocamide mipa, decyl glucoside, glyceryl caprylate, glyceryl caprylate/caprate, glyceryl stearate, hydrogenated vegetable glycerides, potassium cocoate, potassium cocoyl glycinate, sorbitan olivate, xanthan gum) and should be able to cleanse the skin gently. Still keep in mind that any cleansing can disrupt the skin barrier, and most people do not need to cleanse their skin more than once per day.
Even though this formulation is mild, the following cleansing agents could trigger an irritation or allergy for some people: decyl glucoside
| Ingredient | Effectiveness | Concentration | Irritancy |
| --- | --- | --- | --- |
| | | | |
| | | | |
| | | | |
See a mistake?
WIMJ
summary
This product might be able to help reduce blemishes and clogged pores because it contains bakuchiol.
| Ingredient | Effectiveness | Concentration | Irritancy |
| --- | --- | --- | --- |
| | | | |
| | | | |
| | | | |
Potential irritants

Ingredients by volume
Ingredient
Estimated concentration

Plain old water

45% - 55%

One of the best moisturizing ingredients. Naturally present in skin. It attracts water to the upper layer of the skin working as a humectant

4.4% - 5.4%

4.1% - 5%

2.7% - 3.3%

Helps oil and water mix together. Can be irritating

2.4% - 2.9%

Helps oil and water mix together and works as a cleansing agent

1.8% - 2.2%

A preservative

0.65% - 1%

A plant extract that might contain salicylic acid

1.4% - 1.7%

A great emollient. Contains vitamin E (tocopherol) which may give it some anti-oxidant properties. Can contain volatile compounds and can be irritating

1.2% - 1.4%

Can contain potent anti-oxidant compounds (abbreviated ECG, GCG, EGC, and EGCG) that might help protect the skin from free radicals. Can help calm down inflammation and has some anti-bacterial properties. Unfortunately, these antioxidants are unstable and lose their effectiveness very quickly in products. The concentration of the antioxidant compounds in the extract also tends to be low to be effective in topical formulation

0.95% - 1.15%

0.65% - 0.95%

0.5% - 0.8%

An essential oil used for fragrance. Can be an allergen and irritant

0.45% - 0.7%

Used as a fragrance. Can be irritating

0.4% - 0.6%

Can work as an exfoliant but is typically used to adjust the product pH

0.35% - 0.65%

An emollient that can also help water and oil mix together, as well as prevent bacteria growth in products

0.45% - 0.7%

Used to create a thicker product consistency

0.35% - 0.65%

A preservative

0.3% - 0.6%

Helps stabilize product formulations

0.25% - 0.5%

0.3% - 0.5%

A preservative

0.25% - 0.45%

A very irritating fragrant ingredient

0.2% - 0.4%

A preservative

0.25% - 0.45%

A preservative

0.2% - 0.4%

Plain old water

0.2% - 0.4%

Traditionally used to treat sunburns, dermatitis and inflammation, but evidence for its effectiveness is lacking. The extract can contain humectants that help attract water into the skin

0.2% - 0.4%

A preservative

0.2% - 0.4%

Used to preserve products, dissolve other ingredients and create a nice product texture

0.25% - 0.5%

Used to add a nice rose smell to the product. Can be irritating

0.2% - 0.4%

Plant extract that can have healing and anti-inflammatory properties. It is a potential allergen and can be irritating

0.2% - 0.4%

A plant extract that might have some anti-oxidant properties, but evidence is lacking

0.2% - 0.35%

0.25% - 0.45%

Coenzyme Q10. It helps neutralize free radicals in skin, improves skin hydration and might be helpful agains fine lines and wrinkles. It can be an allergen

0.25% - 0.5%

0.25% - 0.45%

0.25% - 0.45%

One of the best moisturizing ingredients. Naturally present in skin. It attracts water to the upper layer of the skin working as a humectant

0.3% - 0.55%

A very irritating fragrant ingredient

0.25% - 0.45%

Used to create a nice product texture and help delivery of other ingredients. Might be somewhat helpful in attracting water to the upper layer of the skin

0.25% - 0.45%

Helps attract water to the upper layer of the skin

0.25% - 0.5%

Naturally present in skin and helps to attract water to its upper layer

0.25% - 0.45%

Helps stabilize the product formulation

0.25% - 0.45%

A preservative

0.25% - 0.45%

Used to create a thicker product consistency

0.25% - 0.5%

A preservative

0.25% - 0.5%

Can work as an exfoliant but is typically used to adjust the product pH

0.25% - 0.45%

Plain old water

0.25% - 0.45%

One of the best moisturizing ingredients. Naturally present in skin. It attracts water to the upper layer of the skin working as a humectant

0.3% - 0.55%

Traditionally used to treat sunburns, dermatitis and inflammation, but evidence for its effectiveness is lacking. The extract can contain humectants that help attract water into the skin

0.25% - 0.45%

Used to add a nice rose smell to the product. Can be irritating

0.25% - 0.45%

Softens the upper layer of skin and helps restore the healthy skin barrier. Has shown to help calm down inflammation in skin. It is a stable oil, meaning that it retains its properties even when exposed to air.

0.3% - 0.55%

A good mix of fatty acids that forms a protective layer on the skin. Improves the shelf life of products. Derived from coconut and glycerin

0.3% - 0.55%

Helps oil and water mix together

0.25% - 0.5%

Used to preserve products, dissolve other ingredients and create a nice product texture

0.3% - 0.55%

Helps soften the upper layer of the skin while creating a non-greasy feel on the skin. Helps to dissolve other ingredients

0.3% - 0.5%

A great moisturising ingredient that softens the skin and reduces water loss from its upper layer. It also can be helpful in protecting skin from free radicals

0.3% - 0.55%

An emollient that softens the skin and forms a protective layer on its surface. Helps water and oil mix together

0.3% - 0.55%

Help soften the upper layer of the skin

0.3% - 0.55%

Helps oil and water mix together

0.25% - 0.5%

An emollient. Found to be as effective as a moisturizer for dry skin as mineral oil. Could be comedogenic

0.25% - 0.45%

Helps soften the upper layer of the skin and can be helpful in restoring the skin barrier function. Might have some anti-oxidant effect

0.25% - 0.5%

A type of peptide. Peptides are excellent moisturizers and might be able support collagen production reducing fine lines and wrinkles

0.25% - 0.45%

A plant extract that is, though different in chemical structure, acts similar to retinoids. First studies show that it can help reduce fine lines and wrinkles, improve skin tone, reduce clogged pores and blemishes, and reduce inflammation. There is no conclusive evidence that bakuchiol is as effective as retinol however. The study that directly compared retinol with bakuchiol used bakuchiol applied twice daily compared to once per day for the retinol. According to this study, bakuchiol is less irritating than retinol. Bakuchiol is extracted from seeds of Babchi plant. Other parts of the plant contain coumarins that could cause allergic and irritant reactions. These compounds should be removed in the extraction process when bakuchiol is produced, but it is a good idea to be cautious and stay away from products that include the Babchi plant extracts other than purified bakuchiol to avoid irritation

0.25% - 0.5%

One of the best moisturizing ingredients. Attracts water into the upper layer of the skin

0.25% - 0.45%

A plant oil that helps soften the upper layer of the skin. Is unlikely to be helpful in restoring skin barrier function due to the low content of linoleic acid

0.3% - 0.5%

A great emollient. Contains vitamin E (tocopherol) which may give it some anti-oxidant properties. Can contain volatile compounds and can be irritating

0.3% - 0.55%

0.25% - 0.45%

An oil naturally present in skin. Works as an emollient to soften the skin and form a protective layer on its surface without a greasy feeling.

0.3% - 0.55%

0.25% - 0.45%

A very irritating fragrant ingredient

0.25% - 0.45%

0.3% - 0.55%

Helps soften the upper layer of the skin and thickens the product's texture

0.25% - 0.5%

0.25% - 0.5%

An emollient that can also help water and oil mix together, as well as prevent bacteria growth in products

0.25% - 0.5%

Used to create a thicker product consistency

0.2% - 0.4%

Used to adjust the product's pH

0.2% - 0.35%

Can work as an exfoliant but is typically used to adjust the product pH

0.2% - 0.35%

A preservative

0.15% - 0.3%

0.15% - 0.25%

Used to stabilize product formulations and help soften the upper layer of the skin

0.2% - 0.35%

Pure form of vitamin E. Can help moisturise and protect the skin from free radicals. Often used to help stabilise other ingredients or the formula itself

0.15% - 0.25%

A preservative

0.15% - 0.25%

A preservative

0.1% - 0.2%

Show more