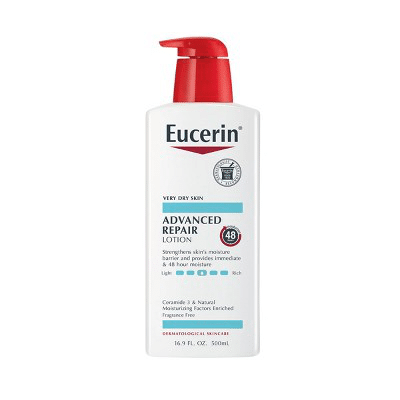 Eucerin
Advanced Repair Body Lotion
KEY INGREDIENTS
lactic acid

ceramide 3

urea

alanine

arginine hcl

butyrospermum parkii butter

caprylic/capric triglyceride

carnitine

cetearyl alcohol

chondrus crispus

citrulline

cyclomethicone

dimethiconol

glutamic acid

glycerin

glyceryl glucoside

glyceryl stearate se

glycogen

histidine hcl

lysine hcl

mannitol

serine

sodium lactate

sodium pca

sucrose

threonine

+23 more

Where to buy?
Formula review
See a mistake?
Promise
What does the product description say?
"Pair with Eucerin Advanced Repair Cleanser for a full skin care regimen to give your skin the dermatological attention it needs."
WIMJ
summary
This product works by removing dirt and oil from the surface of the skin. It uses a combination of mild cleansing agents (carnitine, cetearyl alcohol, glyceryl stearate se, sodium cetearyl sulfate) and should be able to cleanse the skin gently. Still keep in mind that any cleansing can disrupt the skin barrier, and most people do not need to cleanse their skin more than once per day.
| Ingredient | Effectiveness | Concentration | Irritancy |
| --- | --- | --- | --- |
| | | | |
| | | | |
| | | | |
Potential irritants

Ingredients by volume
Ingredient
Estimated concentration

Plain old water

45% - 55%

One of the best moisturizing ingredients. Naturally present in skin. It attracts water to the upper layer of the skin working as a humectant

4.5% - 5.5%

Naturally present in skin (urea makes up about 7% of natural moisturizing factors in skin). Attracts water to the upper layer of the skin. Also has a positive effect on the skin barrier beyond the humectant action. Can enhance penetration of other ingredients. Is an exfoliating ingredient when used in high concentrations

4.1% - 5%

A non-drying alcohol. Works as an emollient. Helps water and oil mix together and creates a nice product texture

2.8% - 3.4%

Can help to restore skin barrier function and soften its upper layer

2.6% - 3.2%

A type of silicone that leaves a nice silky finish on the skin and can help soften its upper layer

2.1% - 2.6%

Helps attract water to the upper layer of the skin. Is often used to adjust the pH level of the product

1.8% - 2.2%

A great moisturising ingredient that softens the skin and reduces water loss from its upper layer. It also can be helpful in protecting skin from free radicals

1.6% - 1.9%

A good mix of fatty acids that forms a protective layer on the skin. Improves the shelf life of products. Derived from coconut and glycerin

1.4% - 1.7%

Helps dissolve other ingredients in a formulation

1.1% - 1.3%

An emollient that helps to soften the skin and create a pleasant product texture and stabilize the formulation

0.95% - 1.15%

Helps soften the upper layer of the skin while creating a non-greasy feel on the skin. Helps to dissolve other ingredients

0.75% - 1.15%

Used to create a thicker product consistency

0.7% - 1.05%

Used to stabilize the product formulations and works as an emollient

0.65% - 1%

Helps oil and water mix together while creating a nice finish on the skin

0.65% - 1%

An amino acid that is naturally present in skin and helps keep it hydrated. When used together with AHAs, it can reduce their irritating effect on the skin

0.6% - 0.85%

Naturally present in skin and helps to attract water to its upper layer

0.55% - 0.85%

A silicone that makes products more spreadable and keeps skin smooth. Helps to add gloss to skin and may visually fill in fine lines/wrinkles for short time

0.6% - 0.85%

An exfoliating and moisturizing alpha-hydroxy acid (AHA). Typically causes less irritation than other AHAs, for example, glycolic acid. At high concentrations (about 15%), lactic acid can help reduce lines and wrinkles. Recent studies show that lactic acid can support the "good" bacteria living on skin's surface (healthy skin microbiom)

0.5% - 0.7%

Red algae extract that helps attract water to the upper layer of the skin and create a nicer product consistency

0.45% - 0.65%

0.95% - 1.15%

A type of lipid similar to ceramides naturally present in skin. Helps to soften the upper layer of the skin and supports the skin barrier function to keep it hydrated. Can help to prevent inflammation in skin

0.35% - 0.6%

Helps to attract water to the upper layer of the skin

0.25% - 0.5%

An amino-acid that helps to attract water to the upper layer of the skin. In combination with other amino-acids, might help to reduce fine lines and wrinkles

0.25% - 0.5%

Can help attract water to the upper layer of the skin. In crystal form, it can work as a gentle exfoliant, gentler than the salt scrub. Helps stabilize the emulsion

0.25% - 0.45%

An amino-acid that helps attract water to the upper layer of the skin

0.25% - 0.45%

Helps attract water to the upper layer of the skin

0.2% - 0.4%

A salt of an amino-acid that helps attract water to the upper layer of the skin. Might be helpful in restoring the skin barrier function

0.2% - 0.4%

An amino-acid that helps to attract water to the upper layer of the skin and might help to lighten the skin, but solid evidence is lacking

0.2% - 0.35%

An amino-acid that helps to attract water to the upper layer of the skin. In combination with other amino-acids, might help to reduce fine lines and wrinkles

0.2% - 0.35%

An amino-acid that helps attract water to the upper layer of the skin

0.15% - 0.25%

0.15% - 0.25%

Used to thicken the product formulation and might help to add minerals to the surface of the skin. It is used in scrubs as a physical exfoliant. Can increase sensitivity to other ingredients if left on the skin or used in high concentration

0.1% - 0.2%

Helps water and oil mix together and works as a cleansing agent

0.2% - 0.4%

A preservative

0.05% - 0.15%

A preservative. It helps prevent bacterial growth in cosmetic products

0.1% - 0.15%

Show more