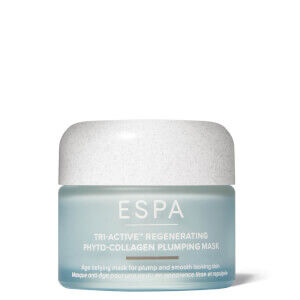 ESPA
Tri-Active™ Regenerating Phyto-Collagen Plumping Mask
KEY INGREDIENTS
alaria esculenta extract

c10-18 triglycerides

caprylic/capric triglyceride

cetearyl alcohol

coco-caprylate

coco-caprylate/caprate

collagen amino acids

ectoin

elaeis guineensis oil

glycerin

glyceryl stearate se

polyglutamic acid

rosa canina fruit oil

sodium hyaluronate

tocopherol

triheptanoin

+13 more

Where to buy?
Formula review
See a mistake?
Promise
What does the product description say?
"Together with our Phyto Collagen anti-aging heroes, Bio Retinol and Hyaluronic Acid, we've harnessed the stress-protecting molecular power of Desert Glycoproteins to provide a quenching surge of moisture that helps to revitalise and improve the texture of parched skin while Polysaccharides from Tree Fern form a biopolymeric network that helps give the formula its instant smoothing effect to leave the skin looking illuminated and feeling refreshed."
WIMJ
summary
Effective ingredients missing or their concentration is too low.
| Ingredient | Effectiveness | Concentration | Irritancy |
| --- | --- | --- | --- |
| | | | |
| | | | |
See a mistake?
Promise
What does the product description say?
"Tri-Active™ Regenerating Phyto-Collagen Plumping Mask"
WIMJ
summary
This product contains good ingredients to attract water to the upper layer of the skin. These ingredients are called "humectants": glycerin, polyglutamic acid.
When humectants are on the surface of the skin, they "pull in" the moisture from the outside environment, or from within deeper layers of the skin. If the air is dry, humectants can speed up the moisture loss from the skin. This is why it is a good idea to use another product on top of this one to help "seal in" the moisture (look for ingredients like dimethicone, squalane, oils and butters).
| Ingredient | Effectiveness | Concentration | Irritancy |
| --- | --- | --- | --- |
| | | | |
| | | | |
| | | | |
Potential irritants

Ingredients by volume
Ingredient
Estimated concentration

Plain old water

45% - 55%

One of the best moisturizing ingredients. Naturally present in skin. It attracts water to the upper layer of the skin working as a humectant

4.4% - 5.3%

A non-drying alcohol. Works as an emollient. Helps water and oil mix together and creates a nice product texture

3.6% - 4.4%

Used to stabilize the product formulations and works as an emollient

2.7% - 3.3%

An emollient that softens skin and creates a nice product texture

2.3% - 2.9%

Helps to soften the upper layer of the skin without creating a greasy texture

1.9% - 2.3%

Helps soften the skin and attract water to its upper layer. Helps create nice product texture

1.6% - 2%

An emollient that helps to soften the skin and create a pleasant product texture and stabilize the formulation

1.4% - 1.7%

Help oil and water mix together

1.2% - 1.4%

An emollient that softens the skin and forms a protective layer on its surface. Helps water and oil mix together

1% - 1.2%

A synthetic triglyceride. Helps soften the upper layer of the skin

0.65% - 0.95%

A great emollient. Contains vitamin E (tocopherol) which may give it some anti-oxidant properties. Can contain volatile compounds and can be irritating

0.6% - 0.85%

Helps oil and water mix together

0.5% - 0.75%

Helps dissolve other ingredients in a formulation

0.45% - 0.65%

0.45% - 0.65%

An aromatic blend of unspecified and possibly irritating ingredients

0.35% - 0.6%

Used to create a thicker product consistency

0.35% - 0.65%

Helps stabilize a product formulation

0.3% - 0.5%

A good mix of fatty acids that forms a protective layer on the skin. Improves the shelf life of products. Derived from coconut and glycerin

0.35% - 0.65%

An emollient that can also help water and oil mix together, as well as prevent bacteria growth in products

0.3% - 0.6%

0.25% - 0.5%

Helps preserve products. Can mask unpleasant smell. Could be irritating

0.25% - 0.45%

Helps stabilize product formulations

0.2% - 0.4%

An essential oil. Can be irritating. Can become an allergen with oxidation

0.25% - 0.45%

0.2% - 0.4%

A preservative

0.2% - 0.4%

Helps soften the upper layer of the skin

0.25% - 0.5%

0.2% - 0.4%

Softens the upper layer of the skin and can support skin barrier function

0.2% - 0.4%

Helps attract water to the upper layer of the skin.

0.2% - 0.4%

0.2% - 0.35%

A fragrance. Can be irritating

0.2% - 0.35%

One of the best moisturizing ingredients. Attracts water into the upper layer of the skin

0.2% - 0.4%

A fragrance. Can be irritating

0.2% - 0.35%

Used as a fragrance

0.2% - 0.4%

Helps improve the product texture

0.25% - 0.45%

Works as a humectant helping to attract water to the upper layer of the skin and might be effective as an anti-oxidant.

0.2% - 0.4%

A common frangrance that can easily irritate skin, especially if exposed to air, light or heat

0.2% - 0.35%

0.2% - 0.35%

A preservative

0.2% - 0.4%

A fragrance. Can be irritating

0.2% - 0.35%

A fragrance with a lemon scent. A likely irritant

0.15% - 0.3%

Help attract water to the upper layer of the skin, soften it and support the skin barrier function

0.2% - 0.35%

A preservative that comes from radishes fermented by a bacteria. New research suggests that the preservation properties in the ingredient come from an ammonium salt that is not present naturally in radish root but used in its cultivation. Is problematic because the exact amount of the preservative agents is difficult to determine

0.15% - 0.3%

Pure form of vitamin E. Can help moisturise and protect the skin from free radicals. Often used to help stabilise other ingredients or the formula itself

0.15% - 0.3%

A plant oil that helps soften the upper layer of the skin. Is unlikely to be helpful in restoring skin barrier function due to the low content of linoleic acid

0.2% - 0.35%

Used as a fragrance. Can be irritating

0.15% - 0.25%

Can work as an exfoliant but is typically used to adjust the product pH

0.05% - 0.1%

Used to adjust the product's pH

0.1% - 0.15%

Show more