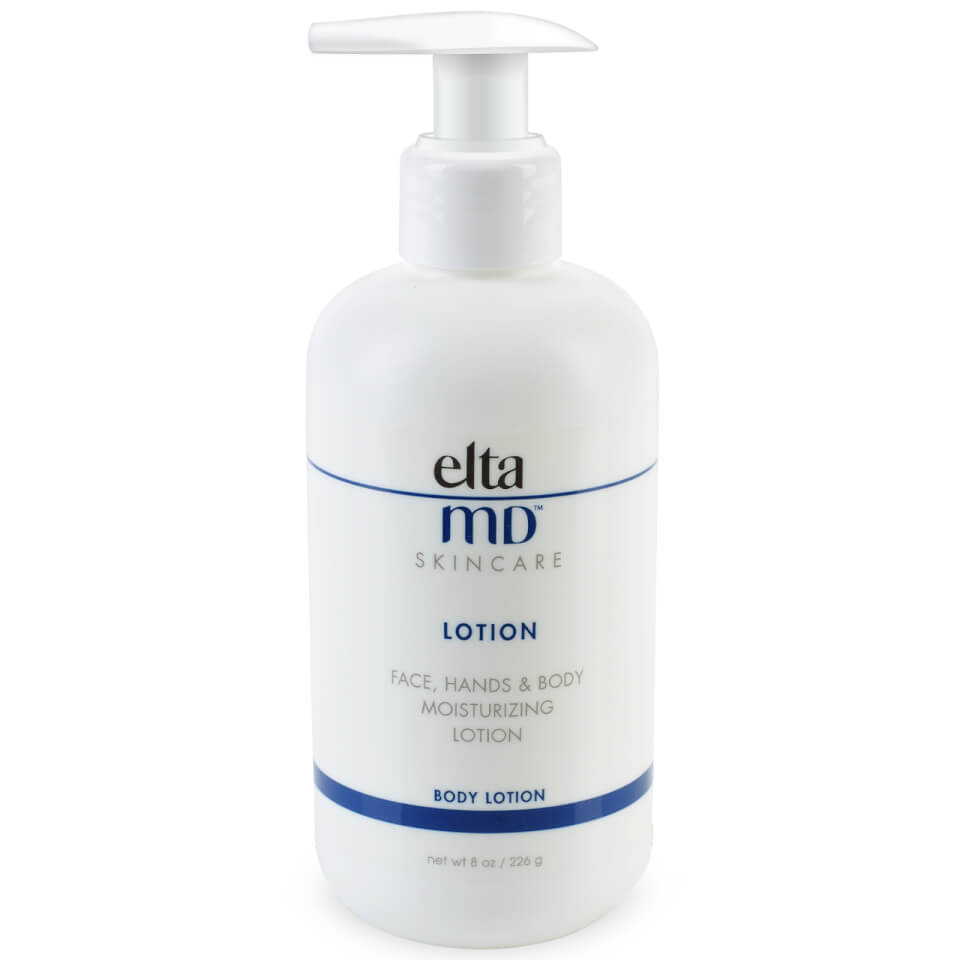 Where to buy?
Formula review
See a mistake?
Promise
What does the product description say?
"EltaMD Lotion is a long-lasting therapeutic lotion that helps skin retain moisture and is ideal as an all-over moisturizer for use after daily showering and bathing."
WIMJ
summary
This product can help soften the skin and reduce its moisture loss with emollients and occlusives: dimethicone, paraffin.
Keep in mind that this product does not contain effective ingredients to attract water to the upper layer of the skin. This is why an additional product with humectants like glycerin or hyaluronic acid can be helpful (apply it before this product for the best results).
The following ingredients in this product are especially good for supporting the skin barrier and helping with the hydration level: petrolatum
| Ingredient | Effectiveness | Concentration | Irritancy |
| --- | --- | --- | --- |
| | | | |
| | | | |
| | | | |
Potential irritants

Ingredients by volume
Ingredient
Estimated concentration

Plain old water

40% - 60%

One of the most effective and the most studied occlusive ingredients that creates a protective layer on top of the skin preventing moisture loss

5.2% - 7.7%

Prevents water loss from the skin surface and thickens the product consistency

3.7% - 5.6%

A silicone that helps to reduce water loss from the surface of the skin. Can temporarily "fill in" lines and wrinkles, absorb oil, and create a nice product finish

2.8% - 4.2%

An emollient that softens the skin and forms a protective layer on its surface. Helps water and oil mix together

2% - 3.1%

Helps oil and water mix together

1.6% - 2.4%

Helps create a thicker or gel-like product texture. It is not a surfactant but can be used in gentle cleansing formulations

1.3% - 2%

Used to adjust pH of the product and can help improve the product's smell

1% - 1.6%

Helps oil and water mix together and works as an emollient

0.95% - 1.45%

Stabilizes the product formulation

0.5% - 1%

A preservative. It helps prevent bacterial growth in cosmetic products

0.35% - 0.8%

A preservative

0.15% - 0.3%

A preservative

0.2% - 0.4%

A preservative

0.1% - 0.4%

A preservative

0.05% - 0.2%

A preservative

0.05% - 0.15%

Show more