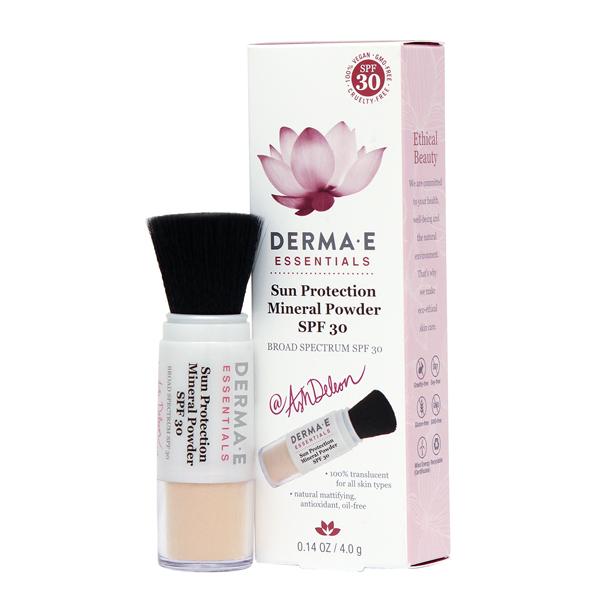 Derma E
Sun Protection Mineral Powder SPF 30
SPF 30
WORKS FOR
Sun protection
Anti-aging
Evens skin tone
Anti-oxidation

+1 more
KEY INGREDIENTS
camellia sinensis leaf extract

caprylic/capric triglyceride

capryloyl glycine

silica

+3 more

Appears in 0 user routines
Product summary
Based on the ingredient list, we assess that this product can provide reliable sun protection. It can protect from both UVA and UVB rays. This is great news because not all sunscreens with SPF ratings give UVA protection. (UVA rays do not cause sunburn, but still damage our skin and lead to early aging).
It should also be hydrating enough to use without an additional moisturizer during the day. Like all broad-spectrum sunscreens, this product has an anti-aging benefit.
Sunscreen filters
This is a mineral sunscreen. It uses titanium dioxide and zinc oxide for sun protection. Both titanium dioxide and zinc oxide almost never irritate even the most sensitive skin and eyes, but can leave a white cast.
Irritation risk
There are actives in this product that can be irritating. We assess the overall irritancy of this sunscreen to be low. For a detailed overview of all potential irritants: click here
You can see the detailed formula review with the breakdown of all actives in the product and the full ingredient list with estimated concentrations in the tables below.
About the brand
According to Cruelty-Free Kitty "DERMA E" is cruelty free and so is its parent company.
Price
The product retails from 18.26$ up to 21.95$ in the United States.
For a detailed price comparison: click here.
Can the product deliver on its promises?
How honest is this product?
| Promise | Can it deliver? |
| --- | --- |
| Sun protection | |
Total Promises Fulfilled score:
90
/100.
Potential irritants

Ingredients by volume
Ingredient
Estimated concentration

Works as a UV filter when used in high concentrations. It is photostable and is effective mostly against the UVB light, with some protection in the UVA range. In small concentrations, used for its ability to improve the color of cosmetic products. Is usually well tolerated by the skin

26% - 39%

A broad spectrum sunblock (protects from both UVA and UVB rays). Is suitable for most sensitive skins. In small concentrations, can be used as a colorant

Can contain potent anti-oxidant compounds (abbreviated ECG, GCG, EGC, and EGCG) that might help protect the skin from free radicals. Can help calm down inflammation and has some anti-bacterial properties. Unfortunately, these antioxidants are unstable and lose their effectiveness very quickly in products. The concentration of the antioxidant compounds in the extract also tends to be low to be effective in topical formulation

Show more