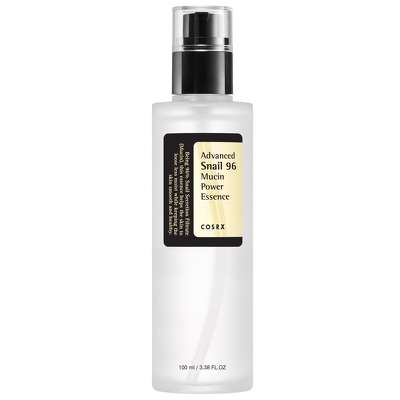 COSRX
Essence / Serum / Ampoule Advanced Snail 96 Mucin Power Essence
KEY INGREDIENTS
panthenol

allantoin

arginine

betaine

snail secretion filtrate

sodium hyaluronate

sodium polyacrylate

+4 more

Where to buy?
Formula review
See a mistake?
Promise
What does the product description say?
"Cosrx, Essence / Serum / Ampoule This COSRX Advanced Snail 96 Mucin Power Essence comprises 96% of skin friendly snail secretion filtrate that is effective at repairing damaged skin, improving skin elasticity and maintaining hydration level all day long."
WIMJ
summary
This product contains good ingredients to attract water to the upper layer of the skin. These ingredients are called "humectants": allantoin, betaine.
When humectants are on the surface of the skin, they "pull in" the moisture from the outside environment, or from within deeper layers of the skin. If the air is dry, humectants can speed up the moisture loss from the skin. This is why it is a good idea to use another product on top of this one to help "seal in" the moisture (look for ingredients like dimethicone, squalane, oils and butters).
The following ingredients in this product are especially good for supporting the skin barrier and helping with the hydration level: panthenol
| Ingredient | Effectiveness | Concentration | Irritancy |
| --- | --- | --- | --- |
| | | | |
| | | | |
| | | | |
Potential irritants

Ingredients by volume
Ingredient
Estimated concentration

Typically contains hyaluronic acid that helps attract water to the upper layer of the skin. Might contain allantoin that is helpful in calming down inflammation. There is no evidence that it can have any further benefits for the skin, especially when used in skincare products

25% - 38%

Helps attract water to the upper layer of the skin and improves the product texture

6.9% - 10.4%

Used to create a nice product texture and help delivery of other ingredients. Might be somewhat helpful in attracting water to the upper layer of the skin

3.4% - 5.1%

A preservative

0.5% - 1.2%

Used to dissolve other ingredients. Might be irritating

2% - 2.9%

A preservative. It helps prevent bacterial growth in cosmetic products

0.5% - 1%

Used to create a gel-like product texture, as well as to stabilize emulsions

1.1% - 1.7%

One of the best moisturizing ingredients. Attracts water into the upper layer of the skin

0.6% - 1.35%

Helps calm down inflammation in skin and can help reduce itching. Helps to repair the skin barrier and keep skin hydrated

0.45% - 1.05%

Helps create a gel-like product texture. Can be used in gentle cleansing formulations

0.3% - 0.7%

Helps attract water to the upper layer of the skin and can help improve skin barrier function

0.1% - 0.45%

An amino acid that is naturally present in skin and helps keep it hydrated. When used together with AHAs, it can reduce their irritating effect on the skin

0.05% - 0.25%

Plain old water

0.05% - 0.2%

Show more