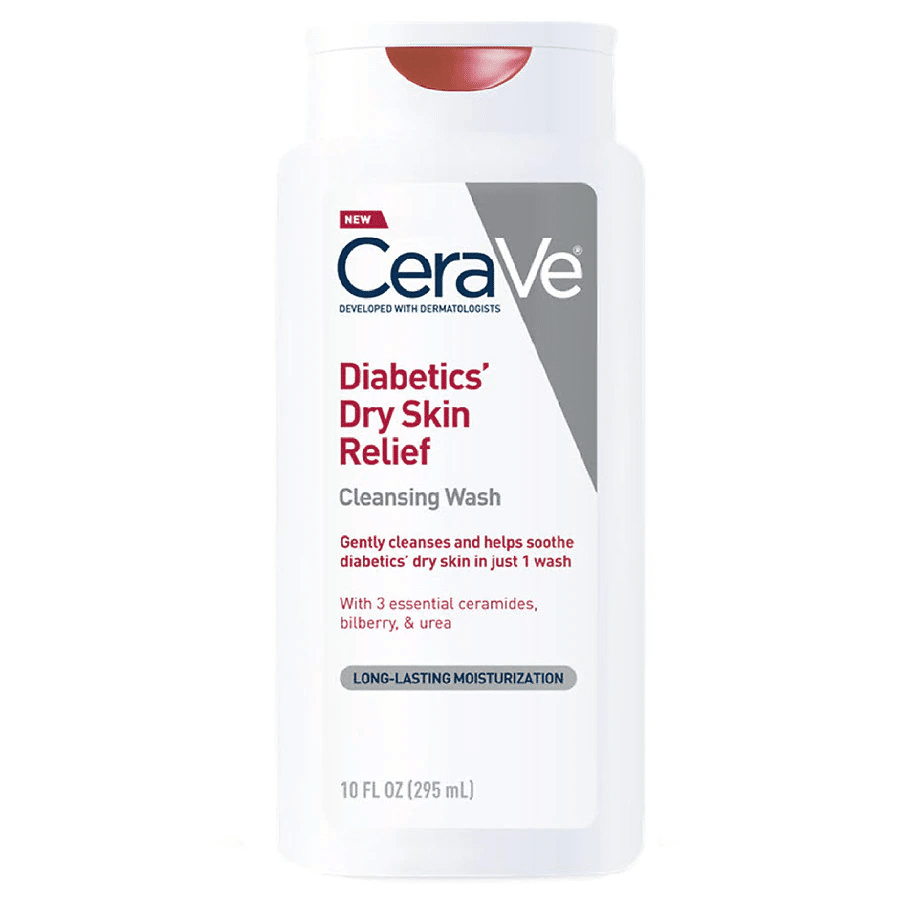 CeraVe
Diabetics' Dry Skin Relief Cleansing Body Wash Fragrance Free
KEY INGREDIENTS
salicylic acid

ceramide ap

ceramide eop

ceramide np

phytosphingosine

cholesterol

glycerin

hydroxyethyl urea

saccharum officinarum extract

+6 more

Where to buy?
Formula review
See a mistake?
Promise
What does the product description say?
"Diabetics' Dry Skin Relief Cleansing Body Wash Fragrance Free"
WIMJ
summary
This product works by removing dirt and oil from the surface of the skin. It uses a combination of mild cleansing agents (carbomer, cholesterol, coco-betaine, coconut acid, glyceryl stearate, hydrogenated coconut acid, peg-100 stearate, peg-150 pentaerythrityl tetrastearate, peg-30 dipolyhydroxystearate, peg-6 caprylic/capric glycerides, ppg-5-ceteth-20, sodium cocoyl isethionate, sodium lauroyl lactylate, sodium methyl cocoyl taurate, trideceth-6, xanthan gum) and should be able to cleanse the skin gently. Still keep in mind that any cleansing can disrupt the skin barrier, and most people do not need to cleanse their skin more than once per day.
Even though this formulation is mild, the following cleansing agents could trigger an irritation or allergy for some people: coco-betaine, sodium methyl cocoyl taurate
| Ingredient | Effectiveness | Concentration | Irritancy |
| --- | --- | --- | --- |
| | | | |
| | | | |
| | | | |
See a mistake?
WIMJ
summary
This product can help exfoliate the skin. In other words, it helps break down the bonds between dead cells on the surface of the skin and speed up the skin turnover. Skin often appears softer and brighter after exfoliation, but overdoing it can result in disrupted skin barrier. The following ingredient is doing the exfoliating job in this product: hydroxyethyl urea.
| Ingredient | Effectiveness | Concentration | Irritancy |
| --- | --- | --- | --- |
| | | | |
| | | | |
| | | | |
Potential irritants

Ingredients by volume
Ingredient
Estimated concentration

Plain old water

45% - 55%

One of the best moisturizing ingredients. Naturally present in skin. It attracts water to the upper layer of the skin working as a humectant

4.8% - 5.9%

Helps oil and water mix together. Can be used as cleansing agent

5.6% - 6.9%

Helps oil and water mix together and works as a cleansing agent. Can be allergenic

4.2% - 5.1%

Helps water and oil mix together. Can be used as a cleansing agent

2.4% - 2.9%

Used to thicken the product formulation and might help to add minerals to the surface of the skin. It is used in scrubs as a physical exfoliant. Can increase sensitivity to other ingredients if left on the skin or used in high concentration

1.8% - 2.2%

A plant extract that contains small percentage of AHAs. Is unlikely to have any skin benefit due the small concentration of the active compounds

1.5% - 1.9%

Sugar extract that helps attract water to the upper layer of the skin

1.3% - 1.6%

Maintains the texture of skincare products. Allows the product to spread evenly. Helps oil and water mix together

1.2% - 1.5%

Helps preserve products and creates a nice product texture

0.95% - 1.15%

Helps create a gel-like product texture. Can be used in gentle cleansing formulations

0.65% - 1%

A type of lipid similar to ceramides naturally present in skin. Helps to soften the upper layer of the skin and supports the skin barrier function to keep it hydrated. Can help to prevent inflammation in skin

0.55% - 0.8%

A type of lipid similar to ceramides naturally present in skin. Helps to soften the upper layer of the skin and supports the skin barrier function to keep it hydrated. Can help to prevent inflammation in skin

0.5% - 0.75%

A type of lipid similar to ceramides naturally present in skin. Helps to soften the upper layer of the skin and supports the skin barrier function to keep it hydrated. Can help to prevent inflammation in skin

0.5% - 0.75%

A preservative

0.16% - 0.32%

An emollient that is naturally found in skin

0.45% - 0.7%

A plant extract that is used as a fragrance. Can be irritating and lead to photosensitivity

0.35% - 0.65%

Used as a fragrance. Can be irritating and cause photosensitivity

0.3% - 0.55%

0.45% - 0.7%

Stabilizes the product formulation

0.3% - 0.5%

A preservative

0.25% - 0.5%

An emollient that softens the skin and forms a protective layer on its surface. Helps water and oil mix together

0.3% - 0.55%

0.25% - 0.5%

A derivative of urea, a compound that is naturally present in skin. Attracts water to the upper layer of the skin. Can enhance penetration of other ingredients

0.25% - 0.45%

Helps oil and water mix togehter and creates a nice product texture

0.3% - 0.6%

0.25% - 0.5%

Helps oil and water mix together

0.25% - 0.45%

Helps dissolve other ingredients

0.25% - 0.45%

A preservative. It helps prevent bacterial growth in cosmetic products

0.25% - 0.5%

A type of lipid that is naturally present in skin. It might help in repairing skin barrier function and has anti-bacterial effect

0.3% - 0.55%

0.25% - 0.45%

A solvent with some emollient properties

0.25% - 0.5%

Sugar extract that helps attract water to the upper layer of the skin

0.2% - 0.4%

The ingredient is not recognized

TBC

0.2% - 0.4%

Used for skin exfoliation. It has an anti-inflammatory and anti-bacterial effect, helps to unclog pores, prevent blemishes and speed up healing of the existing ones. Sometimes referred to as a BHA (beta-hydroxy acid)

0.2% - 0.35%

Used to adjust the product's pH

0.2% - 0.35%

0.25% - 0.45%

Helps water and oil mix together

0.15% - 0.3%

Helps oil and water mix together

0.15% - 0.25%

A plant extract that might help neutralize free radicals in skin, but research on its efficacy in skin is lacking

0.15% - 0.25%

Used to create a thicker product consistency

0.15% - 0.25%

Show more