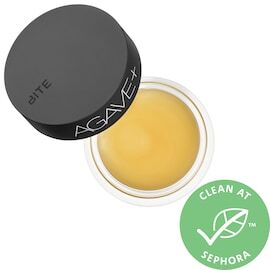 KEY INGREDIENTS
ceramide np

caprylic/capric triglyceride

carthamus tinctorius seed oil

helianthus annuus seed oil

hydrogenated vegetable oil

phospholipids

phytosteryl canola glycerides

ricinus communis seed oil

simmondsia chinensis seed oil

squalane

tocopherol

+8 more

Where to buy?
Formula review
See a mistake?
Promise
What does the product description say?
"A decadent blend of jojoba, sunflower, and safflower seed oils comes together in a cushiony, balm-to-oil that melts onto lips to wrap them in moisture all night long."
WIMJ
summary
This product can help soften the skin and reduce its moisture loss with emollients and occlusives: helianthus annuus seed oil, ricinus communis seed oil.
Keep in mind that this product does not contain effective ingredients to attract water to the upper layer of the skin. This is why an additional product with humectants like glycerin or hyaluronic acid can be helpful (apply it before this product for the best results).
The following ingredients in this product are especially good for supporting the skin barrier and helping with the hydration level: ceramide np
| Ingredient | Effectiveness | Concentration | Irritancy |
| --- | --- | --- | --- |
| | | | |
| | | | |
| | | | |
Potential irritants

Ingredients by volume
Ingredient
Estimated concentration

A plant oil that can help soften the skin. It might be helpful in calming down inflammation, but solid research is lacking. Is often used in lip products to create the needed product consistency

25% - 37%

7.1% - 10.7%

4.6% - 7%

An oil naturally present in skin. Works as an emollient to soften the skin and form a protective layer on its surface without a greasy feeling.

4% - 5.9%

3.1% - 4.7%

An oil from a mixture of different vegetables. Helps soften the upper layer of the skin

2.4% - 3.5%

The ingredient is not recognized

TBC

A type of lipid similar to ceramides naturally present in skin. Helps to soften the upper layer of the skin and supports the skin barrier function to keep it hydrated. Can help to prevent inflammation in skin

1.9% - 2.8%

1.6% - 2.4%

A great emollient due to its high linoleic acid content. One of the most effective plant oils in helping skin hydration and repairing skin barrier function

1.4% - 2.2%

Helps soften the upper layer of the skin

1% - 1.6%

An emollient that helps soften the skin and might help calm down inflammation

0.95% - 1.4%

An unspecified blend of fragrant irritating ingredients

0.55% - 1.3%

Softens the upper layer of skin and helps restore the healthy skin barrier. Has shown to help calm down inflammation in skin. It is a stable oil, meaning that it retains its properties even when exposed to air.

0.6% - 1.4%

Emollients that are naturaly present in skin. In addition, they help water and oil mix together in the product

0.5% - 1.15%

Helps oil and water mix together

0.5% - 1.1%

A good mix of fatty acids that forms a protective layer on the skin. Improves the shelf life of products. Derived from coconut and glycerin

0.5% - 1.2%

Pure form of vitamin E. Can help moisturise and protect the skin from free radicals. Often used to help stabilise other ingredients or the formula itself

0.4% - 0.95%

0.35% - 0.8%

Being a lipid soluble form of vitamin C, it is more stable and can penetrate the skin better than L-Ascorbic acid. It is effective in protecting the skin from free radicals, as well as evening the skin tone, but is less effective in stimulating collagen production compared to L-Ascorbic acid.

0.35% - 0.8%

0.2% - 0.8%

0.15% - 0.6%

Plant extract that can have healing and anti-inflammatory properties. It is a potential allergen and can be irritating

0.15% - 0.55%

A more stable but less bio-available form of vitamin E compared to Tocopherol. Might help moisturize and protect the skin from free radicals, but mostly used in low concentrations to stabilize other ingredients.

0.1% - 0.45%

A common frangrance that can easily irritate skin, especially if exposed to air, light or heat

0.05% - 0.3%

A fragrance. Can be irritating

0.05% - 0.25%

Show more