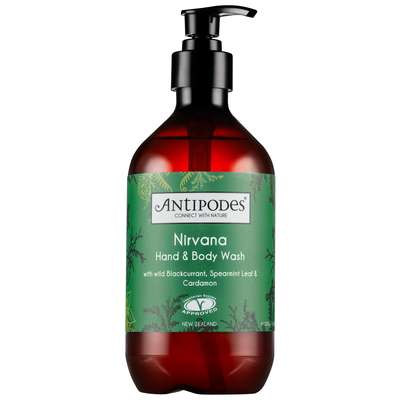 Antipodes
Body Nurture Nirvana Hand & Body Wash
KEY INGREDIENTS
camellia sinensis leaf extract

faex extract

glycerin

hydrolyzed wheat protein

persea gratissima oil

ribes nigrum seed oil

simmondsia chinensis seed oil

+4 more

Where to buy?
Formula review
See a mistake?
Promise
What does the product description say?
"Body Nurture Nirvana Hand & Body Wash"
WIMJ
summary
This product works by removing dirt and oil from the surface of the skin. It uses a combination of mild cleansing agents (sodium cocoyl glutamate, sodium lauroamphoacetate) and should be able to cleanse the skin gently. Still keep in mind that any cleansing can disrupt the skin barrier, and most people do not need to cleanse their skin more than once per day.
| Ingredient | Effectiveness | Concentration | Irritancy |
| --- | --- | --- | --- |
| | | | |
| | | | |
Potential irritants

Ingredients by volume
Ingredient
Estimated concentration

Plain old water

45% - 55%

Helps oil and water mix together

10% - 13%

Can work as an exfoliant but is typically used to adjust the product pH

4.7% - 5.7%

3.9% - 4.8%

One of the best moisturizing ingredients. Naturally present in skin. It attracts water to the upper layer of the skin working as a humectant

2.4% - 2.9%

A preservative. It helps prevent bacterial growth in cosmetic products

0.5% - 1%

Helps water and oil mix together and create a nice product texture

1.6% - 1.9%

Can help attract water to the upper layer of the skin. Avoid if sensitive to gluten

1.3% - 1.6%

A preservative

0.3% - 0.6%

An emollient that helps soften the skin and could be helpful in repairing its barrier function

0.95% - 1.15%

Softens the upper layer of skin and helps restore the healthy skin barrier. Has shown to help calm down inflammation in skin. It is a stable oil, meaning that it retains its properties even when exposed to air.

0.7% - 1.05%

A plant extract that might contain a peptide (Myoxinol). It could be helpful in attracting water to the upper layer of the skin and might have some anti-aging effect, but the research is lacking and it is rarely used in a high enough concentration

0.55% - 0.8%

The ingredient is not recognized

TBC

Yeast extract. Helps attract water to the upper layer of the skin

0.5% - 0.7%

0.5% - 0.75%

An essential oil that is used as a fragrance and can be irritating. It might have some anti-oxidant effect in skin

0.3% - 0.6%

0.25% - 0.45%

Can contain potent anti-oxidant compounds (abbreviated ECG, GCG, EGC, and EGCG) that might help protect the skin from free radicals. Can help calm down inflammation and has some anti-bacterial properties. Unfortunately, these antioxidants are unstable and lose their effectiveness very quickly in products. The concentration of the antioxidant compounds in the extract also tends to be low to be effective in topical formulation

0.25% - 0.45%

An emollient. Can be helpful for restoring skin barrier function.

0.25% - 0.45%

An aromatic blend of unspecified and possibly irritating ingredients

0.15% - 0.25%

The ingredient is not recognized

TBC

A fragrance with a lemon scent. A likely irritant

0.1% - 0.2%

A common frangrance that can easily irritate skin, especially if exposed to air, light or heat

0.1% - 0.2%

A fragrance. Can be irritating

0.05% - 0.15%

Show more