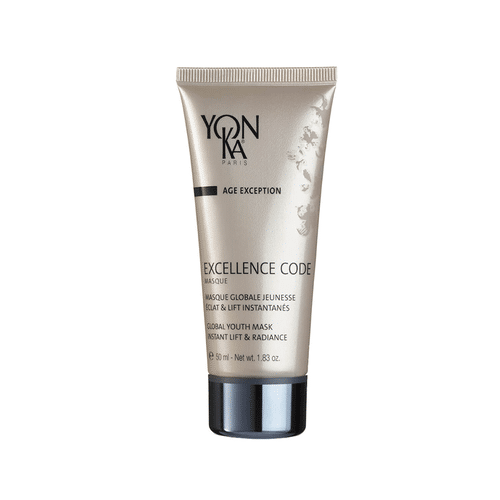 KEY INGREDIENTS
niacinamide

ascorbyl tetraisopalmitate

retinyl palmitate

panthenol

allantoin

biosaccharide gum-1

glycerin

helianthus annuus seed oil

palmaria palmata extract

prunus amygdalus dulcis seed extract

saccharum officinarum extract

sodium hyaluronate

soluble collagen

squalane

tocopherol

vitis vinifera seed oil

+13 more

Where to buy?
Formula review
See a mistake?
Promise
What does the product description say?
"Packed to the brim with potent, nutrient-rich actives, the age-defying mask's star ingredient Nutgrass strengthens the building blocks and support structures of the skin whilst Red Algae boost radiance with its powerful lifting effect and visibly brightens the complexion."
WIMJ
summary
This product does not contain ingredients that are able to reduce fine lines and wrinkles or help with skin elasticity, but it can improve the look of the skin temporarily through moisturization. Well-moisturized skin might also be able to repair the sun damage better.
| Ingredient | Effectiveness | Concentration | Irritancy |
| --- | --- | --- | --- |
| | | | |
| | | | |
| | | | |
See a mistake?
WIMJ
summary
This product can help improve hydration of the skin with the two types of ingredients.
The first type is called "humectants":
these ingredients help attract water. When humectants are on the surface of the skin, they "pull in" the moisture from the outside environment, or from within deeper layers of the skin. The following ingredients in this product do the job: allantoin, biosaccharide gum-1.
This product also contains ingredients called "occlusives". They help reduce the speed with which our skin loses moisture to the outside environment. These ingredients also help soften the upper layer of the skin, so it feels less tight and nicer to the touch. The following ingredients in this product do the job: helianthus annuus seed oil, squalane.
The following ingredients in this product are especially good for supporting the skin barrier and helping with the hydration level: panthenol
| Ingredient | Effectiveness | Concentration | Irritancy |
| --- | --- | --- | --- |
| | | | |
| | | | |
| | | | |
Potential irritants

Ingredients by volume
Ingredient
Estimated concentration

Plain old water

45% - 55%

One of the best moisturizing ingredients. Naturally present in skin. It attracts water to the upper layer of the skin working as a humectant

4.6% - 5.6%

4.2% - 5.1%

A great emollient that can also have anti-oxidant properties

3.1% - 3.8%

2.3% - 2.8%

An oil naturally present in skin. Works as an emollient to soften the skin and form a protective layer on its surface without a greasy feeling.

2% - 2.5%

1.6% - 2%

Used to create a thicker product consistency

1.4% - 1.7%

A plant extract that might help neutralize free radicals in skin, but research on its efficacy in skin is lacking

1.1% - 1.4%

Is proven to be effective in reducing blemishes, evening out skin tone and helping to improve lines and wrinkles. It helps the skin to repair sun damage, calm down inflammation and keep maintain good levels of moisture

0.9% - 1.1%

Improves the texture of the product and helps soften the skin. Helps oil and water mix together and can be used as a cleansing agent

0.75% - 1.1%

Maintains the texture of skincare products. Allows the product to spread evenly. Helps oil and water mix together

0.6% - 0.9%

Almond extract (oil) - helps soften the upper layer of the skin

0.45% - 0.7%

Sugar extract that helps attract water to the upper layer of the skin

0.45% - 0.65%

The ingredient is not recognized

TBC

0.4% - 0.6%

Red algae extract that helps attract water to the upper layer of the skin

0.4% - 0.6%

Helps attract water to the upper layer of the skin and can help improve skin barrier function

0.35% - 0.65%

Used to create gel-like formulas and stabilize emulsions

0.3% - 0.55%

A more stable but less bio-available form of vitamin E compared to Tocopherol. Might help moisturize and protect the skin from free radicals, but mostly used in low concentrations to stabilize other ingredients.

0.3% - 0.55%

0.3% - 0.5%

A plant extract that is used as a fragrance. Can be irritating and lead to photosensitivity

0.25% - 0.5%

Used as a fragrance. Can be irritating and cause photosensitivity

0.25% - 0.45%

0.25% - 0.45%

A typically plant-derived compound that is supposed mimic human collagen. Cannot penetrate the skin barrier so is not particularly useful in skincare products beyond attracting water to the upper layer of the skin

0.25% - 0.45%

Helps calm down inflammation in skin and can help reduce itching. Helps to repair the skin barrier and keep skin hydrated

0.25% - 0.4%

A vitamin C derivative. Studies show that is might be effective in reducing hyperpigmentation, but there are no studies confirming that it is effectively converted into the bioavailable form of Vitamin C in skin. It is not clear how this derivative compares in effectiveness to the topical application of bioavailable form of vitamin C (L-ascorbic acid)

0.25% - 0.5%

Helps water and oil mix together

0.25% - 0.5%

One of the best moisturizing ingredients. Attracts water into the upper layer of the skin

0.25% - 0.45%

Used to create a thicker product consistency

0.25% - 0.45%

Three steps removed from the active form of vitamin A - retinoic acid. To have an effect in the skin, it first needs to be converted twice to become the retinoic acid. This means it is less potent than retinol, but could also be less irritating. Once converted to the retinoic acid in the skin, it helps against all signs of aging, improves skin cell turnover and helps fight blemishes and clogged pores. However, in many cosmetic formulations, it is used in a concentration that is too low to have the full effect

0.2% - 0.4%

Helps create a gel-like product texture. Can be used in gentle cleansing formulations

0.25% - 0.45%

A plant extract that contains small percentage of AHAs. Is unlikely to have any skin benefit due the small concentration of the active compounds

0.25% - 0.45%

0.25% - 0.4%

Helps attract water to the upper layer of the skin and is claimed to provide a longer-lasting hydration because of its ability to create a water-binding film on the surface of the skin

0.25% - 0.45%

A preservative

0.25% - 0.45%

An essential oil. Potential allergen and can be irritating. It has some anti-bacterial properties

0.25% - 0.45%

An essential oil used as a fragrance. Can be irritating

0.25% - 0.5%

A plant oil with high content of volatile compounds that can irritate the skin. Can be used as a fragrance. Has anti-bacterial properties and might help neutralize free radicals on the surface of the skin

0.25% - 0.45%

0.25% - 0.45%

0.25% - 0.45%

A highly irritating fragrance

0.25% - 0.4%

A plant oil with high content of volatile compounds that, especially when exposed to air, can cause allergic reactions and irritate the skin

0.25% - 0.4%

A great emollient due to its high linoleic acid content. One of the most effective plant oils in helping skin hydration and repairing skin barrier function

0.25% - 0.5%

Pure form of vitamin E. Can help moisturise and protect the skin from free radicals. Often used to help stabilise other ingredients or the formula itself

0.25% - 0.45%

0.2% - 0.4%

Used as a fragrance. Can be irritating

0.25% - 0.45%

A preservative. It helps prevent bacterial growth in cosmetic products

0.25% - 0.45%

A preservative

0.16% - 0.32%

Used to adjust the product's pH

0.25% - 0.45%

Helps preserve products and creates a nice product texture

0.25% - 0.5%

An aromatic blend of unspecified and possibly irritating ingredients

0.2% - 0.4%

A common frangrance that can easily irritate skin, especially if exposed to air, light or heat

0.2% - 0.35%

A fragrance. Can be irritating

0.2% - 0.35%

A fragrance. Can be irritating

0.15% - 0.3%

A fragrance. Potential allergen and can be irritating

0.15% - 0.3%

A fragrance. Can be irritating

0.15% - 0.25%

A fragrance. Is a likely irritant

0.1% - 0.2%

A fragrance with a lemon scent. A likely irritant

0.1% - 0.25%

A fragrance. Is a likely skin allergen and can be irritating

0.1% - 0.2%

Show more