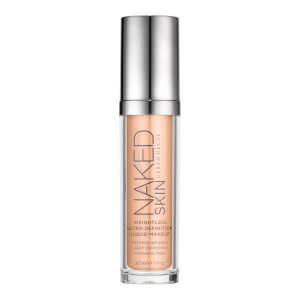 KEY INGREDIENTS
tetrahexyldecyl ascorbate

palmitoyl tetrapeptide-7

palmitoyl tripeptide-1

camellia oleifera leaf extract

cyclopentasiloxane

dimethicone

glycerin

peg/ppg-18/18 dimethicone

silica

sodium hyaluronate

sodium lactate

titanium dioxide

tocopherol

+10 more
Where to buy?
Formula review
See a mistake?
Promise
What does the product description say?
"Naked Skin Liquid Makeup"
WIMJ
summary
This product works by removing dirt and oil from the surface of the skin. It uses a combination of mild cleansing agents (carbomer, cetyl peg/ppg-10/1 dimethicone, dimethicone/polyglycerin-3 crosspolymer, disodium cocoyl glutamate, isopropyl titanium triisostearate, peg/ppg-18/18 dimethicone, polyglyceryl-4 isostearate, polysorbate 20, sodium cocoyl glutamate) and should be able to cleanse the skin gently. Still keep in mind that any cleansing can disrupt the skin barrier, and most people do not need to cleanse their skin more than once per day.
| Ingredient | Effectiveness | Concentration | Irritancy |
| --- | --- | --- | --- |
| | | | |
| | | | |
| | | | |
Potential irritants
Ingredients by volume
Ingredient
Estimated concentration

Plain old water

45% - 55%

A silicone that helps improve the product texture and spreadability. Can absord oil creating a short-term mattifying effect on the skin

6.7% - 8.2%

Used to create a nice product texture and help delivery of other ingredients. Might be somewhat helpful in attracting water to the upper layer of the skin

4.3% - 5.2%

Used to absorb oil and can temporarily mattify skin

3.3% - 4.1%

A silicone that serves as an emollient. Helps create a nice non-greasy feels

2.5% - 3%

A silicone that helps to reduce water loss from the surface of the skin. Can temporarily "fill in" lines and wrinkles, absorb oil, and create a nice product finish

2.1% - 2.6%

A silicone that mixes with water creating nice light-weight product texture

1.7% - 2.1%

Used to thicken the product formulation and might help to add minerals to the surface of the skin. It is used in scrubs as a physical exfoliant. Can increase sensitivity to other ingredients if left on the skin or used in high concentration

1.4% - 1.7%

A preservative. It helps prevent bacterial growth in cosmetic products

0.5% - 1%

Helps preserve products and creates a nice product texture

1% - 1.2%

Helps oil and water mix together

0.7% - 1.1%

Helps oil and water mix together

1.1% - 1.3%

Helps water and oil mix together

0.55% - 0.85%

Helps oil and water mix together

0.5% - 0.75%

One of the best moisturizing ingredients. Naturally present in skin. It attracts water to the upper layer of the skin working as a humectant

0.5% - 0.7%

Used to create a thicker product consistency and soften the upper layer of the skin

0.45% - 0.7%

Helps water and oil mix together and works as a cleansing agent

0.5% - 0.8%

Helps oil and water mix together

0.5% - 0.75%

A more stable but less bio-available form of vitamin E compared to Tocopherol. Might help moisturize and protect the skin from free radicals, but mostly used in low concentrations to stabilize other ingredients.

0.3% - 0.6%

Being a lipid soluble form of vitamin C. It is more stable than ascorbic acid, but still degrades quickly and needs to be stabilized in a formulation with another ingredient. It is claimed to penetrate skin better than pure vitamin C and have the the similar benefits, but solid studies of its effectiveness are lacking. Is likely to require a higher concentration in a product than pure vitamin C to be effective.

0.3% - 0.55%

A plant extract that can help neutralize free radicals and reduce inflammation, even though it is not usually used in sufficient concentration in cosmetics

0.3% - 0.5%

Helps create a gel-like product texture. Can be used in gentle cleansing formulations

0.3% - 0.55%

Helps water and oil mix together

0.3% - 0.55%

A type of silicone that helps water and oil mix together. Can help to soften upper layer of the skin

0.3% - 0.5%

Helps soften the upper layer of the skin and create a nice product consistency

0.3% - 0.55%

One of the best moisturizing ingredients. Attracts water into the upper layer of the skin

0.25% - 0.5%

0.25% - 0.5%

A type of peptide. Peptides are excellent moisturizers and might be able support collagen production reducing fine lines and wrinkles

0.3% - 0.55%

A type of peptide. Peptides are excellent moisturizers and might be able support collagen production reducing fine lines and wrinkles

0.3% - 0.5%

Helps oil and water mix together and can enhance the penetration of other ingredients into the skin

0.25% - 0.45%

Helps to dissolve other ingredients in a formulation. Slows down the rate of product drying

0.2% - 0.35%

Helps to control the skin's pH level. Maintains the skin's natural film of amino-lactic acids and oils. Helps to preserve products

0.2% - 0.4%

Helps attract water to the upper layer of the skin. Is often used to adjust the pH level of the product

0.2% - 0.35%

Pure form of vitamin E. Can help moisturise and protect the skin from free radicals. Often used to help stabilise other ingredients or the formula itself

0.15% - 0.3%

A drying alcohol. Can increase skin's sensitivity and cause dryness and irritation

0.15% - 0.25%

Works as a UV filter when used in high concentrations. It is photostable and is effective mostly against the UVB light, with some protection in the UVA range. In small concentrations, used for its ability to improve the color of cosmetic products. Is usually well tolerated by the skin

0.15% - 0.25%

An umbrella term for the following three colorants: CI 77491, CI 77492, CI 77499

0.1% - 0.15%

Show more