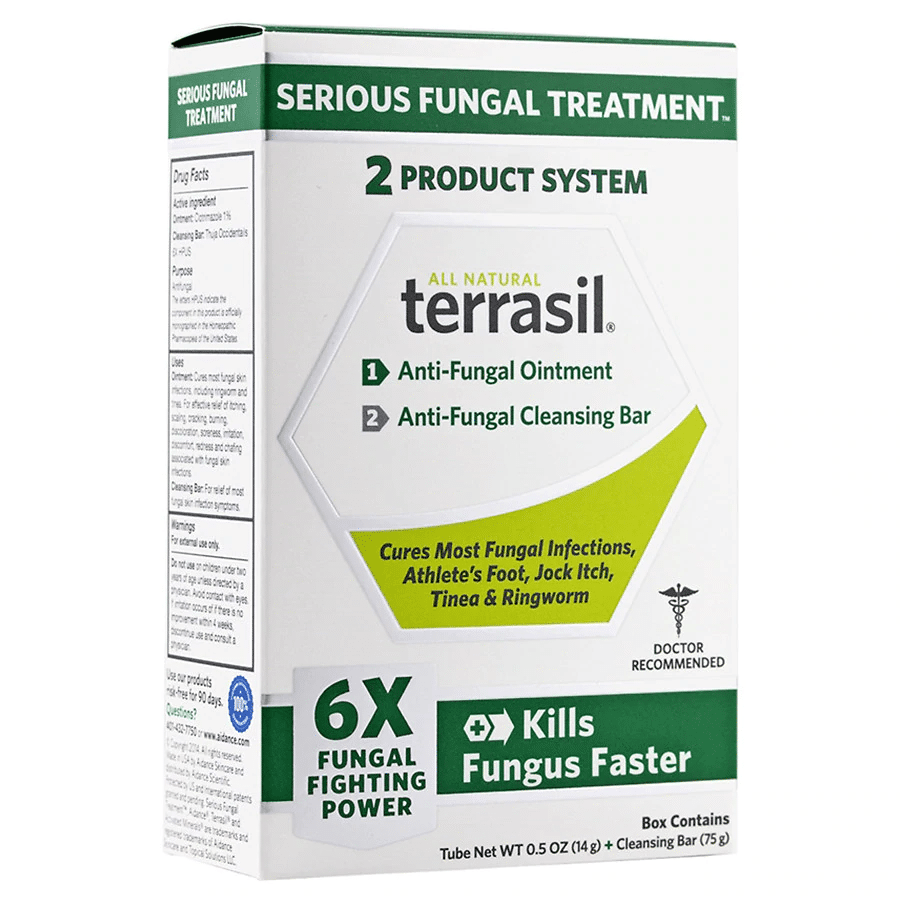 Terrasil
Anti-Fungal Ointment Plus Medicated Cleansing Bar
KEY INGREDIENTS
beeswax

butyrospermum parkii butter

cocos nucifera oil

glycerin

simmondsia chinensis seed oil

titanium dioxide

zinc oxide

+4 more

Where to buy?
Formula review
See a mistake?
Promise
What does the product description say?
"Anti-Fungal Ointment Plus Medicated Cleansing Bar"
WIMJ
summary
This product works by removing dirt and oil from the surface of the skin. It uses a combination of mild cleansing agents (lauric acid, palm acid, palm kernel acid, sodium laurate, sodium olivate, sodium palm kernelate, sodium palmate, sodium stearate) and should be able to cleanse the skin gently. Still keep in mind that any cleansing can disrupt the skin barrier, and most people do not need to cleanse their skin more than once per day.
| Ingredient | Effectiveness | Concentration | Irritancy |
| --- | --- | --- | --- |
| | | | |
| | | | |
| | | | |
Potential irritants

Ingredients by volume
Ingredient
Estimated concentration

Forms a protective barrier that holds water and keeps dry skin hydrated. Keeps an emulsion from separating into its oil and liquid components, and increases the thickness of a product. Can be an allergen

23% - 35%

Helps stabilize the product formulation

5.3% - 8%

The ingredient is not recognized

TBC

Can absorb oil. There is no research confirming other benefits for the skin

4.1% - 6.2%

The ingredient is not recognized

TBC

Softens the upper layer of skin and helps restore the healthy skin barrier. Has shown to help calm down inflammation in skin. It is a stable oil, meaning that it retains its properties even when exposed to air.

2.9% - 4.4%

2.3% - 3.4%

Used as a fragrance and can be irritating

1.6% - 2.4%

1.4% - 2.1%

An essential oil that can be irritating. Has some anti-bacterial properties

1.1% - 1.6%

A broad spectrum sunblock (protects from both UVA and UVB rays). Is suitable for most sensitive skins. In small concentrations, can be used as a colorant

1.4% - 2.1%

Forms a protective barrier that holds water and keeps dry skin hydrated. Keeps an emulsion from separating into its oil and liquid components, and increases the thickness of a product. Can be an allergen

0.85% - 1.3%

Helps stabilize the product formulation

0.5% - 1.15%

An emollient. Found to be as effective as a moisturizer for dry skin as mineral oil. Could be comedogenic

0.4% - 1%

One of the best moisturizing ingredients. Naturally present in skin. It attracts water to the upper layer of the skin working as a humectant

0.45% - 1%

Softens the upper layer of skin and helps restore the healthy skin barrier. Has shown to help calm down inflammation in skin. It is a stable oil, meaning that it retains its properties even when exposed to air.

0.4% - 0.95%

Helps water and oil mix together. Has anti-bacterial properties that might be helpful in preventing blemishes

0.45% - 1%

A plant extract. Used as a fragrance. Is a common allergen and irritant

0.35% - 0.85%

The ingredient is not recognized

TBC

Can absorb oil. There is no research confirming other benefits for the skin

0.35% - 0.8%

0.3% - 0.75%

0.35% - 0.75%

0.3% - 0.75%

Helps preserve the product formulation

0.2% - 0.75%

Used as a fragrance and can be irritating

0.15% - 0.65%

Helps oil and water mix together and can enhance the penetration of other ingredients into the skin

0.15% - 0.65%

A great moisturising ingredient that softens the skin and reduces water loss from its upper layer. It also can be helpful in protecting skin from free radicals

0.2% - 0.8%

Used to thicken the product formulation and might help to add minerals to the surface of the skin. It is used in scrubs as a physical exfoliant. Can increase sensitivity to other ingredients if left on the skin or used in high concentration

0.15% - 0.65%

Helps to control the skin's pH level. Maintains the skin's natural film of amino-lactic acids and oils. Helps to preserve products

0.15% - 0.7%

Used to adjust the product's pH

0.15% - 0.7%

0.3% - 0.7%

0.55% - 1.25%

0.55% - 1.25%

Works as a cleansing agent. Helps water and oil mix together

0.55% - 1.25%

Helps oil and water mix together

0.5% - 1.2%

Helps attract water to the upper layer of the skin and improves the product texture

0.1% - 0.45%

Helps oil and water mix together and works as an emollient

0.2% - 0.75%

An essential oil that can be irritating. Has some anti-bacterial properties

0.1% - 0.5%

Helps stabilize the product

0.1% - 0.5%

Works as a UV filter when used in high concentrations. It is photostable and is effective mostly against the UVB light, with some protection in the UVA range. In small concentrations, used for its ability to improve the color of cosmetic products. Is usually well tolerated by the skin

0.2% - 0.7%

Plain old water

0.1% - 0.5%

A broad spectrum sunblock (protects from both UVA and UVB rays). Is suitable for most sensitive skins. In small concentrations, can be used as a colorant

0.2% - 0.8%

0.1% - 0.4%

Show more