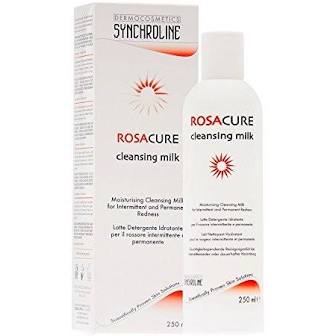 KEY INGREDIENTS
caprylic/capric triglyceride

glycerin

glycine

glycine soja protein

polyglutamic acid

sodium hyaluronate

squalane

+4 more

Where to buy?
Formula review
See a mistake?
Promise
What does the product description say?
"Synchroline Rosacure Cleansing Milk 200 ml."
WIMJ
summary
This product works by removing dirt and oil from the surface of the skin. It uses a combination of mild cleansing agents (c12-20 alkyl glucoside, decyl glucoside, glycine soja protein, glycol palmitate, polysorbate 60) and should be able to cleanse the skin gently. Still keep in mind that any cleansing can disrupt the skin barrier, and most people do not need to cleanse their skin more than once per day.
Even though this formulation is mild, the following cleansing agents could trigger an irritation or allergy for some people: decyl glucoside
| Ingredient | Effectiveness | Concentration | Irritancy |
| --- | --- | --- | --- |
| | | | |
| | | | |
| | | | |
Potential irritants

Ingredients by volume
Ingredient
Estimated concentration

Plain old water

40% - 60%

A good mix of fatty acids that forms a protective layer on the skin. Improves the shelf life of products. Derived from coconut and glycerin

5.7% - 8.5%

A non-drying alcohol that helps stabilize product formulations

4% - 6%

Helps dissolve other ingredients

2.9% - 4.3%

2.1% - 3.2%

Helps soften the upper layer of the skin while creating a non-greasy feel on the skin. Helps to dissolve other ingredients

1.8% - 2.7%

One of the best moisturizing ingredients. Naturally present in skin. It attracts water to the upper layer of the skin working as a humectant

1.6% - 2.4%

Helps water and oil mix together

1.3% - 1.9%

1% - 1.5%

One of the best moisturizing ingredients. Attracts water into the upper layer of the skin

0.85% - 1.25%

A plant extract that helps to attract water to the upper layer of the skin and soften it. It might be helpful in neutralizing free radicals. It might be somewhat helpful for evening out the skin tone. It might be able to support elastin production but solid research is lacking

0.55% - 1.25%

Helps attract water to the upper layer of the skin.

0.45% - 1%

Helps preserve products and creates a nice product texture

0.4% - 0.95%

0.35% - 0.85%

0.3% - 0.75%

Helps to attract water to the upper layer of the skin and can help restore the skin barrier function

0.2% - 0.75%

A gelling agent that thickens the product consistency and leaves the skin with a velvety finish

0.15% - 0.65%

An oil naturally present in skin. Works as an emollient to soften the skin and form a protective layer on its surface without a greasy feeling.

0.2% - 0.7%

Used to preserve products, dissolve other ingredients and create a nice product texture

0.15% - 0.65%

Helps oil and water mix together. Can be irritating

0.15% - 0.65%

A preservative

0.1% - 0.35%

Stabilizes the product formulation

0.1% - 0.3%

Helps oil and water mix together

0.1% - 0.3%

Helps oil and water mix together and can enhance the penetration of other ingredients into the skin

0.05% - 0.25%

A preservative

0.05% - 0.15%

Show more