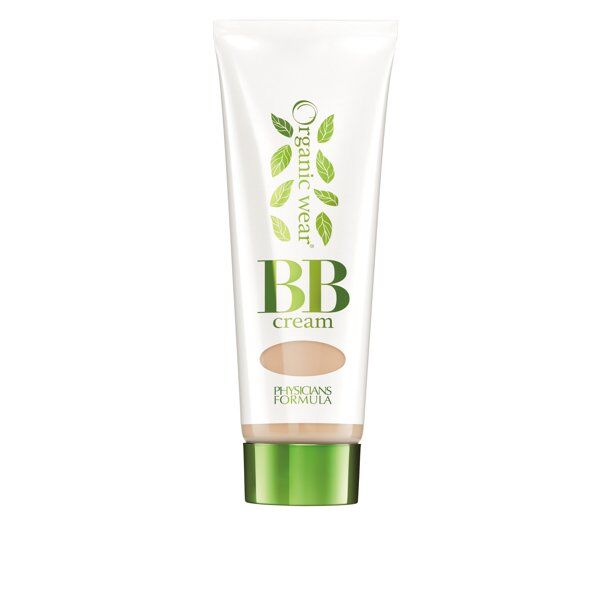 WORKS FOR
Moisturizing
Sun protection
KEY INGREDIENTS
beeswax

cocos nucifera fruit extract

cocos nucifera oil

copernicia cerifera cera

glycerin

lauroyl lysine

silica

simmondsia chinensis seed oil

titanium dioxide

tocopherol

zinc oxide

+8 more
Where to buy?
Formula review
WIMJ
summary
This product offers broad spectrum sun protection, but it is weak. We recommend to use a broad spectrum sunscreen with at least SPF 30.
This product can be considered "reef safe" because it does not contain the UV filters (oxybenzone and octinoxate) that can be harmful to coral reefs when present in the water in high concentrations.
Non-organic (mineral) filters
See a mistake?
Promise
What does the product description say?
"Revolutionary formula combines the benefits of a BB cream with skin nourishing natural and organic ingredients with vitamins, minerals and antioxidants that help keep skin looking and feeling healthy, hydrated, bright and smooth"
WIMJ
summary
This product can help improve hydration of the skin with the two types of ingredients.
The first type is called "humectants":
these ingredients help attract water. When humectants are on the surface of the skin, they "pull in" the moisture from the outside environment, or from within deeper layers of the skin. The following ingredients in this product do the job: glycerin, cocos nucifera water.
This product also contains ingredients called "occlusives". They help reduce the speed with which our skin loses moisture to the outside environment. These ingredients also help soften the upper layer of the skin, so it feels less tight and nicer to the touch. The following ingredients in this product do the job: beeswax, cocos nucifera oil.
| Ingredient | Effectiveness | Concentration | Irritancy |
| --- | --- | --- | --- |
| | | | |
| | | | |
| | | | |
Potential irritants
Ingredients by volume
Ingredient
Estimated concentration

Works as a UV filter when used in high concentrations. It is photostable and is effective mostly against the UVB light, with some protection in the UVA range. In small concentrations, used for its ability to improve the color of cosmetic products. Is usually well tolerated by the skin

29% - 36%

A broad spectrum sunblock (protects from both UVA and UVB rays). Is suitable for most sensitive skins. In small concentrations, can be used as a colorant

11% - 13%

4.9% - 6%

Softens the upper layer of skin and helps restore the healthy skin barrier. Has shown to help calm down inflammation in skin. It is a stable oil, meaning that it retains its properties even when exposed to air.

3.7% - 4.5%

2.8% - 3.4%

Works as a UV filter when used in high concentrations. It is photostable and is effective mostly against the UVB light, with some protection in the UVA range. In small concentrations, used for its ability to improve the color of cosmetic products. Is usually well tolerated by the skin

3% - 3.7%

One of the best moisturizing ingredients. Naturally present in skin. It attracts water to the upper layer of the skin working as a humectant

2.3% - 2.8%

Helps water and oil mix together

1.8% - 2.3%

Used mostly for creating emulsions - helping oil and water mix together. Helps soften the upper layer of the skin

1.5% - 1.9%

Might help to attract water to the upper layer of the skin

1.4% - 1.7%

Might be helpful in restoring skin barrier function and, when combined with zinc carbonate and malonic acid, reducing fine lines and wrinkles by stimulating elastin production. Also helps stabilize the product formulation

1.3% - 1.6%

Forms a protective barrier that holds water and keeps dry skin hydrated. Keeps an emulsion from separating into its oil and liquid components, and increases the thickness of a product. Can be an allergen

1.1% - 1.4%

Helps water and oil mix together

1.1% - 1.3%

An emollient. Found to be as effective as a moisturizer for dry skin as mineral oil. Could be comedogenic

0.9% - 1.15%

An emollient. Found to be as effective as a moisturizer for dry skin as mineral oil. Could be comedogenic

1% - 1.2%

A plant extract that can help neutralize free radicals in skin. It contains a compound salicin that can theoretically be converted into salicylic acid that, in turn, helps reduce inflammation in skin, but the evidence of effectiveness in skin is lacking and the extract is usually not used in a concentration that would enable an exfoliating effect

0.95% - 1.15%

Brazilian palm wax. Helps soften the upper layer of the skin

0.75% - 1.15%

One of the best moisturizing ingredients. Naturally present in skin. It attracts water to the upper layer of the skin working as a humectant

0.75% - 1.15%

Helps soften the upper layer of the skin and creates a nice product texture

0.65% - 1%

Used to create a thicker product consistency

0.65% - 1%

A plant extract that might have some anti-oxidant and anti-inflammatory properties but evidence for effectiveness in skin is missing

0.6% - 0.85%

Used to create a thicker product consistency

0.65% - 1%

Used to absorb oil and can temporarily mattify skin

0.65% - 1%

Pure form of vitamin E. Can help moisturise and protect the skin from free radicals. Often used to help stabilise other ingredients or the formula itself

0.55% - 0.8%

Plain old water

0.5% - 0.8%

A preservative that comes from radishes fermented by a bacteria. New research suggests that the preservation properties in the ingredient come from an ammonium salt that is not present naturally in radish root but used in its cultivation. Is problematic because the exact amount of the preservative agents is difficult to determine

0.5% - 0.7%

Used as a preservative

0.35% - 0.6%

An aromatic blend of unspecified and possibly irritating ingredients

0.3% - 0.6%

An umbrella term for the following three colorants: CI 77491, CI 77492, CI 77499

0.3% - 0.5%

Show more