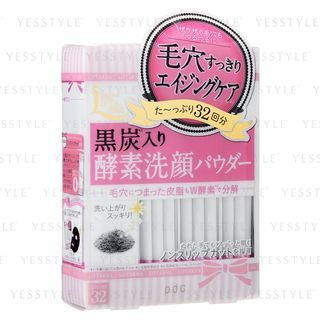 pdc
Liftarna Clear Wash Powder
KEY INGREDIENTS
ceramide 3

lactose

sodium hyaluronate

soluble collagen

+1 more

Where to buy?
Formula review
See a mistake?
Promise
What does the product description say?
"Liftarna Clear Wash Powder"
WIMJ
summary
This product works by removing dirt and oil from the surface of the skin. It uses a combination of mild cleansing agents (lauramidopropyl betaine, sodium lauryl phosphate) and should be able to cleanse the skin gently. Still keep in mind that any cleansing can disrupt the skin barrier, and most people do not need to cleanse their skin more than once per day.
| Ingredient | Effectiveness | Concentration | Irritancy |
| --- | --- | --- | --- |
| | | | |
| | | | |
Potential irritants

Ingredients by volume
Ingredient
Estimated concentration

Absorbs oil and moisture helping to create a dryer product finish

26% - 39%

Can be used to help absorb oil as well as add volume and imporve texture of products.

8.5% - 12.8%

4.7% - 7%

The ingredient is not recognized

TBC

4.5% - 6.7%

An enzyme that breaks down and helps remove oil (sebum or other oils). It could damage the skin barrier in the same way that surfactants do

3% - 4.5%

An enzyme extracted from papaya fruit. Can have an exfoliating effect on the skin. Can be irritating

2.7% - 4%

Benefits for the skin are not clear

2.6% - 3.8%

2.1% - 3.2%

1.5% - 2.3%

A plant extract that might have some anti-oxidant properties. It might be irritating

1.1% - 1.7%

A type of lipid similar to ceramides naturally present in skin. Helps to soften the upper layer of the skin and supports the skin barrier function to keep it hydrated. Can help to prevent inflammation in skin

0.9% - 1.35%

One of the best moisturizing ingredients. Attracts water into the upper layer of the skin

0.55% - 1.3%

A typically plant-derived compound that is supposed mimic human collagen. Cannot penetrate the skin barrier so is not particularly useful in skincare products beyond attracting water to the upper layer of the skin

0.45% - 1.05%

Used to create a nice product texture and help delivery of other ingredients. Might be somewhat helpful in attracting water to the upper layer of the skin

0.4% - 0.95%

A sugar that is used to stabilize the product formulation. Can help attract water to the upper layer of the skin

0.35% - 0.85%

Helps attract water to the upper layer of the skin

0.2% - 0.75%

Used to thicken the product formulation and might help to add minerals to the surface of the skin. It is used in scrubs as a physical exfoliant. Can increase sensitivity to other ingredients if left on the skin or used in high concentration

0.2% - 0.75%

An umbrella term for the following three colorants: CI 77491, CI 77492, CI 77499

0.2% - 0.8%

Can work as an exfoliant but is typically used to adjust the product pH

0.1% - 0.45%

Helps to control the skin's pH level. Maintains the skin's natural film of amino-lactic acids and oils. Helps to preserve products

0.15% - 0.55%

A preservative. It helps prevent bacterial growth in cosmetic products

0.15% - 0.5%

A preservative

0.1% - 0.3%

Show more