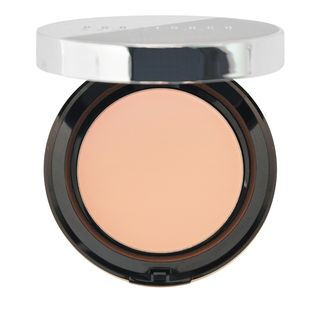 MISSHA
Pro-Touch Powder Pact SPF25 PA++
SPF 25
WORKS FOR
Sun protection
Evens skin tone
Moisturizing
KEY INGREDIENTS
caprylic/capric triglyceride

dimethicone

Octinoxate

methicone

+3 more
Appears in 0 user routines
Product summary
"MISSHA - Pro-Touch Powder Pact SPF25 PA++" does not provide enough UVA protection. UVA rays do not cause sunburn, but still damage the skin, leading to early signs of aging and pigmentation issues.
It also works as a moisturizer, so you do not have to use an additional hydrating product.
Sunscreen filters
This sunscreen uses a mixture of both mineral and organic (so-called "chemical") UV filters. The organic filters in the product are: octinoxate. As for the mineral filters, this sunscreen uses titanium dioxide.
Irritation risk
This sunscreen contains some common irritants, including those without a benefit for the skin. We assess the overall irritancy of this sunscreen to be medium. For a detailed overview of all potential irritants: click here
You can see the detailed formula review with the breakdown of all actives in the product and the full ingredient list with estimated concentrations in the tables below.
Price
The product retails for 9.60$ in the United States.
For a detailed price comparison: click here.
Can the product deliver on its promises?
WIMJ summary for sun protection
This product does not offer good protection against UVA rays.
Non-organic (mineral) filters
See a mistake?
Promise
What does the product description say?
"This finishing powder offers SPF 25 PA++ sun protection and a mattifying texture that removes excess sebum and evens out skin tone."
WIMJ summary for evens skin tone
This product contains ingredients () that could help reduce hyperpigmentation (for example, post-acne marks or age spots) in theory, but there is not enough evidence that they actually work.
The biggest effect for evening out skin tone in this product comes from sun protection. Sun damage is the main factor causing age spots, darkening of post-acne marks and other discolorations. This is why sun protection is the best strategy for maintaining an even skin tone. We, however, do not recommend using this product as a sunscreen because the protection it offers is not strong enough).
See a mistake?
WIMJ summary for moisturizing
This product can help soften the skin and reduce its moisture loss with emollients and occlusives: dimethicone, methicone.
Keep in mind that this product does not contain effective ingredients to attract water to the upper layer of the skin. This is why an additional product with humectants like glycerin or hyaluronic acid can be helpful (apply it before this product for the best results).
| Ingredient | Effectiveness | Concentration | Irritancy |
| --- | --- | --- | --- |
| | | | |
| | | | |
| | | | |
How honest is this product?
| Promise | Can it deliver? |
| --- | --- |
| Sun protection | |
| Evens skin tone | |
Total Promises Fulfilled score:
50
/100.
Potential irritants
Ingredients by volume
Ingredient
Estimated concentration

Absorbs oil and moisture helping to create a dryer product finish

26% - 39%

Creates an illusion of smoother and more radiant skin tone. Adds shimmer to the skin by reflecting light

5% - 7.6%

Works as a UV filter when used in high concentrations. It is photostable and is effective mostly against the UVB light, with some protection in the UVA range. In small concentrations, used for its ability to improve the color of cosmetic products. Is usually well tolerated by the skin

4.9% - 7.4%

Show more