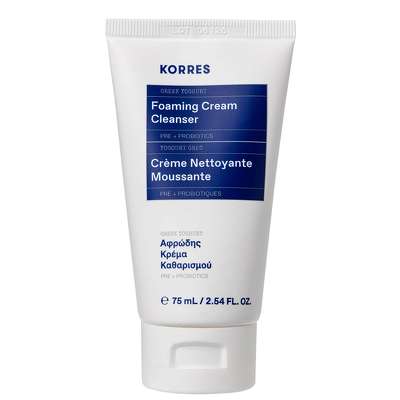 KORRES
Face Care Greek Yoghurt Foaming Cream Cleanser
KEY INGREDIENTS
lactic acid

alpha-glucan oligosaccharide

cetearyl alcohol

chlorella vulgaris extract

glycerin

hydrogenated castor oil

hydrolyzed rice protein

lactobacillus

lactose

laminaria digitata extract

milk protein

saccharide isomerate

titanium dioxide

+10 more
Where to buy?
Formula review
See a mistake?
Promise
What does the product description say?
"Face Care Greek Yoghurt Foaming Cream Cleanser"
WIMJ
summary
This product works by removing dirt and oil from the surface of the skin. It uses a combination of mild cleansing agents (cetearyl alcohol, cocamidopropyl betaine, coco-betaine, disodium lauryl sulfosuccinate, glyceryl laurate, hydrogenated castor oil, sodium cocoyl alaninate, sodium cocoyl isethionate, sodium methyl cocoyl taurate) and should be able to cleanse the skin gently. Still keep in mind that any cleansing can disrupt the skin barrier, and most people do not need to cleanse their skin more than once per day.
Even though this formulation is mild, the following cleansing agents could trigger an irritation or allergy for some people: cocamidopropyl betaine, coco-betaine, sodium methyl cocoyl taurate
| Ingredient | Effectiveness | Concentration | Irritancy |
| --- | --- | --- | --- |
| | | | |
| | | | |
| | | | |
Potential irritants
Ingredients by volume
Ingredient
Estimated concentration

Plain old water

45% - 55%

Helps water and oil mix together. Can be used as a cleansing agent

8.8% - 10.8%

Helps oil and water mix together and works as a cleansing agent. Can be allergenic

5.9% - 7.2%

A non-drying alcohol. Works as an emollient. Helps water and oil mix together and creates a nice product texture

2.8% - 3.4%

Used as a cleansing agent. Helps water and oil mix together

2.3% - 2.8%

Used to thicken the product's consistency

1.8% - 2.2%

One of the best moisturizing ingredients. Naturally present in skin. It attracts water to the upper layer of the skin working as a humectant

1.7% - 2%

Helps water and oil mix together. Used as a cleansing ingredient. Could be an allergen

2% - 2.5%

Used to thicken the product formulation and might help to add minerals to the surface of the skin. It is used in scrubs as a physical exfoliant. Can increase sensitivity to other ingredients if left on the skin or used in high concentration

1.2% - 1.5%

Might be helpful in restoring skin barrier function and, when combined with zinc carbonate and malonic acid, reducing fine lines and wrinkles by stimulating elastin production. Also helps stabilize the product formulation

1.1% - 1.4%

Helps oil and water mix together. Can be used as cleansing agent

1.1% - 1.4%

Helps water and oil mix together and has an anti-microbial effect helping to preserve product formulations

0.7% - 1%

Used to create gel-like formulas and stabilize emulsions

0.55% - 0.85%

Helps attract water to the upper layer of the skin

0.6% - 0.9%

0.5% - 0.75%

A plant extract that can help to attract water to the upper layer of the skin and might have some anti-oxidant and anti-inflammatory properties

0.5% - 0.75%

Can work as an exfoliant but is typically used to adjust the product pH

0.5% - 0.75%

A plant oil that can help soften the skin. It might be helpful in calming down inflammation, but solid research is lacking. Is often used in lip products to create the needed product consistency

0.5% - 0.75%

Helps attract water to the upper layer of the skin. Might have some anti-oxidant properties

0.4% - 0.6%

An exfoliating and moisturizing alpha-hydroxy acid (AHA). Typically causes less irritation than other AHAs, for example, glycolic acid. At high concentrations (about 15%), lactic acid can help reduce lines and wrinkles. Recent studies show that lactic acid can support the "good" bacteria living on skin's surface (healthy skin microbiom)

0.35% - 0.65%

0.35% - 0.6%

A protein derived from milk. In skincare products, might help to soften the upper layer of the skin

0.4% - 0.6%

Helps attract water to the upper layer of the skin

0.3% - 0.55%

A non-living ingredient made by fermentation with the bacteria Lactobacillus. It can help attract water to the upper layer of the skin and might help reduce inflammation

0.3% - 0.55%

Helps attract water to the upper layer of the skin

0.3% - 0.55%

Seaweed extract that helps the skin to attract water and make it more smooth for touch. Also shows promise of anti-aging properties, but good research is lacking at the moment

0.3% - 0.55%

A plant extract that might help neutralize free radicals in skin. Can contain volalite oils and be irritating

0.25% - 0.45%

A plant extract that might help neutralize free radicals in skin. Can contain volalite oils and be irritating

0.25% - 0.5%

Used to stabilize the product formulation and can help absorb oil

0.25% - 0.5%

Sea water. Helps dissolve other ingredients in a product

0.25% - 0.5%

Dissolves other ingredients. It does not have additional skin benefits compared to plain water

0.25% - 0.5%

Used to preserve products, dissolve other ingredients and create a nice product texture

0.3% - 0.55%

A fragrance. Can be irritating

0.25% - 0.45%

A plant extract that helps attract water to the upper layer of the skin and might have some anti-oxidant properties

0.25% - 0.45%

Helps attract water to the upper layer of the skin

0.2% - 0.4%

0.2% - 0.4%

Used to stabilize product formulations

0.2% - 0.35%

Works as a UV filter when used in high concentrations. It is photostable and is effective mostly against the UVB light, with some protection in the UVA range. In small concentrations, used for its ability to improve the color of cosmetic products. Is usually well tolerated by the skin

0.25% - 0.5%

0.15% - 0.25%

0.1% - 0.25%

A preservative. It helps prevent bacterial growth in cosmetic products

0.15% - 0.25%

A preservative

0.1% - 0.2%

An aromatic blend of unspecified and possibly irritating ingredients

0.05% - 0.1%

Show more