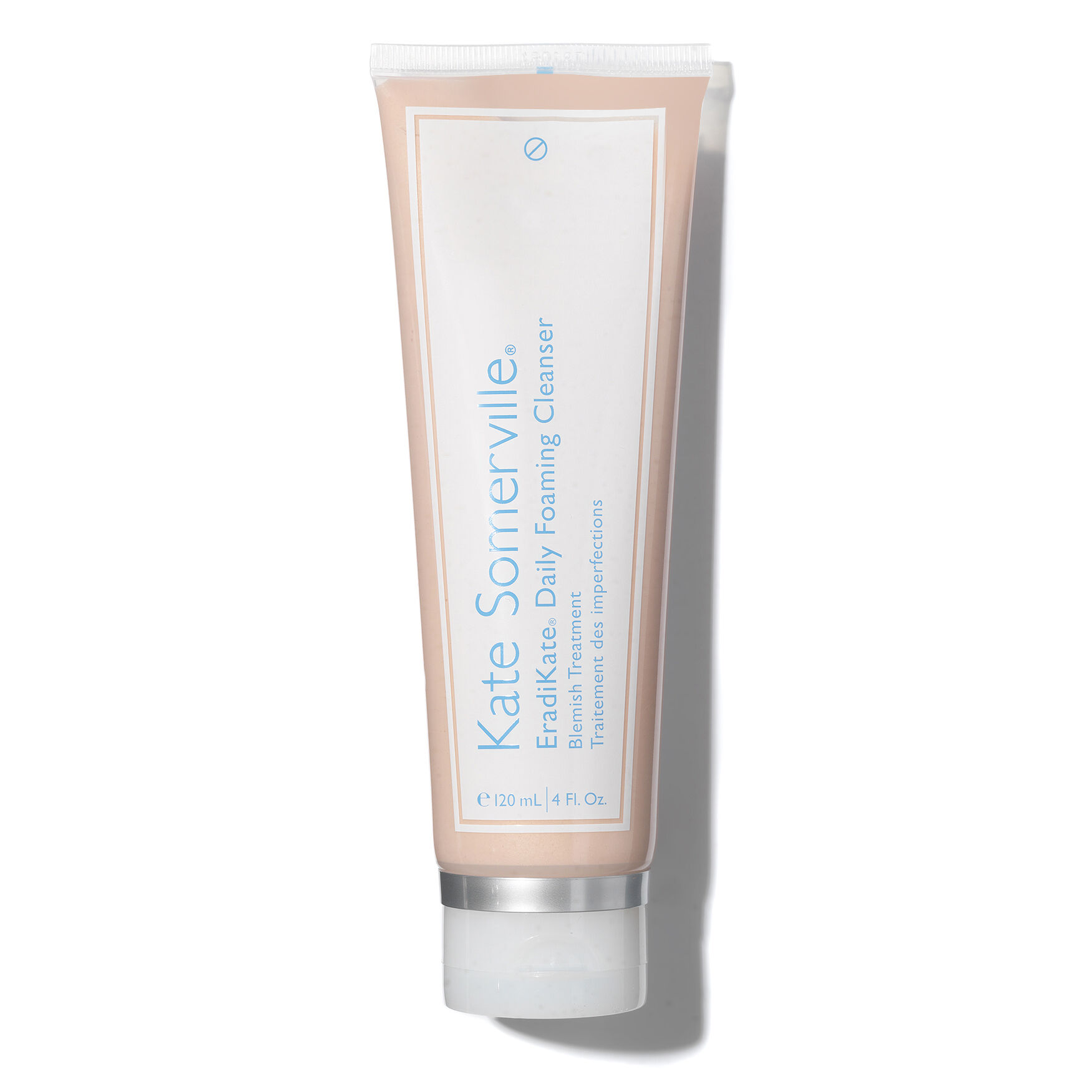 KEY INGREDIENTS
avena sativa kernel extract

glycerin

honey

honey extract

oligopeptide-10

titanium dioxide

+3 more
Where to buy?
Formula review
See a mistake?
Promise
What does the product description say?
"EradiKate Daily Foaming Cleanser by Kate Somerville"
WIMJ
summary
This product works by removing dirt and oil from the surface of the skin. It uses a combination of mild cleansing agents (coco-glucoside, coconut alcohol, hexylene glycol, sodium cocoyl isethionate, stearyl alcohol, xanthan gum) and should be able to cleanse the skin gently. Still keep in mind that any cleansing can disrupt the skin barrier, and most people do not need to cleanse their skin more than once per day.
Even though this formulation is mild, the following cleansing agents could trigger an irritation or allergy for some people: coco-glucoside
| Ingredient | Effectiveness | Concentration | Irritancy |
| --- | --- | --- | --- |
| | | | |
| | | | |
| | | | |
Potential irritants
Ingredients by volume
Ingredient
Estimated concentration

Plain old water

45% - 55%

Helps water and oil mix together. Can be used as a cleansing agent

9.3% - 11.4%

Used as a cleansing agent (surfactant) in cleansers. Helps water and oil mix together in lotions. Can be irritating

5.6% - 6.9%

Used to stabilize product formulation, help create an even product layer over skin (for example, in sunscreen) and create a thicker product consistency

3% - 3.7%

2.2% - 2.7%

1.8% - 2.2%

1.5% - 1.9%

An emollient that helps soften the skin

1.4% - 1.8%

1.2% - 1.4%

Helps attract water to the upper layer of the skin

0.9% - 1.1%

The ingredient is not recognized

TBC

Helps attract water to the skin and might have some anti-bacterial properties. Can be an allergen

0.6% - 0.9%

Used to thicken the product consistency

0.45% - 0.7%

An effective moisturizing and skin barrier repair ingredient. Helps calm down inflammation and has some anti-oxidant properties

0.35% - 0.65%

A type of peptide. Peptides are excellent moisturizers and might be able support collagen production reducing fine lines and wrinkles

0.3% - 0.5%

0.25% - 0.5%

Non-drying alcohol that helps water and oil mix together. Also serves as an emollient

0.35% - 0.65%

One of the best moisturizing ingredients. Naturally present in skin. It attracts water to the upper layer of the skin working as a humectant

0.3% - 0.6%

Used to create a thicker product consistency

0.3% - 0.5%

Helps preserve products and creates a nice product texture

0.3% - 0.55%

Helps create a more spreadable product texture

0.2% - 0.4%

Used to create a nice product texture and help delivery of other ingredients. Might be somewhat helpful in attracting water to the upper layer of the skin

0.2% - 0.4%

A preservative. It helps prevent bacterial growth in cosmetic products

0.2% - 0.4%

An aromatic blend of unspecified and possibly irritating ingredients

0.15% - 0.25%

Can work as an exfoliant but is typically used to adjust the product pH

0.15% - 0.25%

Used to adjust the product's pH

0.15% - 0.3%

A preservative

0.15% - 0.25%

Stabilizes the product formulation

0.15% - 0.25%

0.15% - 0.3%

A fragrance. Can be irritating

0.1% - 0.25%

A preservative

0.1% - 0.2%

A preservative

0.05% - 0.15%

Works as a UV filter when used in high concentrations. It is photostable and is effective mostly against the UVB light, with some protection in the UVA range. In small concentrations, used for its ability to improve the color of cosmetic products. Is usually well tolerated by the skin

0.2% - 0.35%

A red colorant made of iron oxide. Typically is not irritating

0.05% - 0.1%

Show more