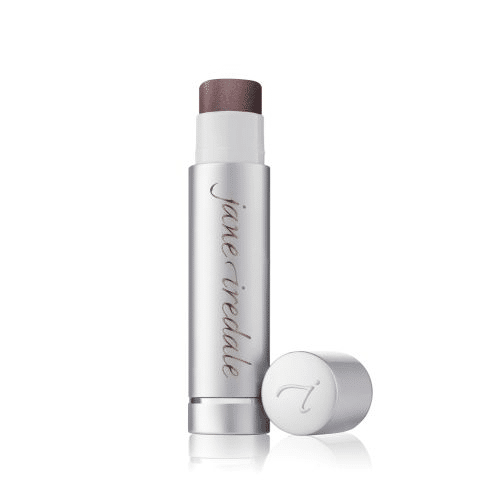 WORKS FOR
Anti-oxidation
Moisturizing
Sun protection
KEY INGREDIENTS
camellia sinensis leaf extract

coco-caprylate/caprate

coconut alkanes

copernicia cerifera cera

octyldodecyl neopentanoate

persea gratissima oil

ricinus communis seed oil

titanium dioxide

tocopherol

vegetable oil

+7 more
Where to buy?
Formula review
WIMJ
summary
This product does not offer good protection against UVA rays.
This product can be considered "reef safe" because it does not contain the UV filters (oxybenzone and octinoxate) that can be harmful to coral reefs when present in the water in high concentrations.
Non-organic (mineral) filters
See a mistake?
Promise
What does the product description say?
"Available in five shades that will leave lips feeling moisturized, protected and refreshingly scented."
WIMJ
summary
This product can help soften the skin and reduce its moisture loss with emollients and occlusives: ricinus communis seed oil, octyldodecyl neopentanoate.
Keep in mind that this product does not contain effective ingredients to attract water to the upper layer of the skin. This is why an additional product with humectants like glycerin or hyaluronic acid can be helpful (apply it before this product for the best results).
| Ingredient | Effectiveness | Concentration | Irritancy |
| --- | --- | --- | --- |
| | | | |
| | | | |
| | | | |
See a mistake?
WIMJ
summary
This product contains antioxidants (camellia sinensis leaf extract) that might be able to help neutralize free radicals in skin to lessen the damage it gets from the UV light (sun). There is not enough evidence to confirm their effectiveness in skin though.
| Ingredient | Effectiveness | Concentration | Irritancy |
| --- | --- | --- | --- |
| | | | |
| | | | |
| | | | |
Potential irritants
Ingredients by volume
Ingredient
Estimated concentration

Works as a UV filter when used in high concentrations. It is photostable and is effective mostly against the UVB light, with some protection in the UVA range. In small concentrations, used for its ability to improve the color of cosmetic products. Is usually well tolerated by the skin

An oil from a mixture of different vegetables. Helps soften the upper layer of the skin

30% - 44%

A plant oil that can help soften the skin. It might be helpful in calming down inflammation, but solid research is lacking. Is often used in lip products to create the needed product consistency

5.5% - 8.2%

An emollient that helps soften the skin. Often used to stabilize other ingredients, for example, sunscreen

4% - 6%

Brazilian palm wax. Helps soften the upper layer of the skin

3.4% - 5%

A plant oil that might help neutralize free radicals and have an anti-bacterial effect

2.8% - 4.1%

An emollient that helps soften the skin and could be helpful in repairing its barrier function

2.3% - 3.4%

1.8% - 2.7%

Traditionally used to treat sunburns, dermatitis and inflammation, but evidence for its effectiveness is lacking. The extract can contain humectants that help attract water into the skin

1.5% - 2.2%

Can contain potent anti-oxidant compounds (abbreviated ECG, GCG, EGC, and EGCG) that might help protect the skin from free radicals. Can help calm down inflammation and has some anti-bacterial properties. Unfortunately, these antioxidants are unstable and lose their effectiveness very quickly in products. The concentration of the antioxidant compounds in the extract also tends to be low to be effective in topical formulation

1.2% - 1.7%

An emollient that helps soften the skin

1% - 1.5%

Helps oil and water mix together and works as an emollient

0.9% - 1.35%

Might be helpful in neutralizing free radicals in skin

0.55% - 1.25%

A plant extract that might help neutralize free radicals in skin

0.5% - 1.15%

The same compound that is used safely in dental implants and bone cements. In cosmetics, it is used to improve the consistency of products

0.6% - 1.4%

Helps to soften the upper layer of the skin without creating a greasy texture

0.4% - 0.95%

Being a lipid soluble form of vitamin C, it is more stable and can penetrate the skin better than L-Ascorbic acid. It is effective in protecting the skin from free radicals, as well as evening the skin tone, but is less effective in stimulating collagen production compared to L-Ascorbic acid.

0.15% - 0.65%

Pure form of vitamin E. Can help moisturise and protect the skin from free radicals. Often used to help stabilise other ingredients or the formula itself

0.15% - 0.6%

A highly irritating fragrance

0.1% - 0.35%

Show more