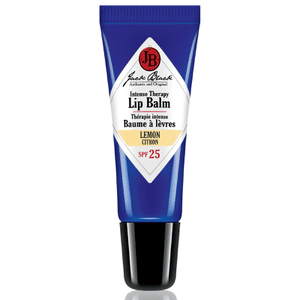 Jack Black
Intense Therapy Lip Balm Lemon & Shea Butter
WORKS FOR
Moisturizing
Anti-oxidation
KEY INGREDIENTS
lanolin

petrolatum

beeswax

butyl methoxydibenzoylmethane

butyrospermum parkii butter

camellia sinensis leaf extract

cyclopentasiloxane

ethylhexyl methoxycinnamate

persea gratissima oil

theobroma cacao seed butter

+7 more
Where to buy?
Formula review
See a mistake?
Promise
What does the product description say?
"Harnessing the powers of ultra-moisturising Avocado Oil and Shea Butter, the emollient balm soothes and conditions lips, whilst an antioxidant-rich blend of Vitamin E and Green Tea defend against free radical damage."
WIMJ
summary
This product can help soften the skin and reduce its moisture loss with emollients and occlusives: beeswax, butyrospermum parkii butter.
Keep in mind that this product does not contain effective ingredients to attract water to the upper layer of the skin. This is why an additional product with humectants like glycerin or hyaluronic acid can be helpful (apply it before this product for the best results).
The following ingredients in this product are especially good for supporting the skin barrier and helping with the hydration level: lanolin, petrolatum
| Ingredient | Effectiveness | Concentration | Irritancy |
| --- | --- | --- | --- |
| | | | |
| | | | |
| | | | |
See a mistake?
WIMJ
summary
This product contains antioxidants (camellia sinensis leaf extract) that might be able to help neutralize free radicals in skin to lessen the damage it gets from the UV light (sun). There is not enough evidence to confirm their effectiveness in skin though.
| Ingredient | Effectiveness | Concentration | Irritancy |
| --- | --- | --- | --- |
| | | | |
| | | | |
| | | | |
Potential irritants
Ingredients by volume
Ingredient
Estimated concentration

Avobenzone. An organic, or so-called "chemical" UV filter. Protects against both UVA and UVB rays. Needs to be combined with other filters in a formulation to be stable.

Octinoxate. When used in higher concentrations, works as a sunscreen protecting the skin from UVB rays. When used in lower concentration, helps to preserve the product formulation. Is shown to be harmful to coral reefs - consider avoiding bathing in coral reef areas when wearing a product with this ingredient. It can be irritating

One of the most effective and the most studied occlusive ingredients that creates a protective layer on top of the skin preventing moisture loss

Forms a protective barrier that holds water and keeps dry skin hydrated. Keeps an emulsion from separating into its oil and liquid components, and increases the thickness of a product. Can be an allergen

24% - 35%

A great moisturising ingredient that softens the skin and reduces water loss from its upper layer. It also can be helpful in protecting skin from free radicals

6.8% - 10.2%

4.6% - 6.9%

Can contain potent anti-oxidant compounds (abbreviated ECG, GCG, EGC, and EGCG) that might help protect the skin from free radicals. Can help calm down inflammation and has some anti-bacterial properties. Unfortunately, these antioxidants are unstable and lose their effectiveness very quickly in products. The concentration of the antioxidant compounds in the extract also tends to be low to be effective in topical formulation

3.2% - 4.7%

A silicone that serves as an emollient. Helps create a nice non-greasy feels

2.5% - 3.8%

A silicone that helps improve the product texture and spreadability. Can absord oil creating a short-term mattifying effect on the skin

2.1% - 3.2%

An unspecified blend of fragrant irritating ingredients

1.7% - 2.6%

Sebum of wool-bearing animals (most commonly sheep). Helps soften the upper layer of the skin and reduce the skin water loss. In rare cases could be an allergen. Not suitable for vegans

1.7% - 2.5%

Used to create a thicker product consistency

1.4% - 2.1%

Used to thicken the product consistency

1.1% - 1.7%

An emollient that helps soften the skin and could be helpful in repairing its barrier function

0.85% - 1.25%

Helps water and oil mix together. Could be an allergen (beeswax)

0.5% - 1.15%

Helps soften the upper layer of the skin and can be helpful in restoring the skin barrier function. Might have some anti-oxidant effect

0.4% - 0.95%

A more stable but less bio-available form of vitamin E compared to Tocopherol. Might help moisturize and protect the skin from free radicals, but mostly used in low concentrations to stabilize other ingredients.

0.2% - 0.75%

Show more