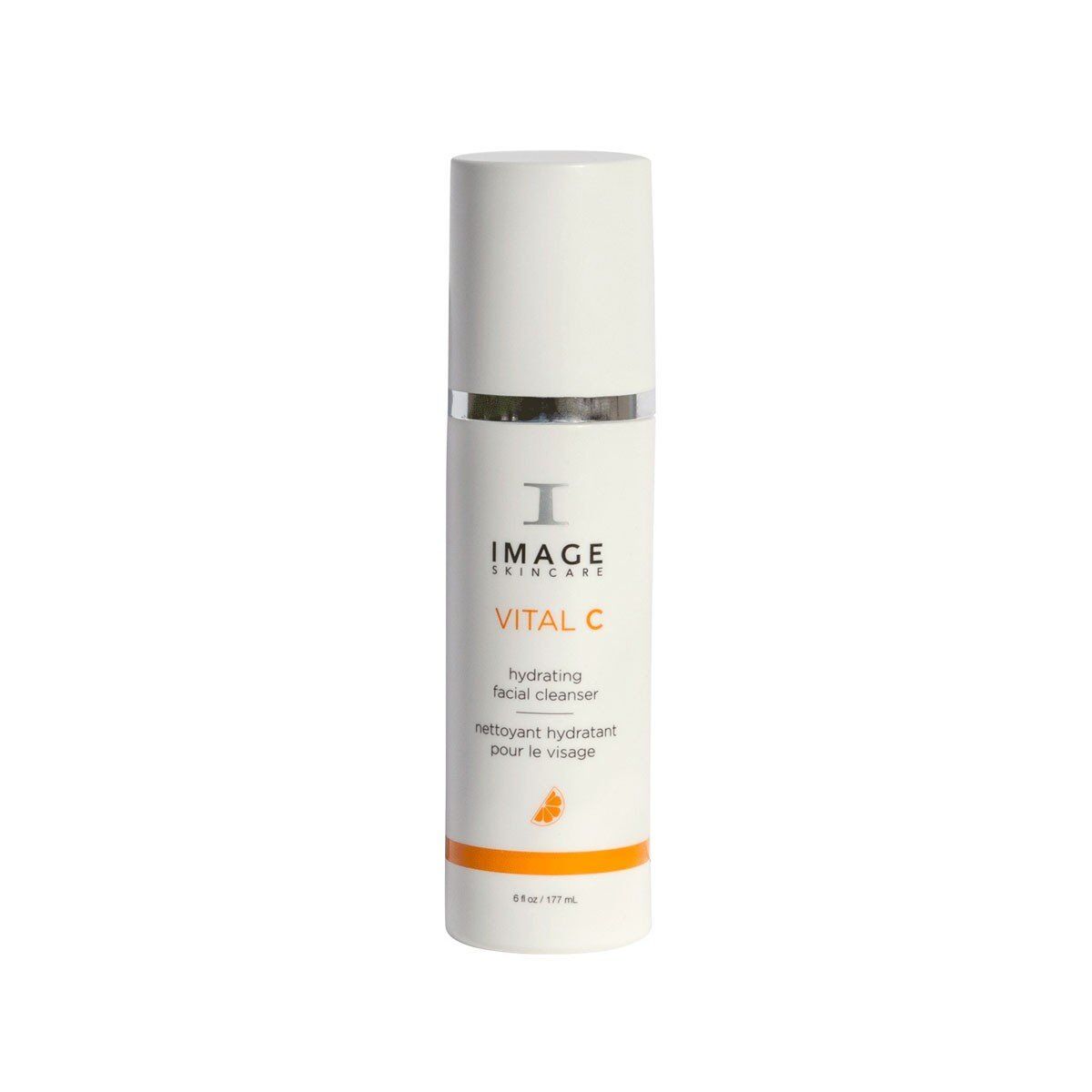 KEY INGREDIENTS
retinyl palmitate

sodium ascorbyl phosphate

caprylic/capric triglyceride

cetyl alcohol

coco-caprylate/caprate

glycerin

isododecane

superoxide dismutase

tocopherol

vitis vinifera seed extract

+7 more

Where to buy?
Formula review
See a mistake?
Promise
What does the product description say?
"Vital C Hydrating Facial Cleanser"
WIMJ
summary
This product works by removing dirt and oil from the surface of the skin. It uses a combination of mild cleansing agents (c12-20 alkyl glucoside, cetearyl olivate, cetyl alcohol, decyl glucoside, glyceryl stearate, peg-100 stearate, sorbitan olivate, stearic acid, xanthan gum) and should be able to cleanse the skin gently. Still keep in mind that any cleansing can disrupt the skin barrier, and most people do not need to cleanse their skin more than once per day.
Even though this formulation is mild, the following cleansing agents could trigger an irritation or allergy for some people: decyl glucoside
| Ingredient | Effectiveness | Concentration | Irritancy |
| --- | --- | --- | --- |
| | | | |
| | | | |
| | | | |
Potential irritants

Ingredients by volume
Ingredient
Estimated concentration

Plain old water

45% - 55%

An emollient that helps soften the skin and can decrease moisture loss. Helps create a nice product texture

6.2% - 7.6%

Helps oil and water mix together

3.4% - 4.2%

A non-drying alcohol that works to soften the skin and stabilize product formulations helping oil and water mix together

2.5% - 3.1%

2.4% - 2.9%

A good mix of fatty acids that forms a protective layer on the skin. Improves the shelf life of products. Derived from coconut and glycerin

2% - 2.4%

An essentil oil from orange peel. Potential allergen and can be irritating

1.6% - 2%

Helps oil and water mix together

1.4% - 1.7%

A common frangrance that can easily irritate skin, especially if exposed to air, light or heat

1.1% - 1.4%

Helps oil and water mix together and works as an emollient

1% - 1.3%

An emollient that softens the skin and forms a protective layer on its surface. Helps water and oil mix together

0.7% - 1.05%

Helps oil and water mix togehter and creates a nice product texture

0.65% - 0.95%

Helps to soften the upper layer of the skin without creating a greasy texture

0.5% - 0.8%

Helps oil and water mix together. Can be irritating

0.55% - 0.8%

Helps create a thicker product consistency

0.4% - 0.6%

Helps water and oil mix together

0.45% - 0.65%

One of the best moisturizing ingredients. Naturally present in skin. It attracts water to the upper layer of the skin working as a humectant

0.45% - 0.65%

Used to create a thicker product consistency

0.35% - 0.6%

Might be helpful in restoring skin barrier function and, when combined with zinc carbonate and malonic acid, reducing fine lines and wrinkles by stimulating elastin production. Also helps stabilize the product formulation

0.3% - 0.55%

A preservative

0.25% - 0.5%

An essential oil. Used as a fragrance. Can be irritating and sensitizing

0.2% - 0.4%

Three steps removed from the active form of vitamin A - retinoic acid. To have an effect in the skin, it first needs to be converted twice to become the retinoic acid. This means it is less potent than retinol, but could also be less irritating. Once converted to the retinoic acid in the skin, it helps against all signs of aging, improves skin cell turnover and helps fight blemishes and clogged pores. However, in many cosmetic formulations, it is used in a concentration that is too low to have the full effect

0.25% - 0.45%

A stable derivative of vitamin C. It is oil-soluble which means it is more likely to penetrate the skin compared to the pure form of vitamin C (which is water-soluble), but it is less bio-available and is way less effective in stimulating collagen and reducing wrinkles compared to the pure form of vitamin C (L-ascorbic acid) and its other derivatives (for example, magnesium ascorbyl phosphate). At the same time, this vitamin C derivative has been shown in studies to be effective in reducing acne, blemishes and clogged pores. It is less irritating then the pure form of vitamin C

0.25% - 0.45%

Used to create a nice product texture and help delivery of other ingredients. Might be somewhat helpful in attracting water to the upper layer of the skin

0.25% - 0.4%

A more stable but less bio-available form of vitamin E compared to Tocopherol. Might help moisturize and protect the skin from free radicals, but mostly used in low concentrations to stabilize other ingredients.

0.2% - 0.4%

0.2% - 0.4%

Used to adjust the product's pH

0.2% - 0.4%

Being a lipid soluble form of vitamin C, it is more stable and can penetrate the skin better than L-Ascorbic acid. It is effective in protecting the skin from free radicals, as well as evening the skin tone, but is less effective in stimulating collagen production compared to L-Ascorbic acid.

0.2% - 0.4%

Pure form of vitamin E. Can help moisturise and protect the skin from free radicals. Often used to help stabilise other ingredients or the formula itself

0.2% - 0.4%

A plant extract that contains resveratrol and other anti-oxidant compounds that can help neutralize free radicals, reduce inflammation in skin and even out its tone. Can be also used to stabilize the product formulation

0.2% - 0.4%

A plant extract that has astringent properties. In other words, it might be able to interact with keratin in the uppermost layer of the skin to reduce swelling and create a temporal tightening effect. It can be irritating

0.2% - 0.35%

0.15% - 0.3%

Used to preserve products, dissolve other ingredients and create a nice product texture

0.2% - 0.4%

Helps adjust pH in products

0.15% - 0.25%

An antioxidant enzyme that is naturally present in skin. It can help support skin barrier function and reduce inflammation in skin. It is used in topical medications for inflammatory skin conditions including atopic dermatitis (eczema) and psoriasis. There are three types of natural Superoxide Dismutase in human skin. The compound used in topical treatments and cosmetics are mimics of typically one of these natural variants

0.1% - 0.2%

A preservative. It helps prevent bacterial growth in cosmetic products

0.1% - 0.2%

A fragrance. Is a likely irritant

0.05% - 0.1%

Show more