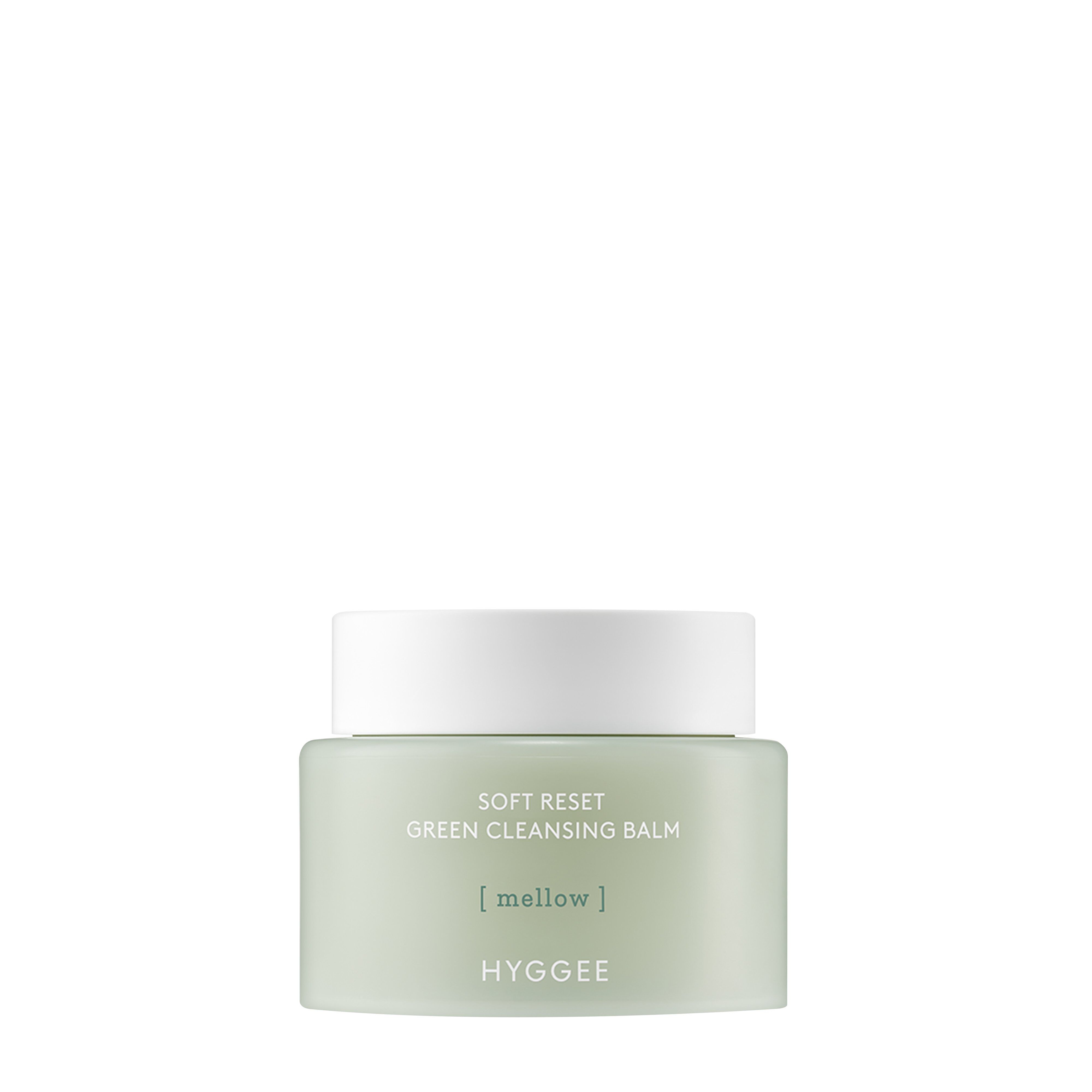 HYGGEE
Soft Reset Green Cleansing Balm
KEY INGREDIENTS
caprylic/capric triglyceride

corallina officinalis extract

melia azadirachta leaf extract

pyrus malus fruit extract

simmondsia chinensis seed oil

vitis vinifera fruit extract

+3 more

Where to buy?
Formula review
See a mistake?
Promise
What does the product description say?
"Soft Reset Green Cleansing Balm"
WIMJ
summary
This product works by removing dirt and oil from the surface of the skin. It uses a combination of mild cleansing agents (polyglyceryl-10 diisostearate, polyglyceryl-3 cocoate, polyglyceryl-4 caprate, polyglyceryl-6 caprylate, polyglyceryl-6 dicaprate, polyglyceryl-6 ricinoleate) and should be able to cleanse the skin gently. Still keep in mind that any cleansing can disrupt the skin barrier, and most people do not need to cleanse their skin more than once per day.
| Ingredient | Effectiveness | Concentration | Irritancy |
| --- | --- | --- | --- |
| | | | |
| | | | |
| | | | |
Potential irritants

Ingredients by volume
Ingredient
Estimated concentration

An emollient that helps soften the skin and creates a thicker product texture

22% - 33%

A good mix of fatty acids that forms a protective layer on the skin. Improves the shelf life of products. Derived from coconut and glycerin

6.4% - 9.6%

4% - 5.9%

4% - 6%

Used to stabilize product formulations and thicken product consistency

3.1% - 4.6%

Helps preserve products and creates a nice product texture

2.3% - 3.5%

Softens the upper layer of skin and helps restore the healthy skin barrier. Has shown to help calm down inflammation in skin. It is a stable oil, meaning that it retains its properties even when exposed to air.

2% - 2.9%

A preservative

1.4% - 2.2%

Plain old water

1.2% - 1.8%

Used to create a nice product texture and help delivery of other ingredients. Might be somewhat helpful in attracting water to the upper layer of the skin

1% - 1.45%

A plant extract that has anti-bacterial properties. Can be used to preserve the product. Can be irritating

0.8% - 1.2%

A plant extract that might be helpful to neutralize free radicals in skin

0.55% - 1.25%

A plant extract that might have some anti-oxidant effect helping neutralize free radicals in skin

0.5% - 1.1%

Does not have proven skin benefits

0.45% - 1.05%

Eggplant fruit extract. Might have some anti-oxidant effect

0.4% - 1%

A plant extract that helps attract water to the upper layer of the skin. It might be helpful in neutralizing free radicals in skin, but is less potent than the extract from the seeds

0.45% - 1%

0.4% - 0.95%

Can have some moisturizing properties due to its sugar content

0.4% - 0.9%

A plant extract that might have an anti-oxidant effect and help even out skin tone, but solid evidence of effectiveness is lacking

0.4% - 0.9%

A plant extract that is rich in a fragrance compound eugenol that is a frequent allergen and can be irritating. It might also contain anti-oxidants to help neutralize free radicals

0.35% - 0.85%

A plant extract that can contain an active compound curcumin, that may have some anti-inflammatory properties when applied to the skin, but solid research is lacking and the typical concentration used in skincare products is too low. Can be an irritant

0.3% - 0.75%

Red algae extract that helps attract water to the upper layer of the skin and might contain antioxidants

0.35% - 0.8%

A plant oil that helps soften the upper layer of the skin. Is unlikely to be helpful in restoring skin barrier function due to the low content of linoleic acid

0.4% - 0.95%

An essential oil that can be irritating. Has some anti-bacterial properties

0.2% - 0.75%

The ingredient is not recognized

TBC

An essential oil that can be irritating. Has some anti-bacterial properties

0.2% - 0.8%

Helps oil and water mix together

0.3% - 0.75%

Helps oil and water mix together

0.2% - 0.8%

0.2% - 0.7%

Helps oil and water mix together

0.15% - 0.65%

0.15% - 0.5%

0.1% - 0.45%

Show more