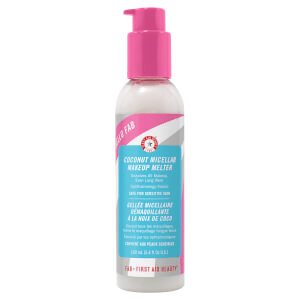 KEY INGREDIENTS
panthenol

camellia sinensis leaf extract

cocos nucifera oil

glucose

glycerin

lycium barbarum fruit extract

sodium hyaluronate

+4 more
Where to buy?
Formula review
See a mistake?
Promise
What does the product description say?
"Hello FAB Coconut Micellar Makeup Melter"
WIMJ
summary
This product works by removing dirt and oil from the surface of the skin. It uses a combination of mild cleansing agents (carbomer, decyl glucoside) and should be able to cleanse the skin gently. Still keep in mind that any cleansing can disrupt the skin barrier, and most people do not need to cleanse their skin more than once per day.
Even though this formulation is mild, the following cleansing agents could trigger an irritation or allergy for some people: decyl glucoside
| Ingredient | Effectiveness | Concentration | Irritancy |
| --- | --- | --- | --- |
| | | | |
| | | | |
Potential irritants
Ingredients by volume
Ingredient
Estimated concentration

22% - 33%

Helps attract water to the upper layer of the skin. Could be helpful in restoring the skin barrier function

4.7% - 7.1%

Used to stabilize the product formulation and can help absorb oil

4.3% - 6.5%

Plain old water

3.4% - 5.1%

One of the best moisturizing ingredients. Naturally present in skin. It attracts water to the upper layer of the skin working as a humectant

2.4% - 3.6%

1.9% - 2.9%

Helps create a gel-like product texture. Can be used in gentle cleansing formulations

1.1% - 1.7%

An emollient. Found to be as effective as a moisturizer for dry skin as mineral oil. Could be comedogenic

1.3% - 1.9%

One of the best moisturizing ingredients. Attracts water into the upper layer of the skin

0.85% - 1.25%

Helps attract water to the upper layer of the skin and can help improve skin barrier function

0.6% - 1.35%

A plant extract that can help neutralize free radicals in skin and attract water to its upper layer

0.5% - 1.1%

A plant extract that can help lighten the skin and calm down inflammation. Might be helpful in neutralizing free radicals

0.35% - 0.85%

Could have anti-inflammatory effect on skin, but can be irritating as well. Can be added to products for its smell

0.35% - 0.8%

Can contain potent anti-oxidant compounds (abbreviated ECG, GCG, EGC, and EGCG) that might help protect the skin from free radicals. Can help calm down inflammation and has some anti-bacterial properties. Unfortunately, these antioxidants are unstable and lose their effectiveness very quickly in products. The concentration of the antioxidant compounds in the extract also tends to be low to be effective in topical formulation

0.2% - 0.8%

0.15% - 0.6%

Helps oil and water mix together. Can be irritating

0.15% - 0.7%

Used to create a nice product texture and help delivery of other ingredients. Might be somewhat helpful in attracting water to the upper layer of the skin

0.1% - 0.35%

A preservative. It helps prevent bacterial growth in cosmetic products

0.1% - 0.3%

Can work as an exfoliant but is typically used to adjust the product pH

0.05% - 0.15%

Used to adjust the product's pH

0.05% - 0.25%

Show more