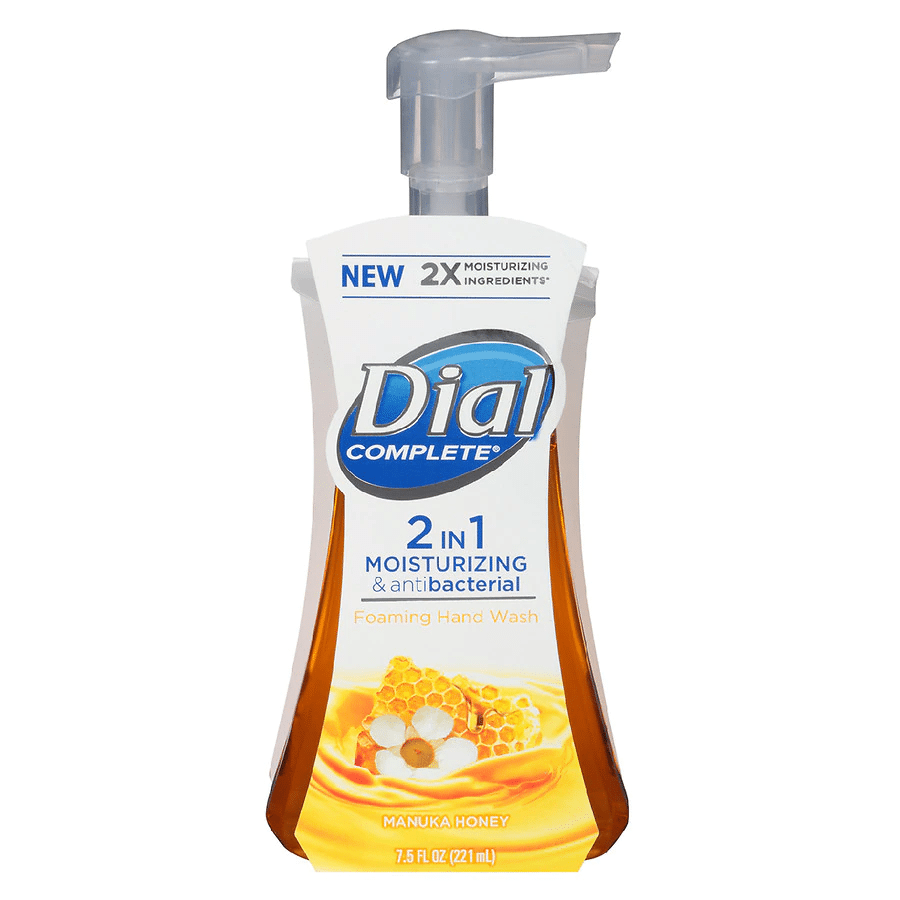 Dial
Complete 2 in 1 Moisturizing & Antibacterial Foaming Hand Wash Manuka Honey

Where to buy?
Formula review
See a mistake?
Promise
What does the product description say?
"Complete 2 in 1 Moisturizing & Antibacterial Foaming Hand Wash Manuka Honey"
WIMJ
summary
This product works by removing dirt and oil from the surface of the skin. It uses a combination of mild cleansing agents (cetrimonium chloride, cocamidopropyl betaine, dimethyl palmitamine, hydroxypropyl methylcellulose, lauramidopropylamine oxide, lauramine oxide, trideceth-9) and should be able to cleanse the skin gently. Still keep in mind that any cleansing can disrupt the skin barrier, and most people do not need to cleanse their skin more than once per day.
Even though this formulation is mild, the following cleansing agents could trigger an irritation or allergy for some people: cetrimonium chloride, cocamidopropyl betaine
| Ingredient | Effectiveness | Concentration | Irritancy |
| --- | --- | --- | --- |
| | | | |
| | | | |
| | | | |
Potential irritants

Ingredients by volume
Ingredient
Estimated concentration

Plain old water

45% - 55%

10% - 12%

One of the best moisturizing ingredients. Naturally present in skin. It attracts water to the upper layer of the skin working as a humectant

4.7% - 5.7%

A preservative

0.05% - 0.1%

2.8% - 3.5%

The ingredient is not recognized

TBC

Can work as an exfoliant but is typically used to adjust the product pH

1.9% - 2.3%

Helps water and oil mix together. Used as a cleansing ingredient. Could be an allergen

2.2% - 2.7%

1.5% - 1.8%

Used to create a thicker product consistency and stabilize the formulation

1.3% - 1.6%

A preservative that releases formaldehyde and can be irritating

0.3% - 0.6%

Helps dissolve other ingredients in a formulation

0.75% - 1.1%

The ingredient is not recognized

TBC

Helps oil and water mix together and can enhance the penetration of other ingredients into the skin

0.6% - 0.9%

The ingredient is not recognized

TBC

A preservative. It can be irritating

0.6% - 0.9%

An aromatic blend of unspecified and possibly irritating ingredients

0.5% - 0.75%

Used to thicken the product formulation and might help to add minerals to the surface of the skin. It is used in scrubs as a physical exfoliant. Can increase sensitivity to other ingredients if left on the skin or used in high concentration

0.45% - 0.7%

0.45% - 0.7%

Helps to stabilize the product formulation

0.3% - 0.6%

Can be drying and contribute to skin irritation. Used in formulars to dissolve other ingredients, create a thinner product consistency or for its antibacterial properties

0.3% - 0.55%

0.25% - 0.5%

Helps to soften the upper layer of the skin and attract water to it

0.25% - 0.5%

A yellow dye

0.2% - 0.35%

A colorant

0.15% - 0.3%

Show more