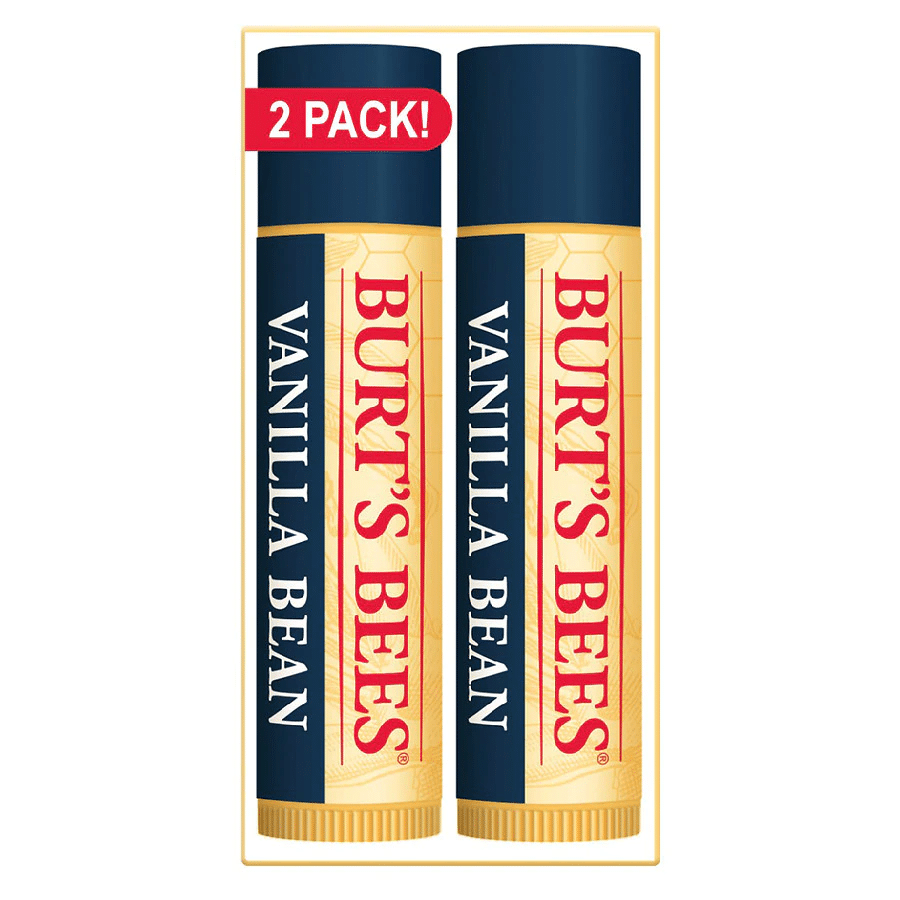 WORKS FOR
Moisturizing
Anti-oxidation
KEY INGREDIENTS
lanolin

beeswax

butyrospermum parkii butter

canola oil

cocos nucifera oil

glycine soja oil

helianthus annuus seed oil

ricinus communis seed oil

theobroma cacao seed butter

tocopherol

+7 more

Where to buy?
Formula review
See a mistake?
Promise
What does the product description say?
"Hydrate and soften dry lips with Shea Butter and Soothing Vitamin E packed into every tube of Burt's Bees lip balm."
WIMJ
summary
This product can help soften the skin and reduce its moisture loss with emollients and occlusives: beeswax, butyrospermum parkii butter.
Keep in mind that this product does not contain effective ingredients to attract water to the upper layer of the skin. This is why an additional product with humectants like glycerin or hyaluronic acid can be helpful (apply it before this product for the best results).
The following ingredients in this product are especially good for supporting the skin barrier and helping with the hydration level: lanolin
| Ingredient | Effectiveness | Concentration | Irritancy |
| --- | --- | --- | --- |
| | | | |
| | | | |
| | | | |
See a mistake?
WIMJ
summary
This product contains antioxidants (butyrospermum parkii butter, theobroma cacao seed butter). In theory, they could help neutralize free radicals in skin and lessen the damage it gets from the UV light (sun), but there is no evidence that these ingredients can have a noticeable effect in skin.
| Ingredient | Effectiveness | Concentration | Irritancy |
| --- | --- | --- | --- |
| | | | |
| | | | |
| | | | |
Potential irritants

Ingredients by volume
Ingredient
Estimated concentration

A great emollient due to its high linoleic acid content. One of the most effective plant oils in helping skin hydration and repairing skin barrier function

22% - 33%

An emollient. Found to be as effective as a moisturizer for dry skin as mineral oil. Could be comedogenic

5.5% - 8.2%

Forms a protective barrier that holds water and keeps dry skin hydrated. Keeps an emulsion from separating into its oil and liquid components, and increases the thickness of a product. Can be an allergen

5% - 7.5%

An unspecified blend of fragrant irritating ingredients

3.9% - 5.8%

A plant oil that can help soften the skin. It might be helpful in calming down inflammation, but solid research is lacking. Is often used in lip products to create the needed product consistency

3.2% - 4.7%

Sebum of wool-bearing animals (most commonly sheep). Helps soften the upper layer of the skin and reduce the skin water loss. In rare cases could be an allergen. Not suitable for vegans

2.6% - 3.9%

A great moisturising ingredient that softens the skin and reduces water loss from its upper layer. It also can be helpful in protecting skin from free radicals

2.1% - 3.2%

Helps soften the upper layer of the skin and can be helpful in restoring the skin barrier function. Might have some anti-oxidant effect

1.5% - 2.2%

0.9% - 1.3%

A plant extract used as a fragrance. Can be irritating

0.5% - 1.2%

0.35% - 0.85%

Pure form of vitamin E. Can help moisturise and protect the skin from free radicals. Often used to help stabilise other ingredients or the formula itself

0.15% - 0.65%

A good emollient that helps soften the skin and helps repair its barrier function

0.15% - 0.7%

Can be helpful in reducing inflammation in skin. Is a likely irritant

0.1% - 0.3%

A plant oil that can help soften the upper layer of the skin

0.15% - 0.65%

Show more