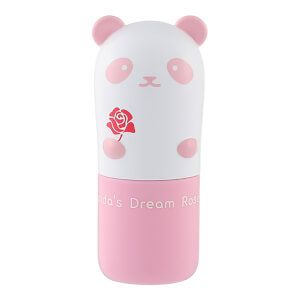 TONYMOLY
Panda's Dream Rose Oil Multi Purpose Stick
KEY INGREDIENTS
paraffinum liquidum

argania spinosa kernel oil

butylene glycol dicaprylate/dicaprate

caprylic/capric triglyceride

corallina officinalis extract

macadamia ternifolia seed oil

melia azadirachta leaf extract

olea europaea fruit oil

ricinus communis seed oil

simmondsia chinensis seed oil

+7 more

Where to buy?
Formula review
See a mistake?
Promise
What does the product description say?
"Enriched with nourishing Rose Oil, the portable, non-greasy balm glides on effortlessly to deliver long-lasting moisture and hydration to the face and body."
WIMJ
summary
This product can help soften the skin and reduce its moisture loss with emollients and occlusives: caprylic/capric triglyceride, ricinus communis seed oil.
Keep in mind that this product does not contain effective ingredients to attract water to the upper layer of the skin. This is why an additional product with humectants like glycerin or hyaluronic acid can be helpful (apply it before this product for the best results).
The following ingredients in this product are especially good for supporting the skin barrier and helping with the hydration level: paraffinum liquidum
| Ingredient | Effectiveness | Concentration | Irritancy |
| --- | --- | --- | --- |
| | | | |
| | | | |
| | | | |
Potential irritants

Ingredients by volume
Ingredient
Estimated concentration

One of the most effective and well studied occlusive and emollient moisturizing ingredients. Helps reduce moisture loss in skin and repair skin barrier function

23% - 34%

An emollient that helps to soften the skin and create a pleasant product texture and stabilize the formulation

5% - 7.5%

A good mix of fatty acids that forms a protective layer on the skin. Improves the shelf life of products. Derived from coconut and glycerin

4.8% - 7.1%

A plant oil that can help soften the skin. It might be helpful in calming down inflammation, but solid research is lacking. Is often used in lip products to create the needed product consistency

3.9% - 5.8%

2.9% - 4.3%

Helps improve the product texture and soften the upper layer of the skin

2% - 3%

Helps improve the product texture and soften the upper layer of the skin

1.7% - 2.6%

An aromatic blend of unspecified and possibly irritating ingredients

1.2% - 1.8%

Helps soften the upper layer of the skin

1.1% - 1.7%

A more stable but less bio-available form of vitamin E compared to Tocopherol. Might help moisturize and protect the skin from free radicals, but mostly used in low concentrations to stabilize other ingredients.

0.9% - 1.3%

A preservative. It helps prevent bacterial growth in cosmetic products

0.5% - 1%

A plant extract that might help neutralize free radicals in skin. It can be irritating

0.45% - 1.1%

Softens the upper layer of skin and helps restore the healthy skin barrier. Has shown to help calm down inflammation in skin. It is a stable oil, meaning that it retains its properties even when exposed to air.

0.5% - 1.15%

An emollient that helps soften the skin but is not effective for restoring its barrier function. Might be helpful to calm down inflammation

0.45% - 1.05%

An emollient that helps soften the upper layer of the skin. Might have some weak anti-oxidant properties

0.45% - 1%

Helps preserve products and creates a nice product texture

0.4% - 1%

Plant oil from nuts that helps soften the upper layer of the skin. Contains a high concentration of oleic acid that can weaken skin's barrier function and increase water-loss while enhancing penetration of other ingredients

0.4% - 1%

A plant extract that has anti-bacterial properties. Can be used to preserve the product. Can be irritating

0.35% - 0.8%

A preservative

0.3% - 0.7%

A preservative

0.2% - 0.75%

A plant extract that might be helpful to neutralize free radicals in skin

0.2% - 0.7%

Used to increase stability of product formulations

0.15% - 0.7%

A plant extract that might have some anti-oxidant effect helping neutralize free radicals in skin

0.15% - 0.65%

The ingredient is not recognized

TBC

Eggplant fruit extract. Might have some anti-oxidant effect

0.15% - 0.6%

A plant extract that might have some anti-oxidant effect

0.15% - 0.7%

Red algae extract that helps attract water to the upper layer of the skin and might contain antioxidants

0.1% - 0.45%

A plant extract that is rich in a fragrance compound eugenol that is a frequent allergen and can be irritating. It might also contain anti-oxidants to help neutralize free radicals

0.1% - 0.4%

Used as a fragrance. Can be irritating

0.1% - 0.35%

A plant extract that can contain an active compound curcumin, that may have some anti-inflammatory properties when applied to the skin, but solid research is lacking and the typical concentration used in skincare products is too low. Can be an irritant

0.05% - 0.2%

Show more