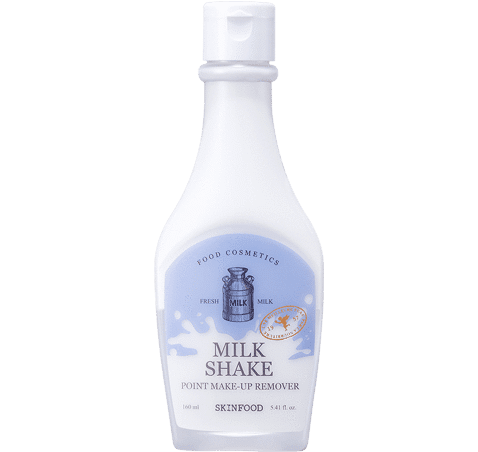 Skinfood
Milk Shake Point Make-Up Remover

Where to buy?
Formula review
See a mistake?
Promise
What does the product description say?
"Milk Shake Point Make-Up Remover"
WIMJ
summary
This product works by removing dirt and oil from the surface of the skin. It uses a combination of mild cleansing agents (c12-14 pareth-12, isohexadecane, ppg-13-decyltetradeceth-24) and should be able to cleanse the skin gently. Still keep in mind that any cleansing can disrupt the skin barrier, and most people do not need to cleanse their skin more than once per day.
| Ingredient | Effectiveness | Concentration | Irritancy |
| --- | --- | --- | --- |
| | | | |
| | | | |
| | | | |
Potential irritants

Ingredients by volume
Ingredient
Estimated concentration

Plain old water

40% - 60%

Improves the texture of the product and helps soften the skin. Helps oil and water mix together and can be used as a cleansing agent

7.8% - 11.7%

A silicone that helps improve the product texture and spreadability. Can absord oil creating a short-term mattifying effect on the skin

3.7% - 5.6%

A silicone that serves as an emollient. Helps create a nice non-greasy feels

2.8% - 4.2%

Helps oil and water mix together and can enhance the penetration of other ingredients into the skin

2% - 3%

Helps oil and water mix together

1.5% - 2.2%

Used to thicken the product formulation and might help to add minerals to the surface of the skin. It is used in scrubs as a physical exfoliant. Can increase sensitivity to other ingredients if left on the skin or used in high concentration

1% - 1.6%

A preservative

0.2% - 0.75%

0.5% - 1.15%

0.35% - 0.75%

A preservative

0.15% - 0.55%

Helps oil and water mix together

0.1% - 0.35%

Helps to control the skin's pH level. Maintains the skin's natural film of amino-lactic acids and oils. Helps to preserve products

0.05% - 0.15%

Can work as an exfoliant but is typically used to adjust the product pH

0.01% - 0.1%

Show more