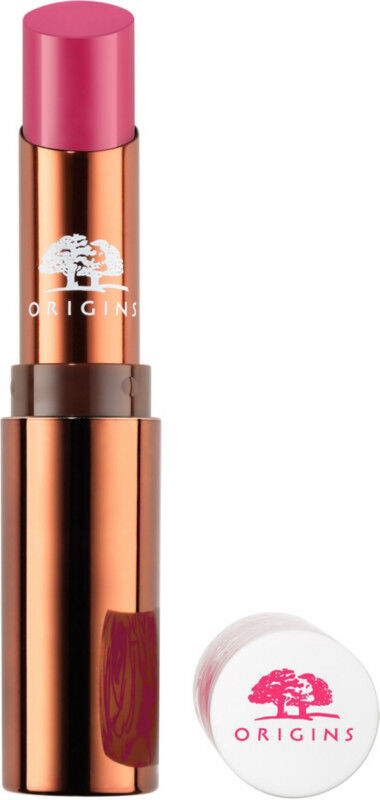 KEY INGREDIENTS
ceramide np

astrocaryum murumuru seed butter

beeswax

caprylic/capric triglyceride

carthamus tinctorius seed oil

copernicia cerifera cera

copernicia cerifera wax

diisostearyl malate

euphorbia cerifera cera

honey

mel

octyldodecyl myristate

passiflora edulis seed oil

ricinus communis seed oil

silica

titanium dioxide

+13 more

Where to buy?
Formula review
See a mistake?
Promise
What does the product description say?
"Kiss your lips with the nourishing and hydrating powers of flowers with the Origins Blooming Sheer Lip Balm ; a lightweight and non-sticky pout-hydrating formula that gives lips a hint of sheer and glossy, just-bloomed colour."
WIMJ
summary
This product can help soften the skin and reduce its moisture loss with emollients and occlusives: beeswax, caprylic/capric triglyceride.
Keep in mind that this product does not contain effective ingredients to attract water to the upper layer of the skin. This is why an additional product with humectants like glycerin or hyaluronic acid can be helpful (apply it before this product for the best results).
The following ingredients in this product are especially good for supporting the skin barrier and helping with the hydration level: ceramide np
| Ingredient | Effectiveness | Concentration | Irritancy |
| --- | --- | --- | --- |
| | | | |
| | | | |
| | | | |
Potential irritants

Ingredients by volume
Ingredient
Estimated concentration

A plant oil that can help soften the skin. It might be helpful in calming down inflammation, but solid research is lacking. Is often used in lip products to create the needed product consistency

28% - 35%

An emollient that helps to soften the skin and create a pleasant product texture and stabilize the formulation

5.7% - 7%

Helps to soften the upper layer of the skin

5.2% - 6.4%

A good mix of fatty acids that forms a protective layer on the skin. Improves the shelf life of products. Derived from coconut and glycerin

4.2% - 5.1%

3% - 3.7%

2.3% - 2.9%

Helps soften the upper layer of the skin and thickens the product's texture

2.1% - 2.6%

1.8% - 2.1%

Used to absorb oil and can temporarily mattify skin

1.5% - 1.9%

Forms a protective barrier that holds water and keeps dry skin hydrated. Keeps an emulsion from separating into its oil and liquid components, and increases the thickness of a product. Can be an allergen

1.1% - 1.3%

0.7% - 1.05%

0.7% - 1%

An emollient that helps soften the skin and might help calm down inflammation

0.65% - 0.95%

Helps soften the upper layer of the skin

0.6% - 0.9%

0.7% - 1.05%

Brazilian palm wax. Helps soften the upper layer of the skin

0.7% - 1.05%

Helps to soften the upper layer of the skin and create a nice product consistency

0.6% - 0.9%

Aromatic plant oil used in cosmetics as a fragrance. A likely irritant

0.4% - 0.6%

An essential oil. Can be irritating. Can become an allergen with oxidation

0.4% - 0.65%

Used as a fragrance. Can be irritating

0.35% - 0.6%

A fragrance. Can be irritating

0.3% - 0.55%

A fragrance. Can be irritating

0.3% - 0.55%

A fragrance. Can be irritating

0.3% - 0.5%

A fragrance with a lemon scent. A likely irritant

0.3% - 0.5%

Added to create a nice product smell. Can be irritating

0.3% - 0.5%

Helps attract water to the skin and might have some anti-bacterial properties. Can be an allergen

0.3% - 0.55%

Helps to soften the upper layer of the skin and attract water to it

0.35% - 0.65%

Helps attract water to the skin and might have some anti-bacterial properties. Can be an allergen

0.3% - 0.55%

0.4% - 0.6%

0.4% - 0.6%

0.3% - 0.55%

0.3% - 0.55%

The ingredient is not recognized

TBC

A type of lipid similar to ceramides naturally present in skin. Helps to soften the upper layer of the skin and supports the skin barrier function to keep it hydrated. Can help to prevent inflammation in skin

0.4% - 0.6%

0.3% - 0.55%

The ingredient is not recognized

TBC

A type of lipid similar to ceramides naturally present in skin. Helps to soften the upper layer of the skin and supports the skin barrier function to keep it hydrated. Can help to prevent inflammation in skin

0.4% - 0.6%

0.35% - 0.6%

0.35% - 0.6%

0.35% - 0.6%

A plant extract that can help lighten the skin and calm down inflammation. Might be helpful in neutralizing free radicals

0.35% - 0.65%

A plant extract that can be irritating. It might contain a compound anthocyanin that could be helpful in neutralizing free radicals

0.35% - 0.6%

0.35% - 0.6%

The ingredient is not recognized

TBC

0.35% - 0.6%

A good emollient helping to soften the skin. Might have some anti-oxidant properties. Adds a fragrance to the product

0.45% - 0.7%

0.45% - 0.65%

Helps soften the upper layer of the skin. Could be comedogenic due to the myrisic acid content

0.45% - 0.65%

Used as a fragrance

0.35% - 0.6%

The ingredient is not recognized

TBC

Used mostly for creating emulsions - helping oil and water mix together. Helps soften the upper layer of the skin

0.45% - 0.7%

A more stable but less bio-available form of vitamin E compared to Tocopherol. Might help moisturize and protect the skin from free radicals, but mostly used in low concentrations to stabilize other ingredients.

0.35% - 0.65%

Used to thicken the product's texture

0.6% - 0.95%

A colorant that can add a pearl-like appearance to the formulation

0.5% - 0.8%

Used to create a nice product texture and help delivery of other ingredients. Might be somewhat helpful in attracting water to the upper layer of the skin

0.3% - 0.6%

Used to add shimmer

0.4% - 0.65%

The same compound that is used safely in dental implants and bone cements. In cosmetics, it is used to improve the consistency of products

0.55% - 0.8%

Used to increase stability of product formulations

0.35% - 0.65%

Creates an illusion of smoother and more radiant skin tone. Adds shimmer to the skin by reflecting light

0.45% - 0.65%

A red colorant

0.35% - 0.6%

A yellow dye

0.35% - 0.6%

Works as a UV filter when used in high concentrations. It is photostable and is effective mostly against the UVB light, with some protection in the UVA range. In small concentrations, used for its ability to improve the color of cosmetic products. Is usually well tolerated by the skin

0.5% - 0.75%

An umbrella term for the following three colorants: CI 77491, CI 77492, CI 77499

0.3% - 0.6%

A red colorant made of iron oxide. Typically is not irritating

0.35% - 0.6%

An umbrella term for the following three colorants: CI 77491, CI 77492, CI 77499

0.3% - 0.6%

A colorant. Usually well-tolerated

0.35% - 0.6%

An umbrella term for the following three colorants: CI 77491, CI 77492, CI 77499

0.3% - 0.6%

An iron oxide. Used as a colorant. Is usually well tolerated

0.35% - 0.6%

Colorant

0.35% - 0.6%

A red colorant

0.35% - 0.6%

A red (pink) dye

0.35% - 0.6%

A red colorant

0.35% - 0.6%

A yellow dye

0.35% - 0.6%

A red colorant

0.35% - 0.6%

A violet pigment

0.35% - 0.6%

A red colorant

0.3% - 0.6%

A red colorant

0.3% - 0.6%

A red colorant

0.3% - 0.55%

A yellow dye

0.3% - 0.55%

A colorant

0.3% - 0.55%

A colorant

0.3% - 0.55%

A colorant (dye)

0.25% - 0.5%

A colorant

0.25% - 0.45%

A yellow dye

0.2% - 0.4%

The ingredient is not recognized

TBC

Show more