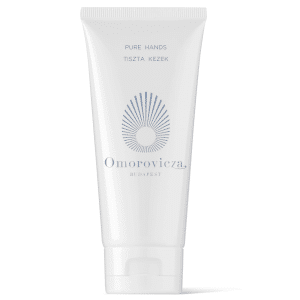 KEY INGREDIENTS
anhydroxylitol

algae extract

betaine

glucose

glycerin

xylitylglucoside

+3 more

Where to buy?
Formula review
See a mistake?
Promise
What does the product description say?
"This moisturising hand cleanser resists dryness and discomfort, aiming to leave a smooth, hydrated finish."
WIMJ
summary
This product works by removing dirt and oil from the surface of the skin.
Keep in mind that cleansing can disrupt the skin barrier, and most people do not need to cleanse their skin more than once per day.
| Ingredient | Effectiveness | Concentration | Irritancy |
| --- | --- | --- | --- |
| | | | |
Potential irritants

Ingredients by volume
Ingredient
Estimated concentration

Produces temporary toning effect. Can help dissolve other ingredients or preserve products

23% - 35%

Plain old water

12% - 17%

One of the best moisturizing ingredients. Naturally present in skin. It attracts water to the upper layer of the skin working as a humectant

4.6% - 6.9%

Maintains the texture of skincare products. Allows the product to spread evenly. Helps oil and water mix together

3.5% - 5.3%

Helps attract water to the upper layer of the skin and repair the skin barrier function

2.4% - 3.7%

1.7% - 2.6%

The ingredient is not recognized

TBC

Used to adjust pH of the product and can help improve the product's smell

1.2% - 1.8%

Helps attract water to the upper layer of the skin and repair the skin barrir function

1.1% - 1.7%

Helps attract water to the upper layer of the skin and improves the product texture

0.95% - 1.45%

0.6% - 1.4%

The ingredient is not recognized

TBC

An aromatic blend of unspecified and possibly irritating ingredients

0.45% - 1.05%

Helps attract water to the upper layer of the skin and repair the skin barrier function

0.4% - 0.95%

Plant extract that helps the skin to attract water and make it more smooth for touch. Also shows promise of anti-aging properties, but research is not extensive yet

0.4% - 0.95%

Helps attract water to the upper layer of the skin. Could be helpful in restoring the skin barrier function

0.2% - 0.7%

A plant extract that can be irritating. It can have some anti-bacterial properties, but there are no evidence of a beneficial effect for skin

0.15% - 0.55%

A preservative that comes from radishes fermented by a bacteria. New research suggests that the preservation properties in the ingredient come from an ammonium salt that is not present naturally in radish root but used in its cultivation. Is problematic because the exact amount of the preservative agents is difficult to determine

0.1% - 0.5%

A fragrance. Can be irritating

0.05% - 0.25%

A common frangrance that can easily irritate skin, especially if exposed to air, light or heat

0.05% - 0.2%

A fragrance with a lemon scent. A likely irritant

0.05% - 0.15%

A fragrance. Can be irritating

0.05% - 0.1%

Show more