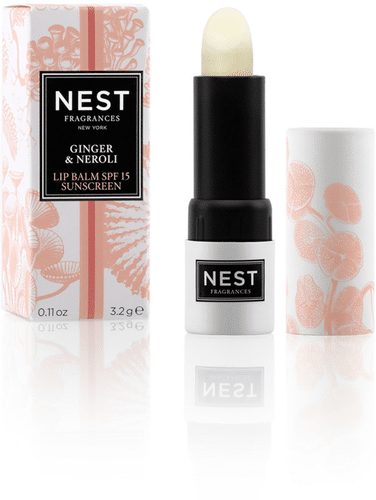 WORKS FOR
Moisturizing
Sun protection
KEY INGREDIENTS
beeswax

benzophenone-3

cocos nucifera oil

copernicia cerifera cera

erythritol

ethylhexyl methoxycinnamate

helianthus annuus seed oil

macadamia ternifolia seed oil

prunus armeniaca kernel oil

shea butter ethyl esters

simmondsia chinensis seed oil

vitis vinifera seed oil

+9 more

Where to buy?
Formula review
WIMJ
summary
This product does not offer good protection against UVA rays.
This product can be considered "reef safe" because it does not contain the UV filters (oxybenzone and octinoxate) that can be harmful to coral reefs when present in the water in high concentrations.
See a mistake?
Promise
What does the product description say?
"NEST Fragrances' Ginger & Neroli Lip Balm SPF 15 is a hydrating lip balm that blends nourishing natural oils, beeswax, and shea butter to moisturize, soothe, and condition lips."
WIMJ
summary
This product can help improve hydration of the skin with the two types of ingredients.
The first type is called "humectants":
these ingredients help attract water. When humectants are on the surface of the skin, they "pull in" the moisture from the outside environment, or from within deeper layers of the skin. The following ingredients in this product do the job: erythritol.
This product also contains ingredients called "occlusives". They help reduce the speed with which our skin loses moisture to the outside environment. These ingredients also help soften the upper layer of the skin, so it feels less tight and nicer to the touch. The following ingredients in this product do the job: beeswax, cocos nucifera oil.
| Ingredient | Effectiveness | Concentration | Irritancy |
| --- | --- | --- | --- |
| | | | |
| | | | |
| | | | |
Potential irritants

Ingredients by volume
Ingredient
Estimated concentration

Octinoxate. When used in higher concentrations, works as a sunscreen protecting the skin from UVB rays. When used in lower concentration, helps to preserve the product formulation. Is shown to be harmful to coral reefs - consider avoiding bathing in coral reef areas when wearing a product with this ingredient. It can be irritating

Same as oxybenzone. Protects in the UVB and short UVA range. In small concentrations, used to stabilize product formulation. Can be irritating. Is shown to be harmful to coral reefs - consider avoiding bathing in coral reef areas when wearing a product with this ingredient. It can penetrate the skin and get absorbed into bloodstream faster than other popular filters available in the US. The study that produced this finding did not address any potential health effects of the absorption

Forms a protective barrier that holds water and keeps dry skin hydrated. Keeps an emulsion from separating into its oil and liquid components, and increases the thickness of a product. Can be an allergen

23% - 35%

Plant oil from nuts that helps soften the upper layer of the skin. Contains a high concentration of oleic acid that can weaken skin's barrier function and increase water-loss while enhancing penetration of other ingredients

5.6% - 8.4%

An emollient. Found to be as effective as a moisturizer for dry skin as mineral oil. Could be comedogenic

3.8% - 5.7%

A great emollient that can also have anti-oxidant properties

2.9% - 4.3%

Softens the upper layer of skin and helps restore the healthy skin barrier. Has shown to help calm down inflammation in skin. It is a stable oil, meaning that it retains its properties even when exposed to air.

2.3% - 3.4%

Brazilian palm wax. Helps soften the upper layer of the skin

1.7% - 2.6%

An emollient that helps soften the skin

1.5% - 2.2%

Helps soften the upper layer of the skin

1.2% - 1.8%

An aromatic blend of unspecified and possibly irritating ingredients

0.9% - 1.35%

Helps to attract water to the upper layer of the skin

0.5% - 1.2%

An unspecified blend of fragrant irritating ingredients

0.45% - 1.05%

A more stable but less bio-available form of vitamin E compared to Tocopherol. Might help moisturize and protect the skin from free radicals, but mostly used in low concentrations to stabilize other ingredients.

0.4% - 0.9%

Can be helpful in reducing inflammation in skin. Is a likely irritant

0.2% - 0.75%

A great emollient due to its high linoleic acid content. One of the most effective plant oils in helping skin hydration and repairing skin barrier function

0.2% - 0.7%

Show more